Village Board Presents Plan to Close the Cell Phone Gap in Scarsdale
Wednesday, 15 February 2023 14:24
Last Updated: Thursday, 16 February 2023 16:37
Published: Wednesday, 15 February 2023 14:24
Joanne Wallenstein
Hits: 2422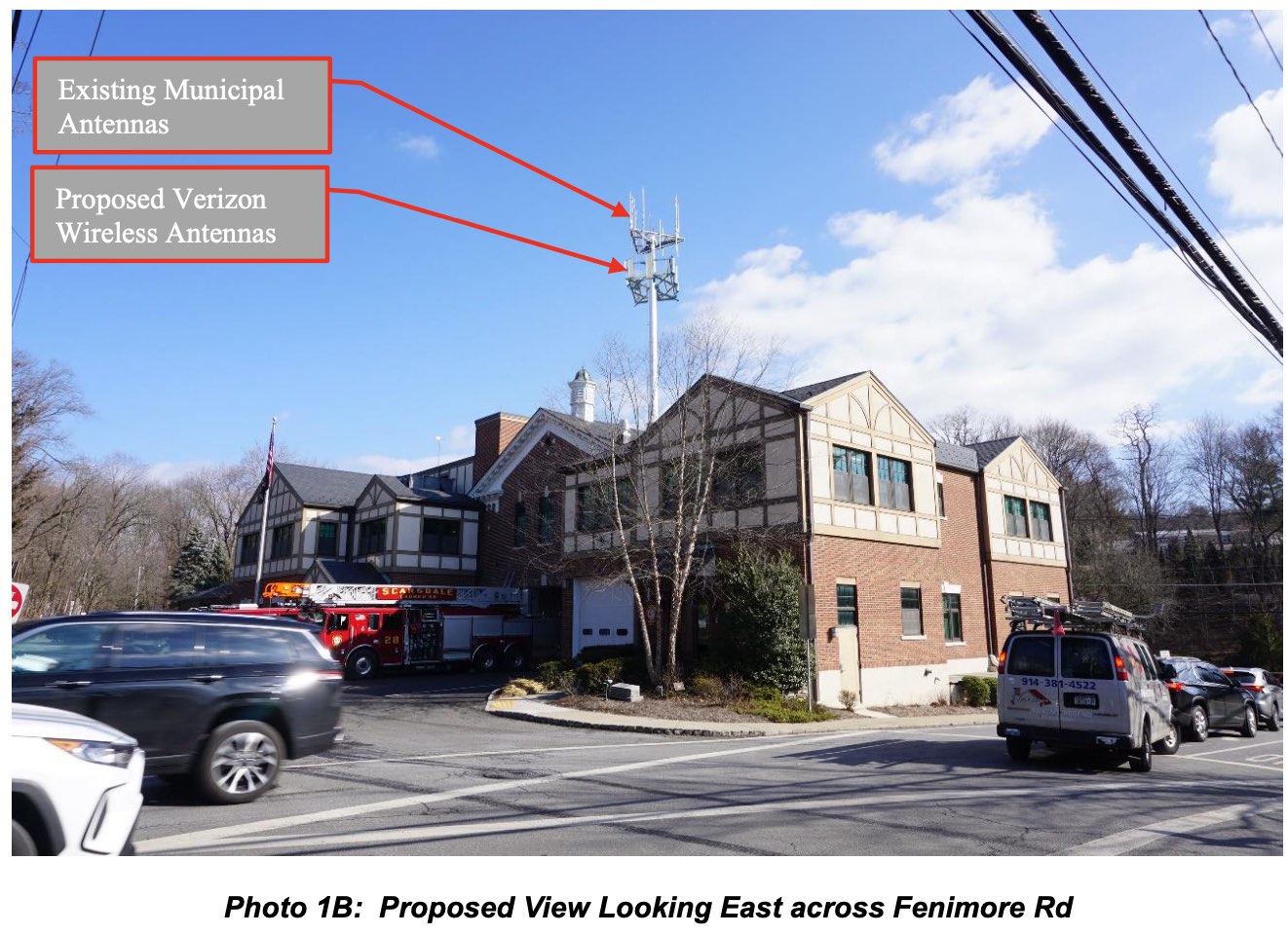 Though most Scarsdale residents are aware of the big gap in cell phone service along Post Road and in Fox Meadow, few knew this vexing issue was something that could be fixed. For years, many of us assumed that dropped calls were something we just had to endure.
But it turns out that the problem can be corrected. Enterprising volunteers on the Village's Technology Advisory Council, with the cooperation of the school district, Board of Education, public safety officials and Village managers took on the task of identifying the problem and determining how to bring cell service to the heart of Scarsdale that includes Fox Meadow Elementary School, Scarsdale Public Library, Scarsdale High School and Scarsdale Village Hall.
On Valentine's Day, a determined Mayor and Board of Trustees assembled the leadership of many Village organizations and residents to consider a plan to close the cell phone gap that runs along Route 22 and the Fox Meadow neighborhood between Fenimore Road and the Village.
In her opening remarks, Mayor Veron explained, "We can no longer endure dead zones, particularly surrounding our schools. Over these past several years, with increasing intensity, our emergency workers, school officials, parents and students have called for reliable telecom service. In 2023, in the 21st Century, it is no longer acceptable to have huge swaths of our Village unable to receive signal."
School Board President Amber Yusuf and Vice President Ron Schulhof both spoke and said, "Safe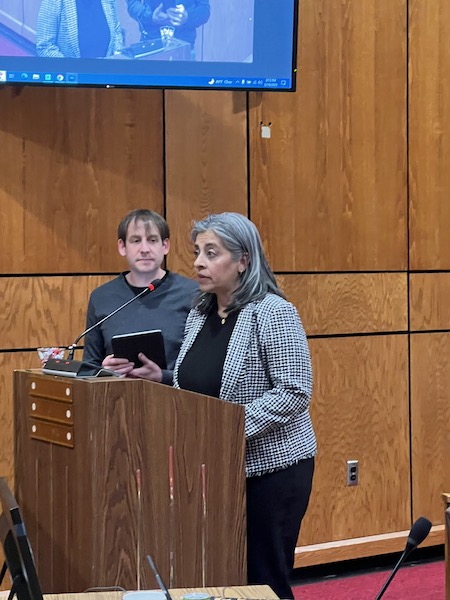 Ron Schulhof and Amber Yusuf from the Scarsdale School Board.learning environments are a key pillar of the learning plan." They asked to be consulted on any project that impacts a school property and admitted that their efforts to improve the problem had not worked. They said, "Wifi service around the school buildings has been installed but has been ineffective." They read a letter signed by all members of the Board of Education voicing their support for better service which said, "Closing existing cell service gaps in and around the schools would help diminish both routine and event-specific safety and security risks. Improved cell coverage will increase safety for all students, faculty and staff and caregivers during high-traffic transition periods by facilitating reliable and predictable communication."
Scott Rompala, who has chaired the Technology Advisor Council for ten years said, "In 2017 we started modernizing the Village's technology – some involved cell service. We had requests from those with health issues, seniors, and those concerned about school shootings along with the safety of children walking home from school." On a personal note he told the group that in 2018 he was injured while playing soccer on the high school turf and was unable to call his wife or 911.
He explained, "18 months ago TAC started a work stream focused on fixing the coverage in the Village. We focused on Verizon wireless and examined options on the placement of additional cell towers. However, after an analysis we realized that they did not need to introduce any new towers – just a new provider."
Rompala said, "The Village already has two large poles – one at Village Hall and another at the Public Safety Building." At Village Hall they propose to add Verizon antennas one foot above the AT&T equipment that is already there. At the Public Safety Building, Verizon antennas can be placed on the pole, 17 feet below the existing equipment.
Given that the Village would be using existing locations, no new licenses would be needed and according to the Village Attorney, the proposal meets the requirements of both the FCC and the Village. The attorney said, "This has already been done in many Villages around Westchester who are using monopoles on facilities that have already been permitted. The height will not be increased by more than ten percent. In fact, at Village Hall the new antennas will be one foot above existing antennas and at the Public Safety Building they will be 17 feet below the existing equipment." He said, the Verizon equipment will be in compliance with federal law, FCC regulations and Village code.
Leslie Snyder, an attorney at Snyder & Snyder, who has expertise in telecommunications confirmed that "Co-locating is ideal." She displayed the map below of Scarsdale, explaining that the white areas are where there is a gap in service. She said that installing these two new antennas should convert most of the white area to green. She showed renderings of the new antennas and said they would be "hardly noticeable as they are on existing poles."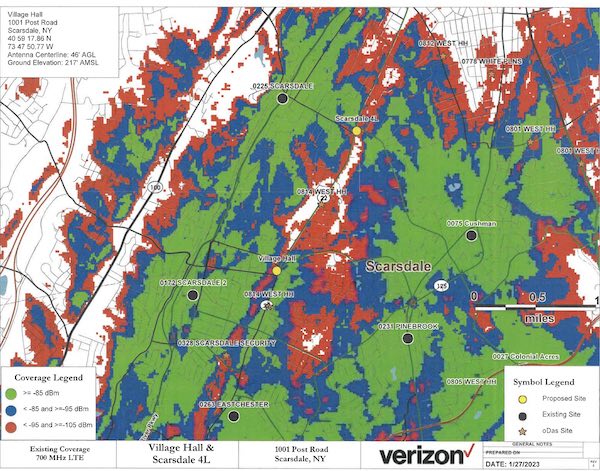 The white portion of the map between Village Hall and the Public Safety Building currently has no Verizon cell phone service.

Via Zoom, Robert Czarnawski, a Verizon Wireless Network Real Estate Specialist explained why this solution vs. a series of smaller cell antennas along the route had been chosen. He said, "We are using line of sight technology. The antenna needs to see the area it is covering. It needs to be up high to be over trees, homes and buildings. Since we are trying to cover a significant area we need significant height to do it. Small cell antennas on utility poles are only about 25 feet in height and would not reach above the trees to reach the area we want to cover. You would need multiple small cell sites and leases with the schools and residential areas. It would not be as good a solution. It would be inefficient and inappropriate technology for this kind of problem."
He continued, "This multiple macro solution is best – it is a home run.
It should be noted that there will be no direct costs to Scarsdale for the installation of the antennas as these are part of Verizon's plans to build their network and increase customer retention. Also, the measure can be enacted with a resolution from the Village Board.
Mayor Veron said, "Once the new equipment is installed, we will see if it works within the schools to see if it is sufficient or if they need more coverage. If after this, residents find that they still don't have service, we will come back to you to address these additional gaps."
Police Chief Andrew Matturro said, "Communication is critical in delivering public service. Our police radios allow for point to point communications between police and headquarters. However, sometimes more information is needed. We use cellular communications for these and gaps impede our communications." He added, "The lack of service hampered responses to the middle school and the high school."
Fire Chief Christopher Mytych concurred. He said, "Post Road suffers from limited connectivity in the area between the two towers. Service interruptions require our men to reset equipment while trying to get vital information. They need to get information by phone, including sensitive information that cannot be sent over the radio."
He said "In the cold snap a few weeks ago, a telephone pole broke in Fox Meadow and there was liquid spillage from a transformer – requiring a call to the DEC. We were unable to make the call. Early detection leads to better outcomes. A recent fire on Walworth Avenue was reported on a cell phone. It can make a difference."
David Raizen who heads the Scarsdale Volunteer Ambulance Corps said, "I echo what the chiefs said. Most of SVAC communications are done over the radio. We send EKGS to the hospital from the ambulances and with the dead zone on Post Road we can't transmit ]the EKG. This is essential for those having a heart attack so they can make the decision to activate the cath lab. We can't transmit until we get to the White Plains line."
Carrie Tendler from Church Lane South told the Board, "Just over a year ago, my six year old son Danny was diagnosed with Type 1 diabetes, a chronic, life-threatening illness. We are so blessed to live in a time where the technology allows us to monitor Danny's blood sugar levels remotely to prevent them from climbing dangerously high or falling dangerously low. And those levels can change very quickly.
The cellular issues in FM have proven very disruptive to our commitment to Danny that he can be just like every other kid and I'll share just a few examples. Every morning and afternoon, Danny's school bus drives through the FM dead zone. I literally hold my breath when I see the "no data" alert on my phone. I can't see his BG levels, and he can't call me if he feels low. I pray for those twenty min each day that's he doesn't have a seizure. It is a dangerous and life threatening situation for Danny and it happens twice a day, every single day.
Danny goes to a private school this year but will return to FM next year. I dread that return because of this issue. As the technology currently stands, Danny won't be able to have recess on the fields in FM or the lower playground or the basketball courts. In the event of an emergency - drill or otherwise - would I be able to communicate with him about his blood sugar to keep him safe. And while I'm grateful for the efforts the school has made to improve its Wi-Fi, it does not reach all of the property and in any event, wi Fi service is much less reliable than cellular. Danny's life depends on this technology.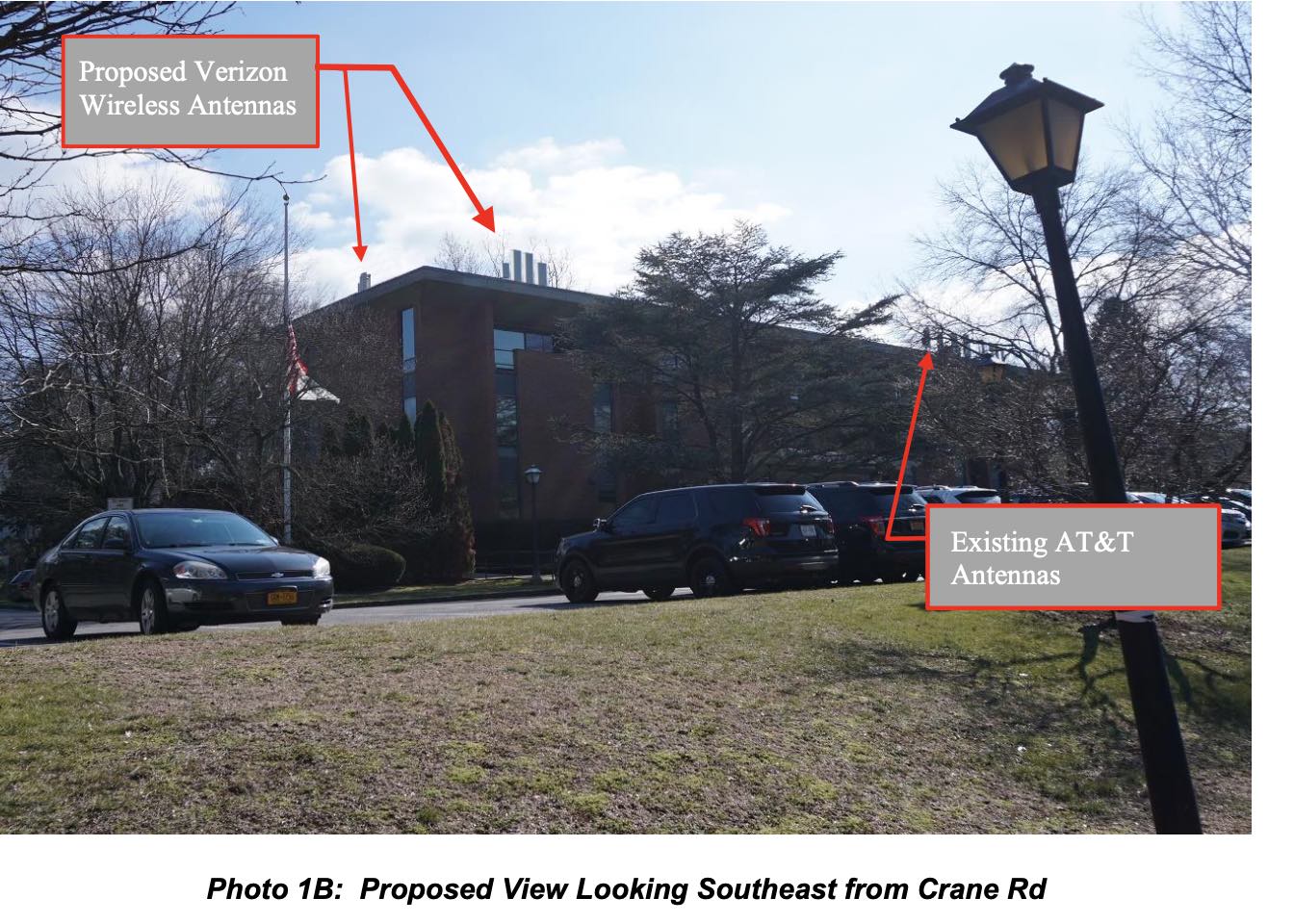 There are also the "small things". Danny plays little league. Every time I see that we have a home game at FM fields, I want to cry. Because of the cell issues, a parent needs to stand in the field with him. He hates this, as I'm sure you can imagine. And god forbid something went wrong, and he had a seizure - how far would we need to run to be able to call 911. Would we get him help fast enough? We can't send Danny to play at the FM playground or Willow playground with friends or sled the Fox Meadow hill in the snow or play soccer at the High School or at Scout Field. No bike rides with friends on Brite. No play dates with friends who live in the dead zone. Danny misses out on a lot of things he shouldn't have to. And these small things are big things when you're a six year old boy, fighting a chronic illness, who just wants to be able to do what everyone else can. Fix this please, and do it as fast as you can."
Jeff Hogan who lives on Kensington Road said his son broke his foot playing basketball fortunately at Scarsdale Middle School. He said, "At the high school I can't get in touch with him to find him to pick him up after school. Until tonight I had no idea that there were towers on these two buildings. Putting more antennas up will be invisible to the community. Thank you – let's get it done."
Venu Angara of 61 Church Lane agreed. He said, "It has to be fixed. It was my house where the line was down – we couldn't call the fire department. This needs to get done. Please revisit the map and make sure the coverage gaps are covered."
John Lemle said, "There is a clear and present need for this. You have my support. This is something the community desperately needs."
Tara Greco of Tompkins Road said, "I have three student athletes – and I spend time volunteering at the high school. There is no coverage there – the staff uses walkie talkies. At the homecoming game – people can't find each other at the end of the night.
Laura Gelblum of 35 Brewster Road spoke on behalf of the Fox Meadow Neighborhood Association. She said "gaps are common in the 615 homes in Fox Meadow. We have received 100 complaints about these gaps. Many streets have no service. It makes it difficult to conduct professional business from home. We can't reach children who are between home and school.
This poses a safety issue for all involved and we support this work. We look forward to finally having appropriate coverage in our neighborhood."
Lou Mancini of 14 Forrest Lane sai,d "Thank you for going forward with this proposal This has been a constant problem for me. It will help our quality of life in town. We are far behind the times.?
Maria Villanova from Scarsdale Family Counseling Service said, "You will improve community well-being by allowing people to stay in touch."

Eric Arnold of 8 Continental Road said, "Though we live 30 miles from NYC it sometimes feel like we live in a rural area. When our kids are at the school there is no service. People need 911. There is always a reason to object to a site."
Trustee Sameer Ahuja, who is the liaison the Technology Advisor Council read a letter from the Scarsdale Business Alliance Board of Directors who supports the initiative to close telecom gaps. It said, there is "no coverage in case of emergencies… It is a matter of public safety for all."
The plan was not without objectors though the majority of those who spoke against the installation were from outside Scarsdale.
Robert Berg of 17 Black Birch Lane was one of a few residents to object to the plan. He said, "I am an attorney. I fight bad cell tower proposals. This is a bad proposal. Route 22 is the focus of the gap. This is a state road. It is curious why Verizon or ATT did not install service before. They have created this gap and now they want to cure it with antennas at the public safety building and at Village Hall. This is too many antennas in a densely populated area. They are trying to use a loophole to get around the code you created last year. Firefighters and policemen are located right below these antennas. Their unions don't allow them to work in buildings with commercial installations."
Jess Lerner said her mother lives at 71 Hampton Road. She did not give her own address. She called in over Zoom and asked for smaller cells and said the new antennas would affect property values, citing a survey where 94% of respondents said they would not buy a property near a tower." She said, "Asking Verizon for health reports is not right. My mom is sensitive to radiation. The ADA recognizes this as a disability. My mother would have to pick up and move out of Scarsdale. Firefighters passed legislation to bar installation at workplaces."
Theodora Scorado who is based in Maryland spoke via Zoom on behalf of the Environmental Health Trust. She said, "There are alternatives to this. The federal laws we have are over 25 years old. We sued the Federal Government in 2020 and had a favorable ruling . Long term exposure has an impact on wildlife and on reproduction. …No federal agency is looking into cell tower radiation."
Ruth Moss who lives in White Plains said on Zoom, "I am working to raise awareness to electromagnetic sensitivity (EMS). Radiation from cell towers is invisible. That's why so many can't see that it's there. The symptoms are head problems and memory loss. The FCC is dominated by the industry it regulates. Doctors can get CME credits for courses on EMS – but it doesn't get publicized as it hurts the telecom clients. This will affect everyone – there will be long term effects."
Also online Courtney Girardi from Pittsfield, MA said that she has suffered from the placement of a cell tower 400 feet from her home. She said, "For those who feel the effects of wireless this is a threat. There is a cost to wireless connectivity that we can no longer ignore. People are being harmed at limits far below the acceptable standard. We had to leave our home Our kids were vomiting, with dizziness and rashes. The answer is not NO technology – just safe technology."
Robert Berg's daughter, Zoe Berg said, "I am extremely disappointed and frustrated with how this process has played out. This is not a first step – this is a fiftieth step. Bob and I have been working on this issue for years. We were cut out of any dialogue. Now this is far down – and it is upsetting. These gaps can be remedied with small cell facilities strategically placed. We are talking about 40 antennas. It will dramatically change the appearance of these facilities. Is it fair to subject the employees at Village Hall to this? We need to consider alternatives to this – there are better, safer ways to do this."
Mike Otten from 37 Stonehouse Road said, "I am a Verizon stockholder. Everyone agrees there is need for better service. We need an independent evaluation – not from Verizon. I think there is a need for further study."
Michael Gliedman of 193 Brewster Road said "I work in technology and I have installed telecom in arenas. Is it too late to see if the small cell option is viable? I have worked with all the providers. We always do a full analysis of all the options before we do the installation."
Robert Czarnawski from Verizon returned and said, "We are not against small cell technology. But it is not an appropriate solution for this area. It is line of sight technology – and you would have to deal with buildings, trees etc. Also if you want to get it in soon – and provide a robust wireless experience . This is most efficient. With small cell technology larger areas will not get robust coverage.