Wear Denim on April 25 to Raise Awareness about Sexual Violence
Tuesday, 17 April 2018 15:16
Last Updated: Tuesday, 17 April 2018 16:16
Published: Tuesday, 17 April 2018 15:16
Joanne Wallenstein
Hits: 3254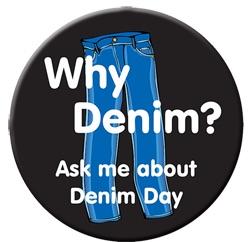 The Scarsdale Coalition on Family Violence and Healthy Relationships is again encouraging community members, elected officials, businesses and students to make a social statement with their fashion by wearing denim on April 25th. Denim Day is a as a visible means of raising awareness about the prevalence of sexual assault and protesting the misconceptions that surround sexual violence. Scarsdale Edgemont Family Counseling Service has already signed on to the campaign and encourages others to do the same.
Denim Day has become a symbol of protest against erroneous and destructive attitudes about sexual assault and stems from an infamous ruling by the Italian Supreme Court where a rape conviction was overturned because the justices felt that since the victim in the case was wearing tight jeans, she must have helped her rapist remove her jeans, thereby implying consent. The organization Peace Over Violence developed the Denim Day campaign in response to this case. SFCS has purchased stickers for distribution that read, "Why Denim? Ask me About Denim Day."
Nearly one in five women and one in 71 men are victims of sexual assault (Black et al., 2011). Everyone has a role in preventing sexual violence in our community. Changing beliefs which contribute to sexual assault begins first with believing survivors of sexual violence when they share their stories, but also by challenging cultural misconceptions and stereotypes. Sexual assault is never the victim's fault.
The Scarsdale Coalition will continue its efforts to raise awareness by hosting a morning program the following day on April 26th entitled "Title IX and Sexual Assault. What Parent Needs to Know." The program will be facilitated by Cynthia Dunne, Esq and will be held at 9:00 am in Room 170-172 of the Scarsdale Board of Education. The meeting is open to the public.
Remember, our actions, big and small, have a ripple effect on those we teach, guide, and influence. Please consider "wearing jeans with a purpose" on April 25th and encourage others to do the same.
To learn more about Denim Day or other initiatives, contact Lauren Pomerantz, Coordinator of the Scarsdale Coalition on Family Violence and Healthy Relationships at 914-721-2468 or lpomerantz@sfcsinc.org.