Buy Your Tickets Today for Scarsdale's First Music Festival
Thursday, 22 August 2019 08:25
Last Updated: Tuesday, 27 August 2019 15:47
Published: Thursday, 22 August 2019 08:25
Joanne Wallenstein
Hits: 2290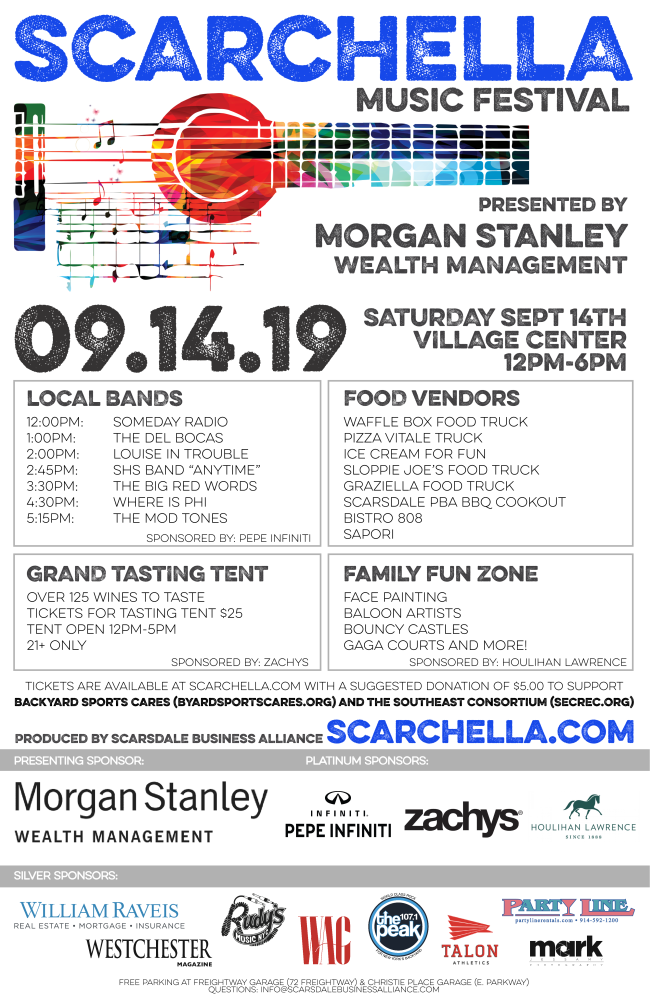 On Saturday, September 14th, the Scarsdale Business Alliance (SBA) will host its first annual Scarchella Music Festival, presented by Morgan Stanley Wealth Management. The event will take place rain or shine on Chase Road and Boniface Circle in Scarsdale Village from 12-6pm. Join us for a festive day full of live music, food, drinks, and family fun activities.
Scarchella Music Festival is an event inspired to bring the community together with local musicians who love to share and perform music. Several bands will be performing throughout the day on the main stage, sponsored by Pepe Infiniti. 12-12:45pm Someday Radio; 1-1:45pm The Del Bocas; 2-2:30pm Louise in Trouble; 2:45-3:15pm Scarsdale High School Band "Anytime;" 3:30-4:15pm The Big Red Words; 4:30-5:15pm Where is Phi; 5:15-6pm The Mod Tones.

In honor of their 75th Anniversary, Zachys will be sponsoring a Grand Tasting Village on Boniface Circle (open from 12-5pm), with over 125 wines available to sip and enjoy from numerous wineries around the world.
Scarchella will feature a selection of savory and sweet offerings from Pizza Vitale Truck, Graziella Food Truck, Sloppie Joe's Food Truck, Waffle Box Food Truck, Ice Cream for Fun, The 808 Bistro and Sapori. In addition, the Scarsdale Police Benevolent Association will be hosting a cookout barbecue.
The Houlihan Lawrence Family Fun Zone will feature two bouncy castles, face painters and balloon artists. In addition, Friends of Music and the Arts (FMA), a volunteer-run, community organization dedicated to supporting, promoting, and enhancing the music and arts programs in all Scarsdale schools will be providing arts and crafts projects. Talon Athletics will be staffing two Gaga Pits, and PlushBlow Scarsdale will be offering hair braiding in the kids tent. Scarsdale Police and Fire Vehicles will be present along with the Scarsdale Volunteer Ambulance Corps for tours and more.
"Morgan Stanley Wealth Management is proud to be the presenting sponsor for the first annual Scarchella Music Festival," said Sandra Richards, Morgan Stanley Managing Director and Head of the Global Sports and Entertainment Division. 'It's a great opportunity for residents of Westchester to enjoy good music performed by local musicians."
The SBA is thrilled to announce its partnership with the Scarsdale Conservation Advisory Council (CAC) to make Scarchella a zero waste event. Meals and snacks from food vendors will be served on compostable (made from plants) or recyclable serveware. The Village will be providing bin stations with recycling and compost bins to keep any waste out of the trash. The goal is to have little to no trash from the event! Volunteers from the CAC and the community will be on hand at the bin stations to help and answer any questions. Scarsdale was the first municipality in Westchester County to launch a food scrap recycling program and the SBA is proud to support this community-wide effort by making Scarchella a zero waste event! There will be food scrap recycling kits for sale for residents interested in joining the program!
Scarchella Music Festival will be donating a portion of proceeds to Backyard Sports Cares (byardsportscares.org) and The Southeast Consortium (secrec.org). Our donation will help fund community programs for those with limited access and special needs right here in Westchester County.
While this is a free community event, there is a suggested charitable donation of $5. In order to enter the wine tent and consume alcohol, you must show ID that you are over 21 and purchase a wristband for $25. All food and non-alcoholic beverages are a pay as you go. Donations and wristbands are available online now for purchase at SCARCHELLA.COM and will also be available at the festival by cash or credit card.
The SBA is thankful to all of the Scarchella Music Festival event sponsors for their generous support. Presenting Sponsor: Morgan Stanley Wealth Management;
Platinum Sponsors: Pepe Infiniti, Zachys, Houlihan Lawrence; Silver Sponsors: William Raveis, Compass, Westchester Magazine, WAG Magazine, Talon Athletics, Mark Jessamy Photography, Partyline Rentals, Rudy's Music, 107.1 The Peak.
FREE PARKING is available in the Freightway Garage and adjacent outdoor parking lot (72 Freightway) as well as the lower two levels of the Christie Place Garage on East Parkway.
Scarchella is a not-to-be missed experience! The SBA is a non-profit organization dedicated to supporting the Village of Scarsdale and its local businesses.
For information and tickets: scarchella.com - info@scarsdalebusinessalliance.com.