From Village Hall: Trustees Announce New Initiatives to Attract Diners and Shoppers to Scarsdale
Thursday, 25 June 2020 10:31
Last Updated: Saturday, 27 June 2020 20:26
Published: Thursday, 25 June 2020 10:31
Joanne Wallenstein
Hits: 1947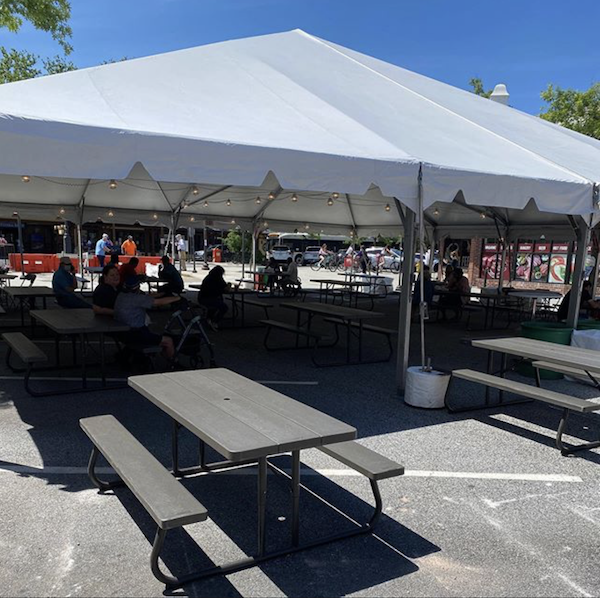 In addition to the opening of restaurants and salons, Scarsdale Village Hall is now open to the public. At the June 23 meeting of the Village Board, Village Manager Steve Pappalardo reported that Village Hall opened on Tuesday and greeted 91 visitors on their first day of business.
He ran through a list of precautions that have been taken to protect both Village employees and visitors and recommended that visitors make an appointment to come in rather than just stop by. Pappalardo said that plexiglass shields have been installed at the public counters and there are markings on the floor to remind people to maintain social distance. Before you enter Village Hall you will need to provide a photo ID for contact tracing, complete a verbal questionnaire and have your temperature taken. All visitors are required to wear masks. He thanked everyone for their patience.
In her trustee report, Jane Veron discussed a multitude of initiatives to bring business back to Scarsdale Village.
Here is her report:
First: With the passage of the new sidewalk legislation, merchants immediately sought permits, and the building department has already started issuing them.
Second: The Dine the 'Dale tent that was a concept two weeks ago is now a reality with 27 participating restaurants confirmed. Bango Bowls, Buon Amici, Cafe Alaia, Chat, Chop Stix, Cooked & Co, DeCiccos, Gianonni's, Haagen Dazs, Jackie B's, Kirari Sushi, La Renaissance, Le Curry, Martine's, Moscato, Parkway Cafe, Pizzarelli's Pizza, Popojito, Sapori, Ruffled Feathers, Scarsdale Metro, Scarsdale Pizza Station, Slice of Scarsdale, 808 Bistro, Via Forno, Westchester Burger and Yeomiji. You can enjoy table service, delivery or carry out - different restaurants have different options. Signage at the tent provides more information. There is a steady stream of patrons who use the space, and we are thrilled that residents are carefully cleaning up with sanitizing wipes. The SBA has been raising funds from property owners, real estate agencies and other sponsors to begin to cover the cost. Scarsdale Flower Shop has provided décor, and Scarsdale Security is managing the cameras. Given the tremendous popularity of this concept, we plan to add more tables adjacent to De Cicco's on East Parkway. We are also working with the other Scarsdale retail hubs to help them roll out similar, smaller scale initiatives. Right now, we're having active conversations with Garth Road, Scarsdale Avenue and the Golden Horseshoe.
Third: Paperwork has been filed with the State Liquor Authority so you can be served drinks in the Dine the 'Dale tent.
Fourth: Service businesses, many not at ground level, such as gyms and yoga studios, will be working with the Village Recreation department on programming.
Fifth: The Christie Place commuter garage is now available for three-hour parking on the PANGO app zone 10599.
Sixth: This year, the Sidewalk Sale will be a weeklong event from Monday, July 27 to Sunday, August 2, with the goal of coordination across all Scarsdale retail hubs, including the Golden Horseshoe and Five Corners. The Village Center will be closed to traffic to afford a pedestrian friendly, social distanced experience. The Special Committee is sensitive to the needs of all merchants and service providers no matter ground level or higher level occupants. To that end, during the Sidewalk Sale, the SBA is providing space for all such businesses to set up stations. It has been particularly helpful that the SBA contains representation from a cross section of the business community, and it's noteworthy that a top floor service provider sits on the executive committee.
Seventh: Music is in the works in partnership with the Scarsdale Arts Advisory Council. Prior to Phase Four, we are hoping for instrumental or a couple vocalists. After Phase Four, we are hoping for more entertainment in Chase Park with a tentative plan for musical talent during the Sidewalk Sale.
Eighth: Generosity continues with an offer to provide much overdue pruning of Boniface Circle shrubs. The hope is to enhance the aesthetics of that area, to make it more inviting and publicly accessible. Thank you to Friends of the Scarsdale Parks and Susan Douglas's Forum committee for leading the charge.
Ninth: Multiple groups have pulled together to create a movie night to bring the community together and to support local restaurants. Thank you to the Friends of the Scarsdale Library and the Village Recreation Department as well as local volunteers.
Later in the meeting, the Trustees passed a resolution authorizing the Sidewalk Sale for a full week, to give businesses a boost and allow patrons to shop. The sale will be held in the Village Center but also at the Heathcote Five Corners and Golden Horseshoe Shopping Center from Monday July 27 to Sunday August 2 from 10 am to 6 pm each day. The sale will require the closure of Boniface Circle, Spencer Place and Harwood Court. However, 3-hour resident parking will be available in Christie Place and additional merchant parking will be available in the Freightway Lot.
Trustee Justin Arest addressed concerns about parking, saying, "We lost 12 parking spots (from the construction of the dining tent), but we gained 100 spots in the Christie Lot where commuter parking will be converted to 3-hour parking meters for shoppers."
He also warned residents that parking enforcement has been lax during the pandemic but now the normal forces are out.
Trustee Lena Crandall noted the passing of Gay McCreery who served as the President of the Scarsdale Woman's Club for two terms. Her husband Bill served as a trustee of Scarsdale Village.
Crandall also noted that weekly food scrap pick up has resumed on the same schedule as it was previously.
Trustee Jonathan Lewis reported that the Village Council on Human Relations is doing a survey to determine how the Village can be more inclusive.
During public comments, Bob Harrison encouraged kids and adults to sign up for tennis permits online. He said, "We are concerned that the Middle School Tennis Courts are restricted to singles play "only " now even though the six courts are separated to use only three courts for social distancing. We strongly urge the Rec Department and Village Board to allow doubles play on the Middle School Tennis Courts. We are willing to fund the cost of nets to separate the courts for doubles play as seen at indoor tennis facilities. The indicated cost of the nets is about $ 1,000 per court. We have run the Scarsdale Summer Youth Tennis League as a volunteer for 35 years with over 1,800 youth tennis players over the years. We may not be able to run the five-week Youth League this summer because of the coronavirus."
He continued, "We urge our youth and adults to email the Mayor and Rec Dept. at mayor@scarsdale.com to allow doubles play for families and all at the Middle School Tennis Courts now for the summer. Contact us at 914 725-0962 or by email at proscars@aol.com with any questions or comments."
Myra Saul called in to comment on the sidewalks which are crowded with both walkers and bike riders. As a walker, she believes bikers should ride in the roadways and asked the Village to consider installing bike lanes.
Nicholas Thompson expressed concern about the reduced parking now that the tent has been erected on Spencer Place. He also asked how pedestrians and people with wheelchairs or strollers would have room on the sidewalk once the vendors are permitted to set up outside.
Randy Whitestone congratulated the 2020 graduating class. He said, "I was hoping to get a road map for the budget for the fiscal year." He also echoed concerns about traffic safety as "People are home who are not usually at home," and brought up the problem of leaf blowers which are continuing to be used past the June 1 deadline.
Mayor Samwick responded to Whitestone's question about the budget and said data comes in over time. "At this juncture there is not any indication that we are off track. It is very early. We will continue to monitor and review the budget on a monthly basis."
Robert Berg discussed the temporary village code amendment to allow business to be done on the sidewalks. He said, "I urge you to expand the provision to permit other businesses than ground floor businesses to use the sidewalk. He said that attorneys, therapists and chiropractors should be allowed to meet with potential clients outside, saying, "Other businesses are trying to survive…. You are discriminating against these businesses….There is more than enough room."
Mayor Samwick responded saying, "There is no discrimination going on. We want all of our Village businesses and merchants to prosper and thrive. We may use Chase Park as a venue. There is a big difference between a retail tenant and those doing business on upper floors. The sidewalk change is just one tool in our toolbox."
In other business:
-The Board approved the sale of a surplus vehicle for $12,900.
-The Board passed a resolution to allow Scarsdale firefighters to run an event called, "Fill the Boot" to benefit the muscular dystrophy association on September 10, 2020.
-The Board approved gifts of $1,500 from Leona Kern, $1,000 from the Henry Laird Smit Foundation directed by Jeanette Sloan Warner and a $1,000 matching gift from Goldman Sachs for the Scarsdale Library.
-The Board approved and intermunicipal agreement with Westchester County for youth sports programs. The County of Westchester will reimburse Scarsdale $3,688 payable quarterly for the program year.
Watch the meeting online here: