Conservation Advisory Council Recommends Changes to Village Code Regarding the Use of Gas-Powered Leaf Blowers
Monday, 04 January 2021 12:35
Last Updated: Thursday, 14 January 2021 09:29
Published: Monday, 04 January 2021 12:35
Joanne Wallenstein
Hits: 662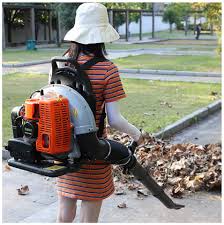 The following was written by the Scarsdale Conservation Advisory Council (CAC)
Did the constant noise of leaf blowers this fall make you crazy? The onset of Covid-19, necessitating many residents to work from home and students to attend school from home, has created a heightened awareness of the negative effects of gas leaf blowers and has caused renewed requests from the community to address this issue. The Scarsdale Conservation Advisory Council (CAC) recently studied this issue at the request of the Village Board of Trustees and submitted a report, Mitigating the Health, Environmental, and Quality of Life Impacts of Gas Leaf Blowers, to the Board with recommendations on how to bring our community some much needed relief.

The CAC is proposing three strategies to address the negative impacts of gas leaf blowers: (1) implement "quiet days" when gas leaf blowers are prohibited; (2) limit gas leaf blower use to the time of the year when they are needed; and (3) promote the use of electric leaf blowers. The CAC believes this approach will significantly help address the noise impact, air pollution, and adverse health effects of gas leaf blowers.
The proposal seeks to mitigate the negative impacts of gas leaf blowers in a reasonable way that can be feasibly implemented by landscapers and homeowners. Advances in electric leaf blower technology have made it possible to use electric leaf blowers successfully during certain times of the year and for most landscaping needs. The proposal will both help alleviate the impacts of gas leaf blowers as well as support a longer-term shift to electric leaf blowers. With the approval of the CAC proposal, Scarsdale would join a number of other municipalities in Westchester that have recently enacted regulations to limit the impacts of gas leaf blowers.
To support the CAC proposals please write the Mayor and Trustees at mayor@scarsdale.com to make sure your voice is heard. The Board of Trustees is also holding a working session to discuss the CAC proposal on January 12, 2021 at 5:30 p.m. Residents are also encouraged to log onto the working session meeting to hear more about the issue and proposed solutions. The meeting agenda and working session zoom link can be found here.
A copy of the full CAC leaf blower report is available here.