The Flavors of India on Hartsdale Avenue
Tuesday, 03 January 2023 15:56
Last Updated: Tuesday, 03 January 2023 16:17
Published: Tuesday, 03 January 2023 15:56
Joanne Wallenstein
Hits: 1406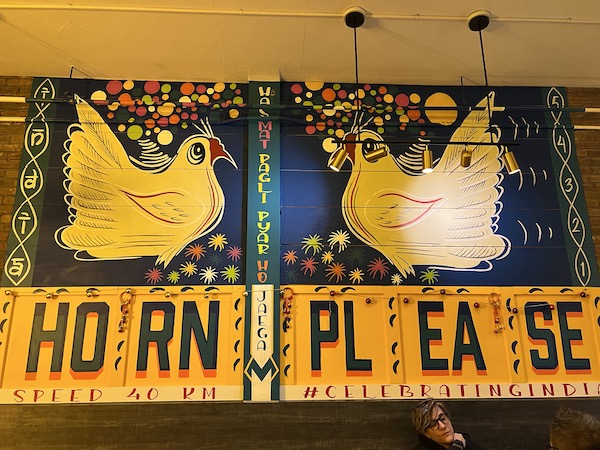 Two years of the pandemic were tough for local restauranteurs with more closings than openings, leaving us with diminishing dining options. So it was great to see a sign for a new Indian restaurant in Hartsdale, and then have it open its doors so quickly. We had no idea why it was called NH44 but figured it out once we saw the décor.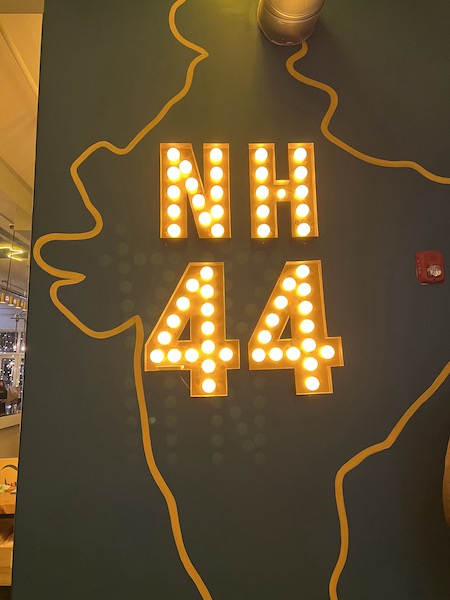 The restaurant has been totally redone and is spacious, casual and colorful. A wall size mural is actually a rendition of a sign on the back of a truck that might deliver food in India. The name, NH 44, is for National Highway 44, India's longest highway spanning 11 states and 2,555 miles from the northernmost to southernmost tips of the country. According to the restaurant's website, "The flavorful food that we bring to the table represents an eclectic north to south culinary experience." The restaurant is managed by the same company that runs Vega, the Mexican restaurant a few doors down.
It was only when someone pointed out that we were in the former site of Japanese restaurant Azuma, that we realized the scope of the transformation. With curtains no longer hiding the front window, the sushi bar gone, and the carpet lifted the formal atmosphere or Azuma has given way to a lively, bustling venue for very tasty food.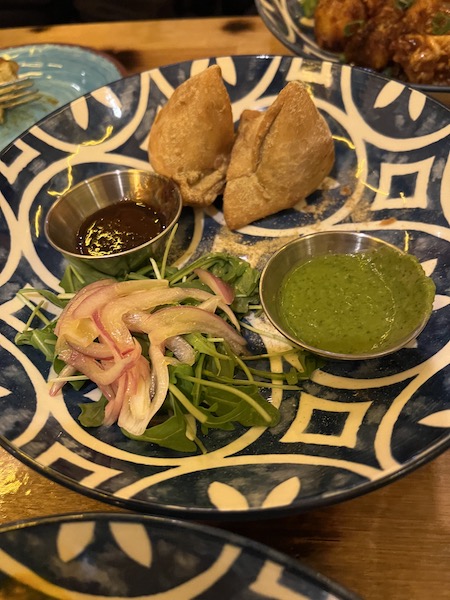 The restaurant is strictly first come, first served, and does not take any reservations. So we stopped by on a chilly night and took our chances at getting a table. We arrived around 6:30 and found several open tables. But by seven, they were all taken and a crowd was waiting by the door.
We scooted into a roomy booth and assumed we were in for a long wait for our meal, but we were pleasantly surprised by the swift service.
On the drinks menu we found a selection of beers on draft and in bottles, including King Fisher, Taj Mahal and Montauk Wave Chaser. There are several sangria's and red and white wines by the glass or the bottle, reasonably priced at just $11 a glass.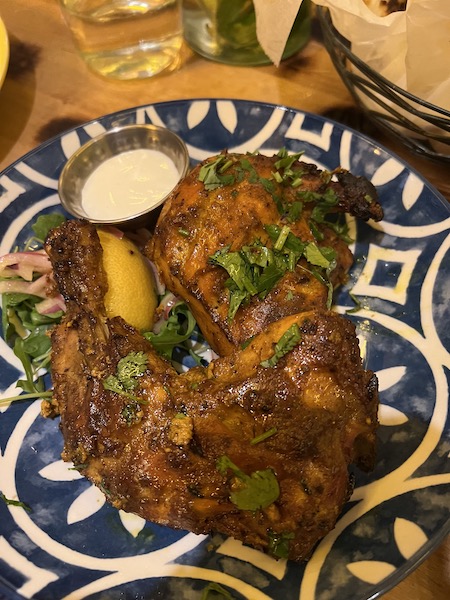 Though the restaurant features a wide variety of offerings, we cautiously ordered Indian dishes that we knew and all were delicious. We started with vegetable samosas that arrived with two dipping sauces, one mild and the other hot and spicy. We also chose the Baghari Jhinga, which are shrimp in a tangy cream sauce with curry leaves and mustard seeds and Kungfu Gobi, roasted cauliflower with onion in a tangy sauce.
We couldn't pass on the Indian bread (naan) which arrived hot and was perfect for dipping into all the delicious sauces that came with the meal.
For our main courses we sampled chicken two ways: first tandoori murgh, which is bone-in chicken roasted in house blended spices. The chicken tikka masala did not disappoint either, served in the traditional creamy tomato sauce infused with fenugreek. There are many vegetarian options on the menu, and from those we chose the saag peshkesh, pureed spinach which was a great accompaniment to our entrees.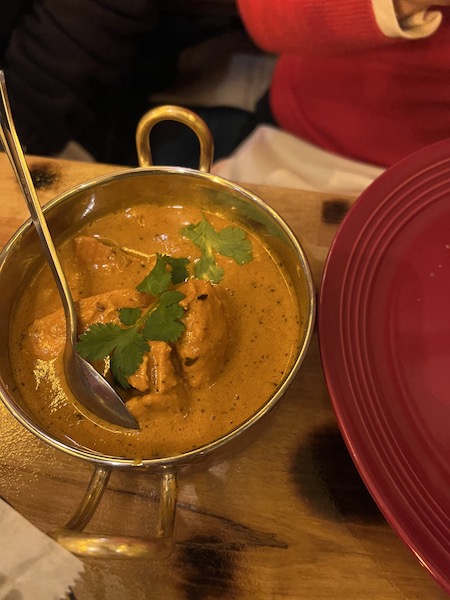 We'll have to go back to try their lamb dishes, curries and kebabs along with chicken, lamb or goat biryani.
And we do plan to go back – and to order online for home delivery directly from the restaurant or via Grubhub, Uber Eats or Doordash. Check out their website and menu here:
NH 44
219 East Hartsdale Avenue
Hartsdale, NY 10530
(914) 574-5262
info@nh44indian.com
https://www.nh44indian.com/