50 High School Girls Learn How to Engage in the Political Process
Monday, 01 May 2023 15:00
Last Updated: Tuesday, 02 May 2023 12:05
Published: Monday, 01 May 2023 15:00
Leah Dembitzer
Hits: 896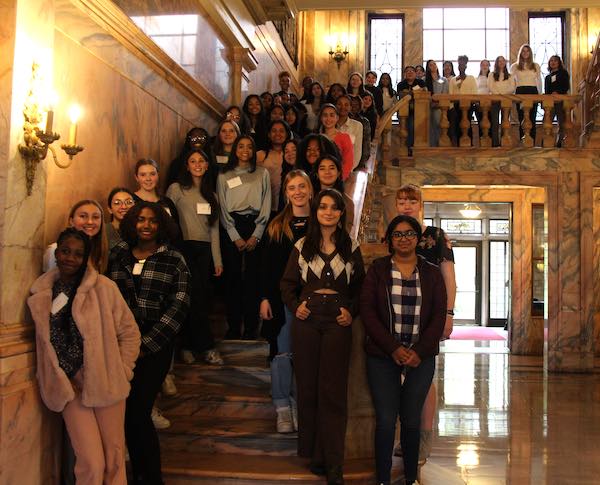 On Thursday, April 27, the League of Women Voters Westchester hosted its annual Running and Winning workshop at Reid Castle at Manhattanville College. Forty *female elected officials from throughout Westchester met with 50 *female high school students from our county.
Running and Winning is a unique and inspirational workshop, the purpose of which is to inspire and encourage young women to run for political office. In addition to supporting the students' aspirations to serve in public office and develop their leadership potential, another purpose of the program is to help our government institutions increase gender parity.
Elissa Ruback and Leah Dembitzer chaired the event for a second year. Dembitzer commented: "Running and Winning is a unique and meaningful opportunity meant to inspire and educate young women with interests in politics and advocacy. A connective theme highlighted by many of our attending elected officials was to encourage young women to use their voices and to be change-makers. We are so proud to bring this special event to students and grateful to elected officials who told their stories to inspire the next generation of leaders."
The young *women who participated (the League employs an inclusive definition of "woman" and "female" and welcomes all people who identify as such) were selected by their school administrators and faculty to participate in this program. The program agenda included both learning from elected officials' experiences and practical applications of public policy.
After a welcome and breakfast, the students and elected officials heard brief remarks from several elected officials from different levels of government, including: NYS Senator Shelley Mayer; County Legislator, Margaret Cunzio; Mount Vernon City Council President, Danielle Browne; White Plains City Councilmember, Jenn Puja; Yonkers Councilmember, Shanae Williams; County Legislator, Catherine Parker; County Legislator, Jewel Williams Johnson; Yonkers City Council President, Lakisha Collins-Bellamy; and Tuckahoe Mayor, Omayra Andino.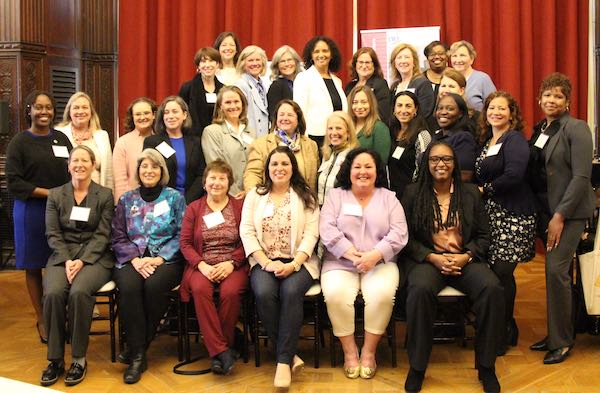 In these remarks, the officials spoke of their journey to elected office. Senator Mayer spoke about spending many years working in low-visibility positions to support elected officials and the importance of being the leader of public policy campaigns. She encouraged the students to make change by being the person whose voice is heard, emphasizing that when you're the elected official, you are the one who truly influences change.
Legislator Cunzio said that she was privileged to speak to the students and emphasized that for many years, she had been working in the background of a male-dominated field. Cunzio connected her career in politics to her experience as a volunteer firefighter. Although she is the sole woman among her male coworkers, she runs into burning buildings to provide a critical service to her community. The whole room broke into applause upon hearing her story. Cunzio also spoke of the importance of being true to your own voice, and that sometimes you may be the only one in the room on one side of an issue.
Councilmember Puja told a story about her childhood and a 5th-grade teacher who told her that "girls like you give other girls a bad name," since she asked so many questions. Now, she is the youngest council member elected to White Plains City Council and she is the advocate and voice for the Westchester-Putnam Central Labor Body, where she serves as its director.
Councilmember Williams spoke about her road to elected office and all the people who underestimated her and told her "No." She persevered, even when those with more power discouraged her, and is now the first Jamaican-born American elected to the Yonkers City Council and currently the youngest council member. Both she and Yonkers City Council President, Lakisha Collins-Bellamy, spoke about the importance of the candidate petition to get onto the ballot – to get more signatures than you need since signatures may be challenged.
Collins-Bellamy also spoke about the importance of education in opening doors for young women. She was born in Yonkers to teenage parents; people told her parents that she would be a statistic and that she wouldn't graduate from high school. Collins-Bellamy went on to college, the first in her family, and then onto law school. She is the first woman of color to be elected as President of the Yonkers City Council.
Mayor Andino spoke about getting pregnant at the age of 18 as she was about to follow her brother to Cornell. She said her mother told her, "Don't let this define you." Andino spoke of her journey to elected office as a woman of color in a community that is primarily white. When she was first elected to the Tuckahoe Board of Trustees, she was the only woman of color on an all-white, all-male Board of Trustees. Now, she says, there are five women serving on the Tuckahoe Board.
Following the speeches, the students participated in three rounds of casual interviews with various elected officials who rotated throughout the room. After the morning sessions, the students worked on mock campaigns, with each student in a given group taking part as either: a candidate, campaign manager, speechwriter, publicity/communications chair, or fundraising/development chair. Potential issues offered by the League for campaign platforms included: organizing a Mental Health Community Center, organizing an Immigrant Support and Resources Center, and supporting a Plastics Ban. The majority of student groups chose to run with the Mental Health Community Center as their issue, discussing the prevalence of mental health issues for young people. The students' campaigns conveyed that the collective mental health of women/girls in their generation has been influenced by many factors including pandemic isolation, frequent school shootings, and challenges to a woman's right to choose. Some groups also shared their support for an Immigrant Center, citing their own experiences as first or second-generation immigrants and the need to support and value immigrants in our communities.
Here are some comments from the students who participated in the program: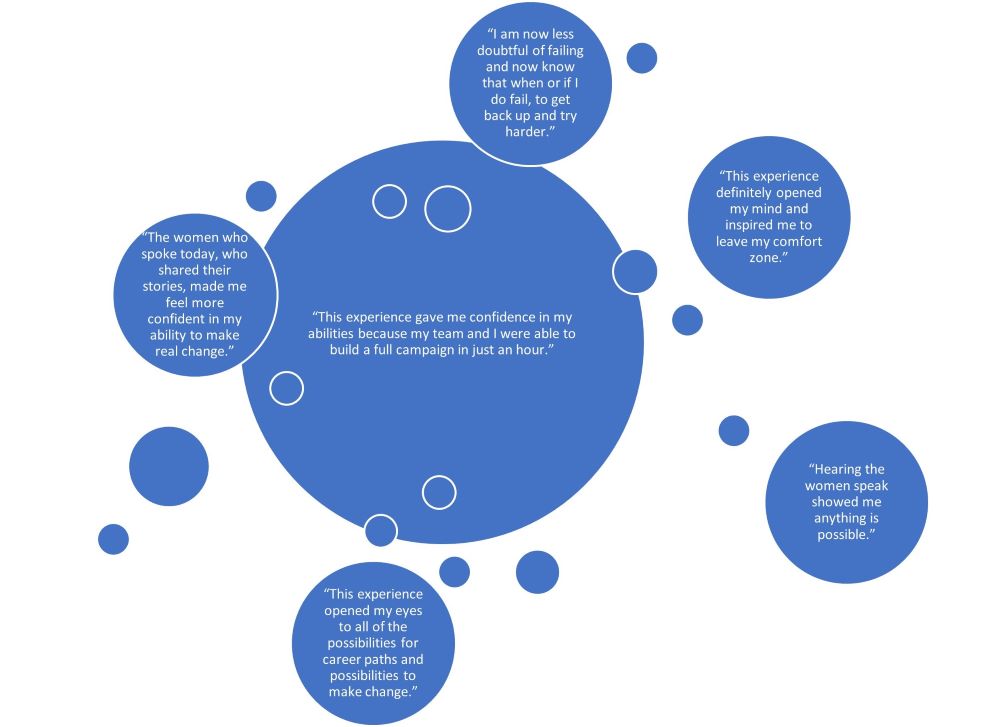 Running and Winning 2023 was sponsored by the League of Women Voters Education Fund, the Westchester Community Foundation, the Westchester Black Women's Political Caucus, the Westchester Library System, the Business Council of Westchester, Manhattanville College, and the American Association of University Women.
*LWVW uses an inclusive definition of female.