Schools Foundation Presents $263,000 to the Scarsdale Schools
Tuesday, 13 June 2017 08:41
Last Updated: Tuesday, 13 June 2017 08:41
Published: Tuesday, 13 June 2017 08:41
Joanne Wallenstein
Hits: 5209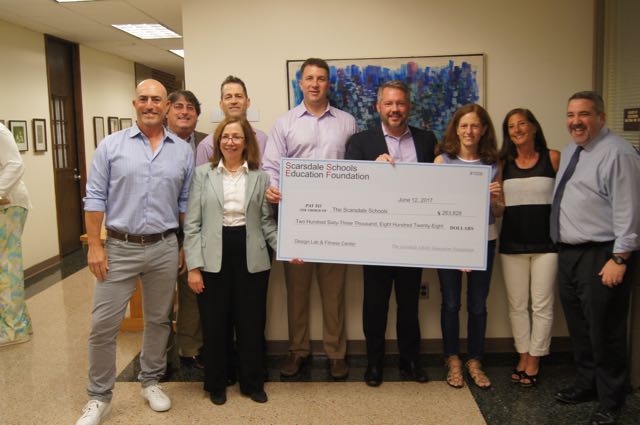 The Scarsdale Schools Foundation made good on their pledge to finance a design lab and fitness center at Scarsdale High School, presenting a check for $263,828 to the Board of Education on Monday night June 12th. This contribution brings them another step closer to completing their campaign to raise a total of $2.25 million for improvements to the high school.
Steve Seward, Executive Director of the Scarsdale Schools Foundation explained that the Foundation is still soliciting leadership gifts and smaller donations as they seek to raise the last $100,000 to meet their goal.
In addition to soliciting gifts from major donors, the Foundation launched a campaign to sell engraved brick pavers that will line the garden adjacent to the new learning commons. These will be laid out in walkways in a large chess-board design and the pavers will recognize donor gifts honoring students, graduates, teachers and teams.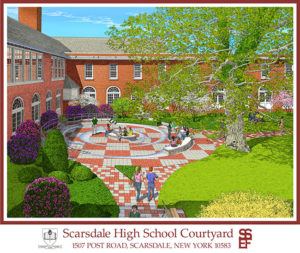 The new learning commons currently under construction will be the most modern space in the high schools and will serve as a gathering space similar to a student union at a college. The design lab will be adjacent to the commons and will be modeled after innovation labs at universities.
Commenting on the success of the campaign, Seward said, "We are gratified at the response from the community. Donors come from a cross section of the community including parents of elementary, middle and high school children and even empty nesters. In addition to finishing the capital campaign these funds provide program grants for innovative programming in all seven schools. The funds supplement the district budget and create programs that don't fit within the financial limitation of the operating budget. These programs are too good to miss and including maker spaces, gaming and simulation and innovation in technology, the arts and athletics."
Learn more about the campaign and see how you can get involved here.