In Memoriam: Gennaro Vito and Isabella Carmela Panessa
Friday, 24 April 2020 13:51
Last Updated: Friday, 24 April 2020 14:57
Published: Friday, 24 April 2020 13:51
Joanne Wallenstein
Hits: 984
Gennaro Vito and Isabella Carmela Panessa on their 50th AnniversaryGennaro Vito Panessa, 84, and Isabella Carmela Panessa, 81, died a week apart, each from complications of COVID-19. Isabella, lovingly known as Bella, died on April 6, 2020 at her home with her family by her side. Gennaro, lovingly known as Gene, died one week later on April 13, 2020 at White Plains Hospital. A private burial for both Gene and Bella was held at Ferncliff Cemetery in Hartsdale, NY on April 15, 2020.

Gene and Bella met when they were 15 and 12 respectively and they had a marriage full of many blessings, love and laughter for nearly 61 years. Gene and Bella were born and raised on "a-hun-12th Street" (112th Street in East Harlem), New York. Gene was born on June 15, 1935 to Guiseppe and Angelina Colacicco Panessa who immigrated from Gioia del Colle, Italy. Bella was born on April 26, 1938 to Salvatore Furnari who immigrated from Meri, Italy and Fortuna Ascione Furnari who was born in New York City.

Gene and Bella's love story began as neighborhood sweethearts and continued while Gene served in the U.S. Army based in Germany and Bella moved to Michigan with her family. During Gene's service, he played on the U.S. Army baseball team and traveled throughout Europe. Over that two-year period, Gene and Bella wrote love letters to each other nearly every day and not surprisingly, Gene proposed to Bella immediately after he completed his service. In order to be closer to the love of her life, Bella moved in with her Aunt and Uncle in New York City until Gene and Bella married on July 19, 1959 at the Parish of St. Ann in New York City.

Gene and Bella's first home was in Bronx, NY where they had four children, Joseph, Brian, Gene and Angela. They moved to Scarsdale, NY in 1969 where they had their fifth child, Elizabeth. Their five children and 15 grandchildren were the center of Gene and Bella's world. Their extended family and old friends from 112th Street, the Bronx and Scarsdale were a close second.

Gene earned his Bachelor's and Master's degrees from Fordham University while he worked at Metropolitan Life. He continued to work at MetLife for 44 years, ultimately retiring as the Director of Personnel, Actuarial and Auditing Department.

After raising their five children, Bella worked at Woodlot Nursery School and then the front office of the Chatsworth School in Mamaroneck, NY. She then went on to work in the Scarsdale Schools Superintendent's Office.

Gene and Bella were devoted and active members of the Immaculate Heart of Mary Parish in Scarsdale, NY. Gene taught CCD for over 10 years and was President of the IHM Holy Name Society for 13 years. Each year, Gene organized a religious retreat which brought him much pride and joy. They always gave back to their community. Bella volunteered through IHM and supported elderly neighbors and friends in countless ways. For many years, Bella drove a neighbor to see his wife in the hospital and nursing home. Later in life, when Bella and Gene had more means they contributed to charitable causes supporting veterans, children and the disabled.

For over five decades, Gene and Bella supported their children and grandchildren's activities at IHM, Edgewood School and Scarsdale Middle and High School. From Brownies, Girl Scouts and Boy Scouts, to athletics and to the many milestones including graduations and religious Sacraments, Bella and Gene set the stage and always had a way of bringing the community together. And all were always welcome at the Panessa home, so much so that it often felt like Grand Central Station with people always coming and going to share a meal, a laugh or a chat with Gene and Bella.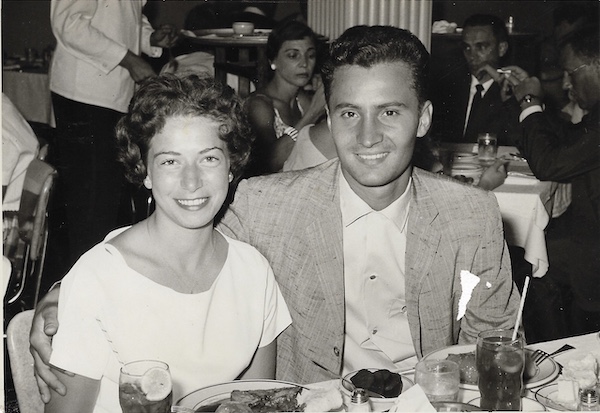 Bella and Gene Panessa in 1957

Time with the grandchildren was their sunshine. Bella greeted each and every one with "Hello my baby" no matter their age. And Gene never hesitated to give a big grandpa bear hug and kiss, often telling the little ones to put their head close to his heart and the older ones to "Work Hard, and Pray Hard".
Bella knew her children and grandchildren so intimately. She needed only one look, brief eye contact to know how they were feeling. She always provided a sense of comfort with her words which was accompanied by a warm hug. She would bite her lower lip and squeeze tightly. Similarly, Gene enjoyed nothing more than lending his ear to loved ones, including dear family and friends, sharing his thoughts and experiences, and most importantly God's words based on His scriptures.

Some would say, Gene and Bella were opposites in many ways. Bella loved her sweets – always in the mood for a "nice piece of cake," and for Gene, the saltier the better - always looking for pretzels and peanuts to accompany his 5 pm martini. Bella liked adventure, pushing Gene to take trips beyond their two favorite vacation spots, Fishers Island and the Catskills. Gene on the other hand was more than content spending any free time in the backyard of 164. And while Gene would often say to his children and grandchildren "Don't put a dollar too close to your face so you can't see anything else." Bella would counter with "Money can't buy happiness but it sure helps." It was also just one example of Bella's quick witty humor to Gene's cautionary life lessons, or "sermons".
Gene and Bella had a perfect balance of devotion, admiration, love and sacrifice in their marriage. They enjoyed life, grateful for everything they had, most especially their strong faith and their family. They never lost their teenage love for each other. The twinkle in their eyes was evident each time the other walked in the room, a sign of relief almost, as they were each other's constant. In the later years, Gene took care of his beloved Bella as she suffered from Alzheimer's. He stood by her side caring for her every need and Bella provided Gene with the silent support as she always had.

Gene and Bella are survived by their five children - Joseph, Brian and Gene Panessa, Angela Waterhouse and Elizabeth Merola; daughter-in-laws Heather and Lori Panessa; son-in-laws Kevin Waterhouse and Michael Merola; 15 grandchildren – Ashley, Paige, Samson, Haley, Bridget, Mackenzie, Landon, Luke Panessa; Scott, Christian, Isabella, Fisher and Leena Waterhouse, and Avany and Thea Bella Merola; Gene's brother Donato Panessa, and Bella's sister Carmela Furnari, brother Frank Furnari and sister-in-law Josephine Furnari, and many nieces and nephews.

While their loss is immeasurable, the blessing and comfort is knowing that they never had to mourn the loss of the other and that they are together, resting side-by-side as they always have been and forever will be.

The family will hold a memorial celebrating Gene and Bella's lives with extended family and friends at a future date. In lieu of flowers, the family requests that contributions in their memory be made to The Alzheimer's Foundation of America, The Cure Alzheimer's Fund or the Immaculate Heart of Mary Parish in Scarsdale, NY.