Neighbors Home Covered in Dust After Home Demolition on Lee Road
Monday, 10 August 2020 07:42
Last Updated: Monday, 10 August 2020 07:46
Published: Monday, 10 August 2020 07:42
Joanne Wallenstein
Hits: 912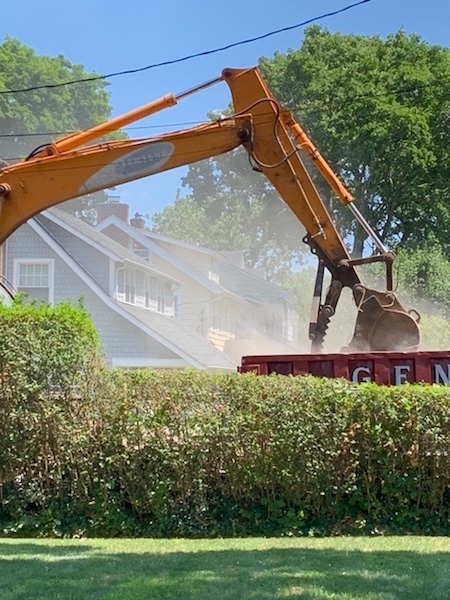 This is a letter from Lee Road resident Lisa McIver to Village Planner Greg Cutler about the demolition of a house next door to her home:
Hello Greg: After waiting 6 months for the house (at 112 Lee Road) to be demolished they did it this Saturday - the day we left on vacation. Our neighbor luckily heard what was happening. The house was taken down with no water to hold the dust down AND worse the structure fell onto our property. It took down a row of 5-6 large arborvitae trees and broke the Belgium blocks lining our driveway.
Our houses are tight. This builder needs to be careful of our property. Today they piled the dumpster up and did not wet down the debris. Huge clouds of dust were over our property. We are away until Saturday so we haven't seen it but I am so angry about the blatant disregard for our property and the unskilled workers.
Here is a photo of the dust coming from the demo … one worker and no water to hold down the dust. Our neighbor said our backyard looks awful with tons of dust covering our furniture, house and patio.
Who cleans this up? Will the town test it for asbestos? We come home Saturday and shouldn't be returning to such a mess. Our house and windows will need to be power washed and cleaned. Trees will need to be replanted and the driveway repaired.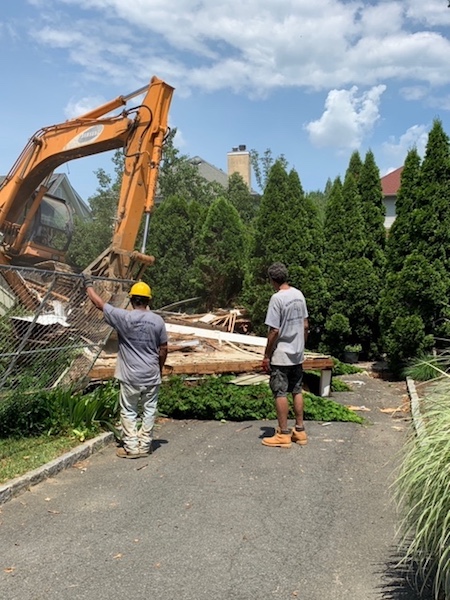 We will file a police report when we return. They need us to be home. Would you please check the scene tomorrow? The photos below show the workers on our property with the pieces of their demolition spilling over on our property.
Please help. Our neighborhood cannot handle such blatant disregard for our well-being and our property.
We look forward to quick action.
Thank you,
Lisa Lovisolo McIver
109 Lee Road