Scarsdale Artists Invited to Submit Work for Village Wide Art Exhibition
Thursday, 22 April 2021 09:56
Last Updated: Thursday, 22 April 2021 09:58
Published: Thursday, 22 April 2021 09:56
Joanne Wallenstein
Hits: 277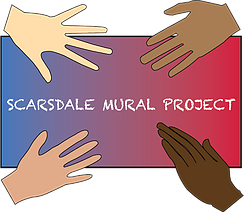 The Scarsdale Mural Project is calling upon Scarsdale artists of all ages to turn the Village into a community-wide art exhibition based on the themes "Gratitude and Service." Community members' art will be displayed in shop windows Village-wide throughout the month of June and will be used to help inform and inspire the muralist who will be chosen to paint the 2300 square foot wall at 57 Spencer Place on the same theme. Submissions are due by May 15. Details can be found at www.ScarsdaleMuralProject.org.
Here are the details:
The Scarsdale Mural Project, a consortium of local business and civic organizations calls upon you to create a Village-wide art exhibition.
As we pull out of a difficult year, help your neighbors reflect upon and celebrate the most wonderful parts of our lives and community: life itself, health, science, our loved ones, people helping and serving one another and our own ability to help others, to name a few. Help us celebrate life and enhance our Village with your art by submitting original drawings, and paintings that respond to the question:
What do "Gratitude and Service" mean to you?
Art must be on either 8.5"xII" or II "x 14" paper and should be in marker or poster paint (so it is vibrant enough to enjoy through a shop window).
Leave a .5" border so that it can be "framed" by our committee for display.
Please include on a separate sheet a brief (50 words or less) explanation of the work that can be displayed alongside it.
The artist's full name, age (if by a school-age child), and email address should be written in pencil on the back of the submission or on an attached sheet of paper.
Submission deadline: May 15 by mail (or dropped off in-person) to:
Attn: The Scarsdale Mural Project
The Scarsdale Improvement Corporation
14 Harwood Ct # 304
Scarsdale, NY 10583
Artworks will be displayed in the windows of participating shopkeepers throughout the month of June, 2021 and on the website www.scarsdalemuralproject.org and may also appear in online and print publications. The original piece can be picked up from the shop where it is displayed during the first week of July. In submitting art, participants agree to have their art displayed with their first name, last initial, and age (if by a school-age child).
All pieces will be shared with the muralist whom the Scarsdale Mural Project will engage to paint the side of 57 Spencer Place to inspire the upcoming mural "Gratitude and Service."
During the mural painting, the artists of select submissions may have the opportunity to meet individually with the muralist to discuss their art.