Edgewood Residents Create Card Game to Help Kids Deal with Anxiety
Tuesday, 14 September 2021 14:09
Last Updated: Tuesday, 14 September 2021 17:55
Published: Tuesday, 14 September 2021 14:09
Joanne Wallenstein
Hits: 1567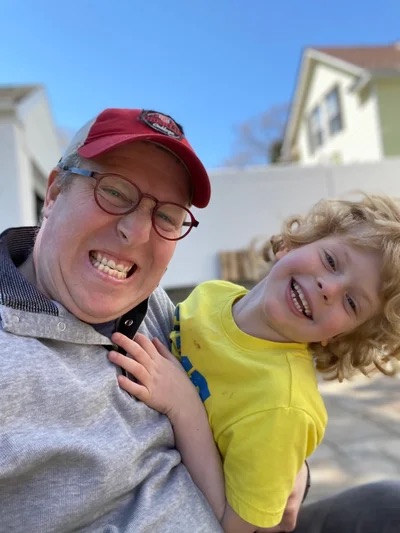 Stephen and Arlo BaerResearch shows that kids who learn healthy ways to express and cope with their feelings are more likely to be empathetic and supportive of others, perform better in school and careers, have more positive and stable relationships, and develop a positive sense of self.
In order to help kids deal with their feelings, Edgewood residents Stephen Baer and his eight year-old son Arlo, a third grader at Edgewood, created a card game called Feeling Lucky. It's focused on helping kids identify, understand, express, and manage a wide range of feelings that have been amplified during the pandemic. Feeling Lucky challenges players to express how they feel in a variety of situations and awards players every step of the way.
Over the past few years Arlo has struggled with anxiety and he used his creativity to turn lemons into lemonade. He built a prototype of this game using popsicle sticks and tested it at home. Then his Dad hired an artist to draw each emotion and they produced a small run of cards for friends and family members to test. After getting feedback, they printed a slightly larger run and are now selling copies of the card game.
Dad Stephen Baer is the Chief Creative Officer for The Game Agency, a company that makes video games for K-12 education and corporate training.
His goal is to show Arlo that creative thinking can help solve his anxiety and help plenty of other kids just like him. Learn more and get your own card game on their website here.