Girls Tennis Team Undefeated: Onto the Sectionals
Thursday, 07 October 2021 08:29
Last Updated: Thursday, 07 October 2021 08:39
Published: Thursday, 07 October 2021 08:29
Joanne Wallenstein
Hits: 398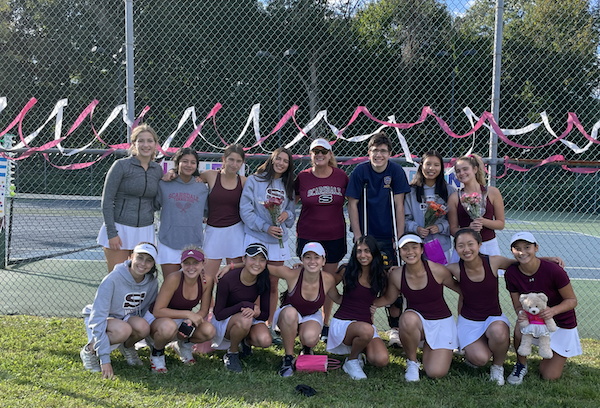 The team celebrated Senior DayThe Scarsdale Girls Varsity A scored another fast victory at home on Tuesday October 5 at a make-up match against Ursuline. As the Scarsdale B team needed the courts for a home match as well, the coaches agreed to play one eight game pro set rather than the usual three set matches.
The Raiders, who are undefeated for the season were on an off the court in a flash. Playing first singles for the team, Natalie Hu served ace after ace. Her opponent often watched in awe. Hu barely dropped a point the entire eight games, and was the first to finish, 8-0.
Freshman Giana Marks also overpowered her opponent. With daunting serves and deep ground strokes to the baseline she secured an 8-1 victory. Playing third singles, Maya Cukierman also had a smooth win at 8-3.
In fact, Ursulines two singles players had paired up to play first doubles, so that match proved to be a bit more challenging for the Raiders. However, the talented team of Campbell Alin and Laura Mendez prevailed, 8-3. The well oiled second doubles team of Maya Vora and Yelena Sahakyan prevailed with an 8-1 victory, and the third and fourth doubles teams followed suit, winning 8-4 and 8-1.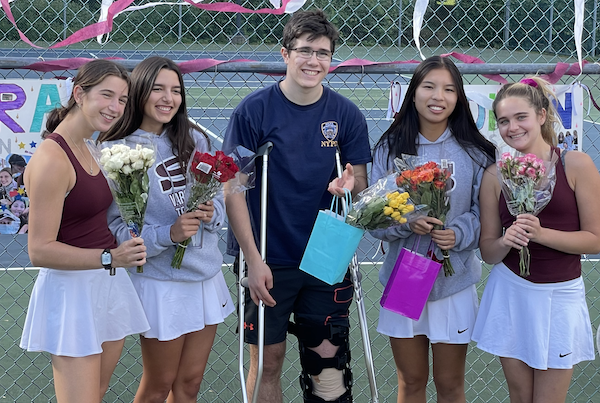 Team Seniors flank their manager
Commenting on the team's stellar season, Coach Jennifer Roane said, "With so many new players this year I wasn't sure what to expect. What a happy surprise…. and they are nice kids too!
The team will send three singles players and two doubles teams to the sectional tournament at Harrison High School this coming weekend. On Thursday October 14, the entire team will play in the first round of the regional tournament at home.
Following the match, Giana Marks showed off team mascot Ace the Bear who was sporting a Wilson tennis bag with a mini racquet inside. He's been with the team since 2019.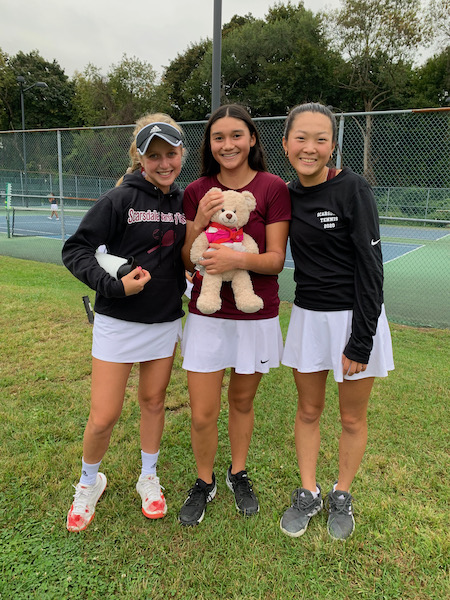 Singles Players Cukierman, Marks and Hu are all smiles after a victory over Ursuline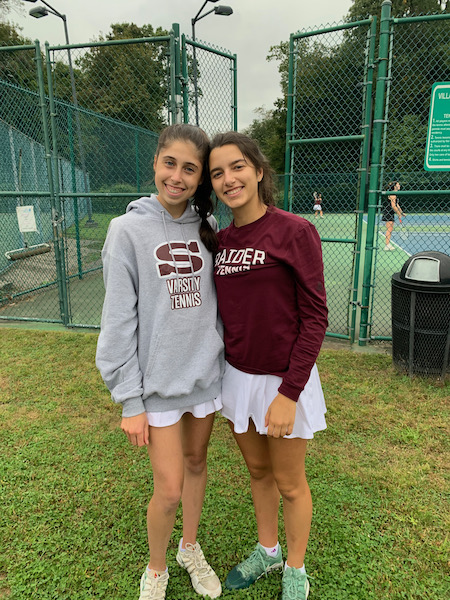 First Doubles Team Campbell Alin and Laura Mendez