Growing Team Hopes to Make Squash a Varsity Sport at SHS
Thursday, 26 January 2023 12:34
Last Updated: Thursday, 26 January 2023 12:37
Published: Thursday, 26 January 2023 12:34
Joanne Wallenstein
Hits: 1174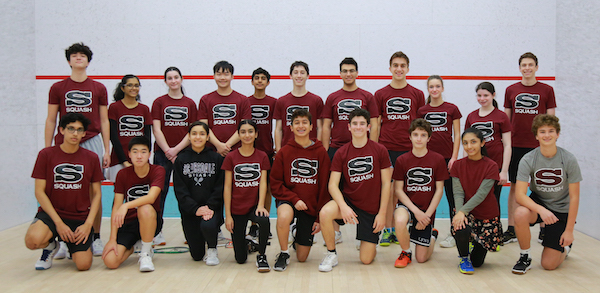 Now in its second year, the Scarsdale High School Squash Team is back, stronger than ever. The team has grown from only nine players last year to 20 players this year who have formed three teams. The teams compete at the FairWest High School League against Bronxville, Rye, Briarcliff, Greenwich, Darien, Fairfield, New Canaan and New Haven. The teams train once a week with coach Adham Abou Taleb at the Westchester Squash Academy in Mamaroneck.
The team is looking forward to representing Scarsdale in the 2023 U.S. High School Championship Feb 26-28 at the Arlen Specter Center in PA. A second team is also planning to compete at the 2023 National Interscholastic Team Championship Feb 3-5. The team hopes that one day squash will become a Varsity Sport at the high school.
Follow the team on their Instagram and on Scarsdale page on the fairwest league website.
About the team, Coach Adham Abou Taleb said, "It has been a pleasure coaching the Scarsdale High School students at our club, Westchester Squash Academy for the second year in a row.
This season, I helped many players completely new to squash develop some of the skills and fitness levels that the sport requires, and I watched the more experienced players approaching the courts with a renewed and fresh enthusiasm for the game, coming from competing not just as individuals, but as part of a team.
I believe squash is much more than hitting the ball and winning games, it is about hard work, perseverance, consistency, and getting out of your comfort zone, and when you are part of a team is also about commitment and responsibility.
I am very proud to say that some of our senior players are very good leaders and great role models for the younger ones. I am confident in saying that when they will go to college, some of the younger ones will step in their shoes and take on the baton for next year and success will keep coming because success is not just holding a trophy in your hands but creating a path for others to follow.
As it stands, our A-Team is 3 and 2 with wins against Greenwich, Westport, and Rye and losses against Darien and Bronxville.
Team B stands at 0 and 4
Team C stands at 1 and 1
We are excited to travel to the National Championships in Philadelphia this February and we are looking forward to working even harder next season."
Pictured Above:
Back row from L to R: Richard Fawcette, Eimaan Bilal, Nora Afzali, Peter He, Neil Sriram, Zane Kohn, Ali El Moselhy, Daniel Hochberg, Maddie Wilson, Sophia Kahan, Ephram Cukier.
Front row L to R: Aryan Barauh, Peter Lin, Armita Ahmed, Rehma Qadir, Daniyal Naeem, Noah Zoland, Nicholas Apessos, Amal Bilal and Leo Fried.