STAY is Here to Stay
Friday, 12 May 2023 14:41
Last Updated: Thursday, 18 May 2023 11:31
Published: Friday, 12 May 2023 14:41
Caitlin Higgins
Hits: 550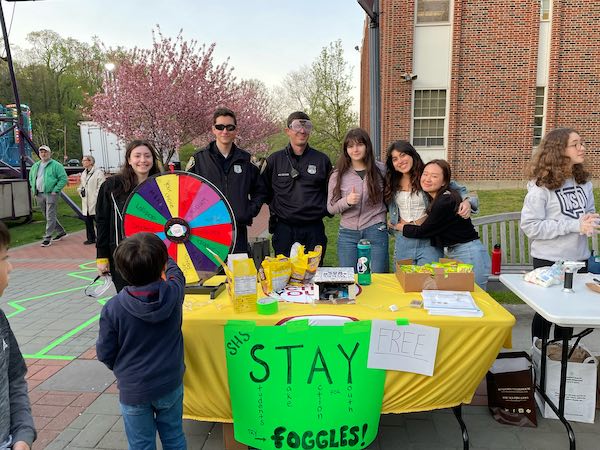 Tayt Rompala (11), Scarsdale police officers, Caitlin Higgins (11), Maya Regenstreif (11), Yeonsoo Go (11)
Despite numerous restrictions, many teenagers are exposed to or even consume drugs and alcohol. To raise awareness about the effects of substance use and encourage healthier lifestyles, Caitlin Higgins founded the Students Take Action for Youth Club, better known as the STAY club. Higgins recently wrote an article detailing the founding, goals, and recent community involvement of the club, which is shared below:
I am happy to announce that STAY is officially a part of Scarsdale High School. Inspired by SADD, Students Against Destructive Decisions, Students Take Action for Youth (STAY) encompasses more than just drug and alcohol awareness. The STAY Club will be a place for SHS students to learn, discuss, and take action against substance abuse in addition to supporting teens' mental wellbeing. We are focused on looking deeper into the truths about substances in our community and larger society. Many of the things we believe to be true about substances are, in fact, untrue and misleading. We are here to spread the truth. Our goal is to educate students about substance misuse, separating fact from fiction, and allowing students to make informed decisions that will lead to healthier lifestyles.
As a long-time member of Scarsdale Action for Youth, I have been active in planning, speaking, and conducting activities for my peers and the community. Through events like Light The Dale and The Scarsdale Car Show we've worked to bring attention to the issue in a supportive and approachable way. I also spoke in front of the Village Hall Board of Trustees, objecting to the allowance of marijuana dispensaries in our village. Earlier this year in February, SAY sent me to Washington, DC to attend the National CADCA convention, where I had the thrilling opportunity to address our New York politicians and gave a youth perspective in support of New York State bills and funding for substance abuse prevention, early intervention, and treatment programs. Yet, after returning, I wanted a place where students can work together in an independent and more personal setting. When I applied to be a club, Jessica Levenberg, the SHS health teacher, agreed to be the STAY club advisor.
After being passed, we planned an ambitious schedule with at least one event each month in order to best keep organized and to make each month meaningful. Two weeks ago, in preparation for 4/20 Day, the STAY Club along with SMS 8th graders, met up at Italian Village Pizzeria, and stickered close to 400 pizza boxes with different messages about the harms of marijuana use in order to spread a less aggressive message. The next day, we also hosted an SHS Club table at the annual SHS carnival, continuing the marijuana awareness theme. Alongside our table, we taped a green zig zag line on the pavement. Participants walked the line while wearing "Foggles," simulation goggles that replicate the physical effects of marijuana and alcohol impairment. Many students and adults were surprised by the impairment they experienced, which included concentration, coordination, depth perception, and even nausea. Judging by the lines of people, we know that this activity was very well received. The Scarsdale Police stopped by and gave it a try as well. With all of this positive reinforcement, STAY is beginning to build its name.
STAY was honored to be asked by the SHS administrators to participate in Non Sibi Day on May 26th—a day of community service and present a topic of our choosing. We felt it was important to do NARCAN training for SHS' 16+ year-olds to address the fentanyl and opioid epidemic— the worst drug crisis in US history. We recognize it's an uncomfortable and gruesome topic, but so important for students to be informed and help protect themselves and others. We want to help prepare our peers in the best way possible for any situation they may encounter.
Our next activity is a Post-It note event where we will write encouraging messages on post-its and place them on the 8th grader's lockers in order to welcome them to the high school and congratulate them on their successes so far. We aim to form tight connections with members of the whole community– not just high school students. The event will be on Tuesday, May 16. Anyone is free to join us and we hope to have a great turn out!
In the future, there are many more events on the schedule and we hope that with each STAY exposure, SHS students will join and get involved with our initiative. Our message is one of truth and action, but we will also have fun doing it together. In other words, STAY is here to stay.