SHS Students Use Electromagnets to Create Spiderman Wall Climbing Technology
Sunday, 28 April 2019 10:07
Last Updated: Sunday, 28 April 2019 18:13
Published: Sunday, 28 April 2019 10:07
Joanne Wallenstein
Hits: 1035300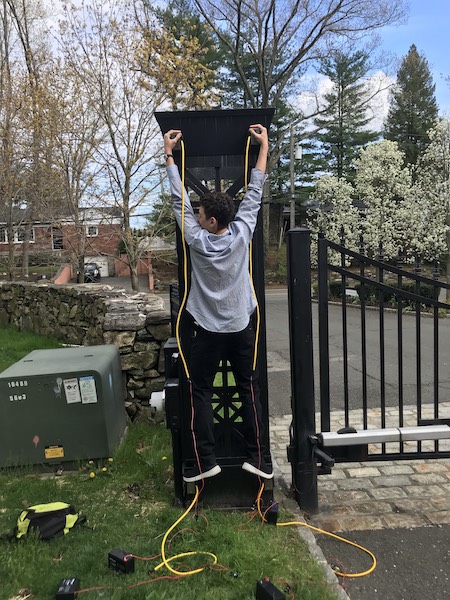 As a final project for their Computer Science course, SHS students Aron Frishberg and Joshua Im created functional Spider-Man wall climbing technology. The Spider-Man technology uses very strong electromagnets magnets that can lift great amounts of weight when powered, but without power, are completely deactivated. The two use the magnets to climb metal structures and continue to work on many other gadgets including Thor's hammer and Spider-Man webshooters.
In the pictures shown, look under the climber's feet and hands to see a magnet connected via yellow wire to a battery.
We asked the two a few questions, and here is what they shared:
Tell us about yourself and your partner Joshua Im - how did you become interested in climbing wall technology?
Josh and I go to SHS and we take a computer science class. We both love superheroes especially Spider-Man and decided to bring Spider-Man to life. We were brainstorming one night and the idea just popped into our heads. We did a ton of research and we did it.
What class are you taking, who is the teacher and what was the assignment?
We are taking Computer Science 913, which is taught by Mr. Leong. The assignment was to create a project for the STEM fair at the end of the year. It could be anything tech related, including engineering or coding.
Are you using any of the equipment in the new Design Lab to do your project?
We did not use the design lab for the wall climbing technology, but we are using the 3d printers for our next addition to this project, which is functional webshooters.
Please describe your project - what does it do?
We use 12v lead acid batteries to power four 275lb 12v electromagnets. They are all controlled by buttons individually so you can climb with ease. It allows anyone to climb a magnetic surface.
What metal structures have you climbed? How much weight do the magnets hold?
We haven't really done that many tests but we're able to climb a magnetic stair support at Greenacres School. Each magnet can hold up to 275lbs.
What practical use does this project have?
We believe it has some very promising possibilities, such as climbing buildings.
What does Mr. Leong think about the project?
He believes that this project shows great promise and has a good chance of winning the STEM fair.