Raiders 1, Horace Greeley 1 in Tight Soccer Match
Thursday, 05 September 2019 07:44
Last Updated: Wednesday, 11 September 2019 17:33
Published: Thursday, 05 September 2019 07:44
Anna Cho
Hits: 2913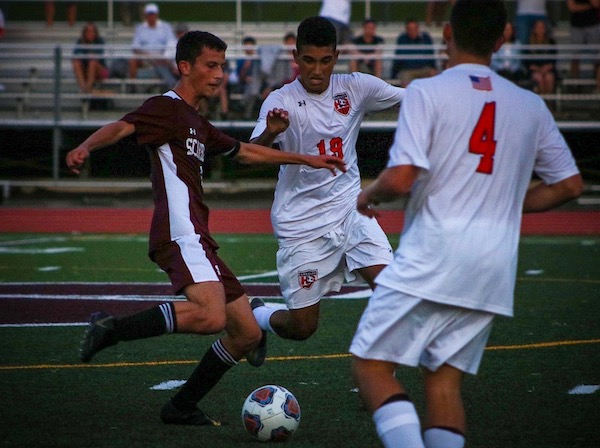 Senior and captain Benjamin Rubin setting up to kick the ball in the second half of the game. Scarsdale Raiders Varsity A Boys Soccer team tied 1-1 with Horace Greeley in a grueling, tight match on Tuesday September 3 in Scarsdale. The game went into overtime, with two, ten-minute halves. These soccer athletes kept at it until the last second. Every player was either grinding on the field or enthusiastically rooting for their teammates on the bench. These athletes never showed a lack of effort, and worked their hardest during every aspect of the game.

Junior Cooper Cohen is seen running down the field with the ball.
"We have a very talented team and a lot of hard working players, and I believe we can compete with any team in the section," commented senior and captain Zach Medvinsky who has been on the team since freshman year. The boys aim to win the section this year, and are very determined to do so. They are dedicated players, who "want to win and work hard for each other," says returning junior Cooper Cohn. The team's focus on building their friendships both on and off the field has motivated them further to win for one another as a unified team.

Junior Adam Wasserman is pictured running to the ball before his adversary from Horace Greeley.
Although the boys have lost and tied their first two games, they "have had a much better start than previous years," claims Medvinsky. The team has recruited six new players, some being from Varsity B and JV who are "very solid and have been doing a very good job creating many scoring opportunities," states returning junior, Jack Porter.
Junior Estaban Rudolff is seen sprinting to the ball before an adversary from Horace Greeley.
The team looks forward to a very successful season filled with hard work, fun, and countless wins. Catch these impressive athletes at their next game against Arlington at 12:00 on Quaker Ridge Fields this Saturday.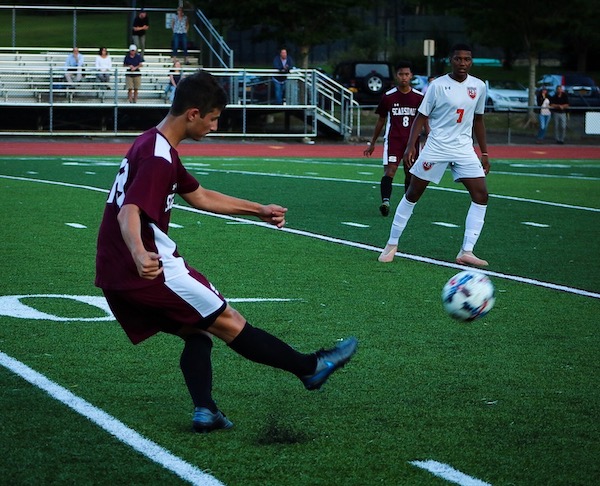 Sophomore Roman Tirabassi is pictured kicking the ball in tight game against Horace Greeley.
Scarsdale-1, Horace Greeley- 1
Team members: Patrick Artes, Kian Batliwalla, Cooper Cohen, Cameron Davis, John Dowd, Lukas Forsingdal, Eli Gledblum, Katcher Adam, Calvin Lee (Captain), Adrian Lim, Aidan McKenna, Zachary Medvinsky (Captain), Luke Peltz, Jack Porter, Benjamin Rubin (Captain), Estaban Rudolff, Luca Schettino, Joshua Stressberg, Rafael Tassari, Roman Tirabassi, Adam Wasserman, and Michael Waxman
Junior Michael Waxman is shown kicking the ball during the game against Horace Greeley.
Senior Patrick Artes is seen dribbling the ball and keeping it away from a Horace Greeley opponent.
Senior John Dowd against surrounded by three opponents from Horace Greeley.