Sports News from the Court and the Field
Wednesday, 11 September 2019 08:36
Last Updated: Thursday, 12 September 2019 07:51
Published: Wednesday, 11 September 2019 08:36
Joanne Wallenstein
Hits: 3448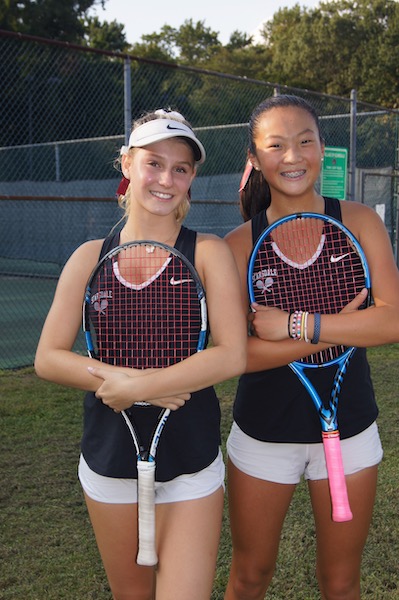 Zoe Tucker and Natalie HuGood news from both the tennis court and the football field this week for the Raiders:
Girls Varsity Tennis

Coach Jennifer Roane has a spring in her step and a twinkle in her eye when she talks about this year's Varsity girl's tennis team. And she has good reason to be optimistic.
It's only the beginning of the season, and the team has already won their first two league matches, shutting out Fox Lane and Bronxville, 7-0.
The talented team includes freshmen to seniors – and every grade in between. Several of the top players train year round, and two have rankings in the Eastern section. With this line-up of skilled players, the team is poised for a winning season.
At the home match against Bronxville on Monday September 9, first singles was played by junior Zoe Tucker, just named to the list of the 2019 stellar "next 6" by Lohud. She trains at the John McEnroe Tennis Academy at Lake Isle and competes in the USTA Eastern section and national tournaments. This is her third year playing varsity tennis. In 2018 she was All League and All Section and was the Scarsdale High School Girls Tennis Team's Most Valuable Player.On Monday, she defeated Rory Kristian from Bronxville 6-1, 6-0.
Playing second singles was newcomer to the team, freshman Natalie Hu. She also competes nationally and has played doubles with Tucker in some tournaments. On Monday, she gave up very few points, defeating Eva Dani, 6-0, 6-2.
Junior Anya Kornfeld also trains at the academy and won her match on Monday, 7-5, 6-1.
The team has a set of sisters playing first doubles …. senior Luisa Mendes and sophomore Laura Mendes. What's their strategy? A big serve and a rush to the net. This is their second year playing together and they get along well. On Monday they dominated their opponents 6-3, 6-0.
The second doubles team of junior Emily Anne Tsai and senior Maggie Akutey also won handily – at 6-0, 6-3.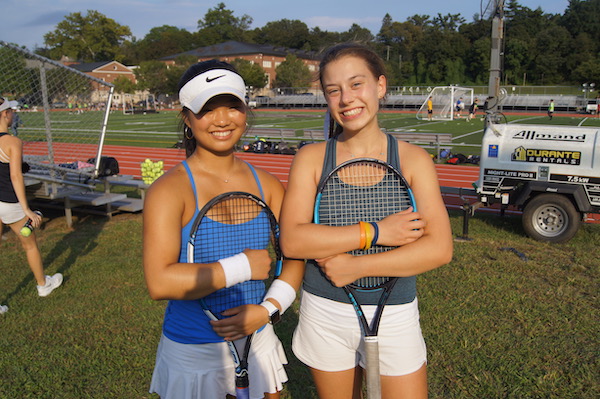 Fourth Doubles Team Anna Cho and Natalie SchonfeldThird doubles team of Maggie Maronilla and Megan Niu came away with an impressive 6-0, 6-0 and juniors Anna Cho and Natalie Schonfeld scored a 6-0, 6-2 victory in fourth doubles.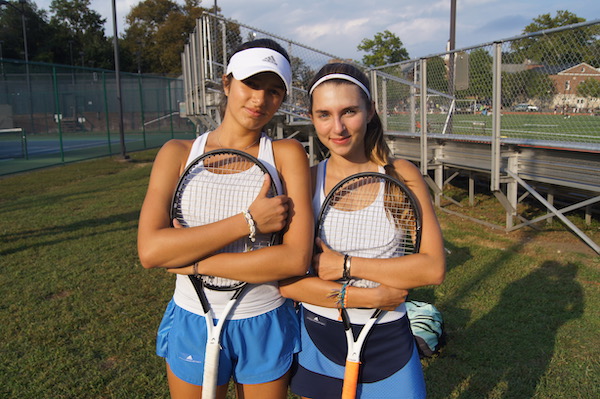 First Doubles Team and Sisters: Luisa and Laura Mendes
It doesn't get much better than that – especially against a rival like Bronxville.
Also on the roster this year are Devin Goldman and Sabrina Siegel.
We'll be watching these girls – especially when they get their new uniforms! The next match is against Mamaroneck, at SHS on Friday September 14 at 4:15. Come by and watch some great tennis.
Football
The Raiders Football team is also off to a great start. Below see a photo of the happy team after their opening season game against Port Chester on September 7 when they won Scarsdale 18, Port Chester, 10.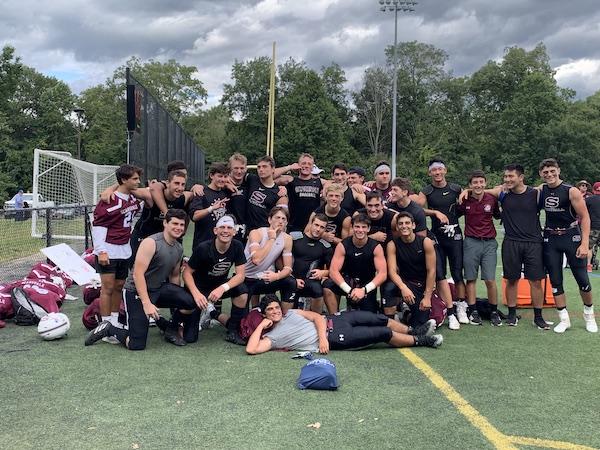 The Raiders Varsity Football Team after their opening season win over Port Chester: Photo credit Maryellen Saenger and Gayle Jamesley