Raiders Tennis Team Scores 6-1 Vs. Horace Mann at Home
Tuesday, 24 September 2019 21:01
Last Updated: Thursday, 26 September 2019 19:58
Published: Tuesday, 24 September 2019 21:01
Anna Cho
Hits: 2053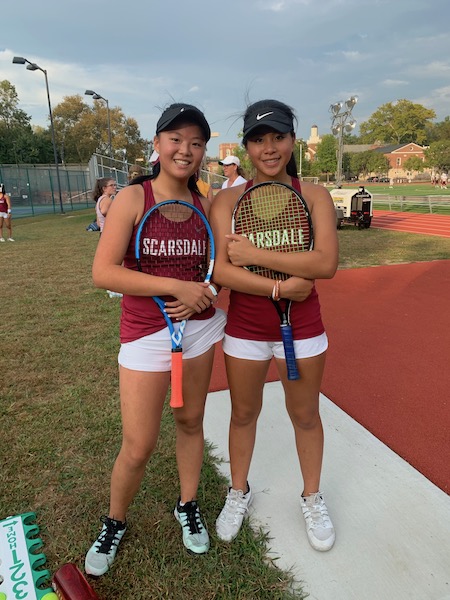 Megan Nui and and Maggie Maronella after their 6-1, 6-3 win against Horace Mann.
The Scarsdale's Varsity A Tennis is on a roll. Now at 9-0, the team scored two victories in the past week. They had a stunning 7-0 away match on Friday September 20 against Fox Lane and scored 6-1 in a non-League match against Horace Mann on Monday September 24.
Although the tennis team has played against Fox Lane previously, some of the girls were still nervous going into Friday's match. However, as the match progressed, they got into the swing of things and simply, "played their game," according to senior Captain Luisa Mendes.. With a really strong team this year, Mendes believes, "the team will win the league, win the conference, and go undefeated." Junior Zoe Tucker beat rival, Leah Tuluca, in a grueling 6-4, 6-2 match. As this was the fifth time these two adversaries have played each other, Zoe claims she had to "go in with a specific strategy and although it was a rough beginning I pushed through and ultimately felt great about my match."
The girls have had a 9-0 record so far, and hope to go undefeated this season. On this strong team, every player on the team is undefeated in League matches.
The team had another stellar day on Monday 9-22 with a 6-1 victory over Horace Mann, following their 7-0 shutout of Fox Lane on Friday 9-19. They have barely dropped a match all season.
Though Horace Mann is not in Scarsdale's league, Coach Jennifer Roane set up the non-league match to give her team more court time against one of the toughest teams in the area. She told the girls, the match was a "challenge" that forced them out of their comfort zones.
The competition was fierce with players on all courts driving deep balls to the baseline and keeping their opponents near the fence. It was great spectating and a good opportunity to watch some highly skilled young players.
Senior Captain Luisa Mendes warms up before the Fox Lane match.Doubles team and sisters Luisa and Laura Mendes walked off the court with a score of 6-3, 6-4. We watched the duo hitting strong deep shots and challenging their opponents until the player at the net had the chance to put it away.
In second doubles, Megan Niu and Maggie Maronella scored a 6-1, 6-3 win. They said their strategy was to play consistently, identify the opponents weaknesses, adjust when they needed to and going for the poach at the right time.
In third doubles Maggie Akuetey and Emilyanne Tsai came away 6-4, 6-1. They said they hit steadily, take their time and wait
Maggie Akuetey and Emilyanne Tsai were all smiles after their 6-4, 6-1 win against Horace Mann. for an opportunity to be aggressive at the net.
We were not able to watch the fourth doubles team of Anna Cho and Natalie Schonfeld as they played on the other set of courts – but they looked pleased with their 6-1, 6-2 triumph.
Horace Mann brought some dynamite singles players with them on Monday. On court one, Scarsdale's Zoe Tucker fought hard against Sofia Allinson. Allinson drives hard deep balls, both cross court and down the line and proved to be a fierce opponent. Though Tucket gave it her all, she came away with her first loss of the season, falling 6-1 and 6-2 to Allinson.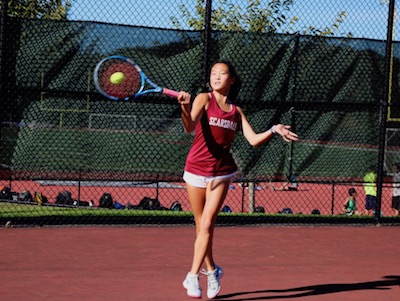 Natalie Hu hits a forehandat Fox Lane.Freshman Natalie Hu also had a long battle again Horace Mann's JJ Ryu. The points were long and looked exhausting. Hu was undaunted by her senior opponent and won 6-4, 6-1.
In third singles, junior Anya Kornfeld had an easier time, beating Allison Markman 6-0, 6-0. It was a steamy September day and Kornfeld looked like she had a workout.
It's a big week for the team who played Urusline on Wednesday September 23, scoring another 7-0 sweep. A non-league match against Harrison which was planned for Thursday 9-25 was cancelled due to weather.
Junior Anya Kornfeld, playing 3rd singles, is undefeated.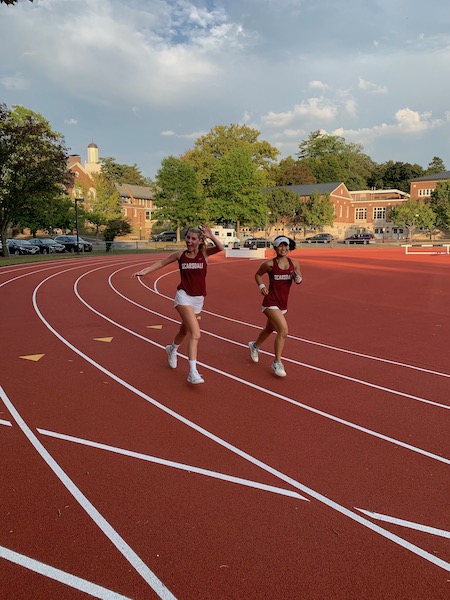 Teammates Zoe Tucker and Anna Cho shake it out after the match.