Preseason Snapshot: Scarsdale Winter Sport Features Much Potential
Wednesday, 27 November 2019 09:41
Last Updated: Wednesday, 27 November 2019 09:58
Published: Wednesday, 27 November 2019 09:41
Ray Cooper
Hits: 1307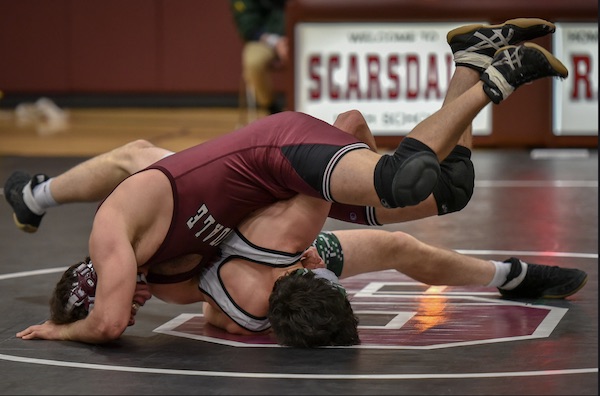 Wrestling: After almost 15 years as assistant coach, Jeremy Szerlip begins his second year in the top spot with an eye towards a strong rebound in the '19-'20 season. The team is coming off of a rebuilding season which saw several changes to the program's culture and approach.
Coach Szerlip noted that his main objective since taking the helm last year has been to change the "general attitude of the team" and "come with a winning mindframe to compete in a hard division". The team features an upperclass heavy squad with senior co-captains Dean Mancini, Connor Raff, and Thomas Reynolds leading the charge. The team also has high hopes for Sophomore Thomas Kuo.
Szerlip's main concern going into the season is the team's ability to retain its full membership throughout the long, grinding, tough campaign. To date – the team has all but two weight classes filled – which should make a large difference in dual meets. When asked about his initial outlook for the season – Szerlip said "I expect us to be very competitive during the dual meets and improve our performance considerably over last year".
The Raiders open their season at the Section One dual meet on December 4th.
Boys Basketball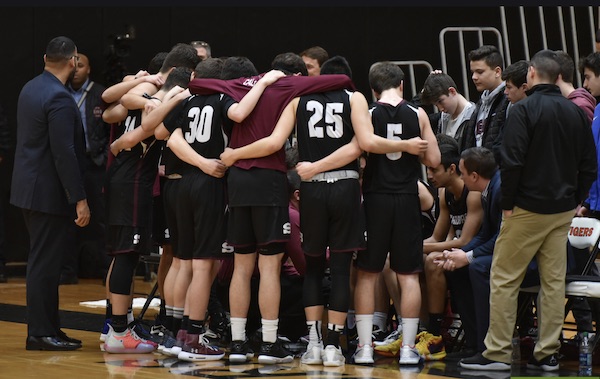 Second year head coach Joe Amelio has high aspirations for his squad this season. The Raiders started last year on an 8-0 roll, until injuries and a rough conference schedule took its tool and the team ended the season with a 14-6 regular season record. Scarsdale entered the playoffs as the 5 seed and lost a heartbreaker in an overtime loss to White Plains in the quarterfinals – just missing the semifinals at the country center.
The team lost 3 of its top 4 scorers – including SUNY Geneseo basketball player Cole Kattan – to graduation. However, several returning players should make a big impact including All State senior guard Jayshen Saigal, who Amelio believes "is a top three player in the conference". Furthermore, point guard Matthew Lipsay will return after missing his junior year due to a broken wrist. He is looking for those two and several of the returning players to provide leadership to a team that is playing together for the first time.
Amelio stressed that "our defense was strong last year – particularly during the first half of the season. I expect us to continue that into this year and it will make us hard to beat". Further, he said that "our defensive performance will be an early indicator of how successful we will be this year. Coach Amelio believes that his team "has the ability to make it to the country center this season"
The teams first regular season game will begin at home at Scarsdale on 12/4 as it hosts its annual tournament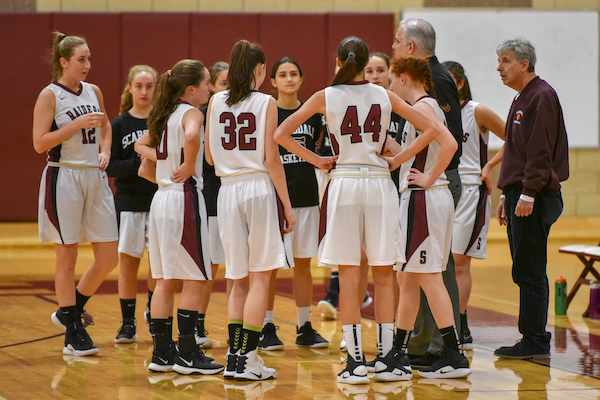 Girls Basketball
Coach Mike Blanco returns for a 9th season leading a Scarsdale team that sported an 10-11 season against a very competitive schedule – and a tough first round playoff loss against a highly ranked Lady of Lourdes team.
The team sports a "barbell" of seniority – with over half the team underclassman. Blanco has high expectations of his senior co-captains Kayla Maroney (all section last year) Meghan Quirk, and Jessica Solodar – as well as junior Center Abigail Talish. He also believes that he has sufficient depth this year as his five sophomores all were on the squad last year as freshmen – and should help keep the team fresh as the season wears on.
The lady Raiders season begins on December 5th at its home tournament.
Photos by Jon Thaler. See more here: