School District Ceremony Honors 15 Retirees and 68 Milestone Achievers
Thursday, 09 June 2022 12:13
Last Updated: Thursday, 09 June 2022 14:07
Published: Thursday, 09 June 2022 12:13
Adam Katcher
Hits: 1399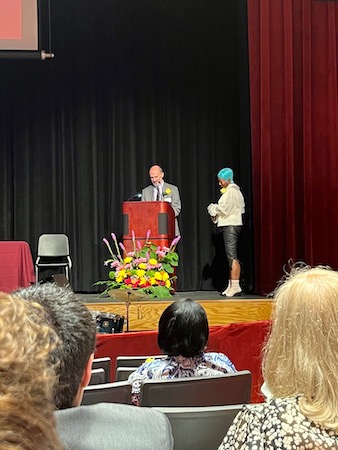 Some of Scarsdale's most decorated staff members came to the SHS auditorium for a celebration of their dedication to the schools and students on the afternoon of Tuesday June 7, 2022. Staff members who have worked in Scarsdale for 20, 25, 30, 35, and 40 years were celebrated, and special recognition was given to those retiring after many years of service in Scarsdale in the 37th Annual Retirement and Recognition Ceremony.
Interim Superintended Drew Patrick kicked off the event, introducing the ceremony and the SHS Jazz Ensemble, led by Nick Lieto, who played Doxy by Sonny Rollins and Softly as in a Morning Sunrise by Sigmund Romberg and Oscar Hammerstein to set the tone for the event.
After the ensemble left the stage and Patrick gave thanks to the Board of Education, retirement planning committee, and more, it was time for the recognition to begin.
Amongst 21 Scarsdale retirees, there were 505 years of collective service to the district – averaging over 24 years per person. 15 were in attendance, receiving their retirement gifts accompanied by a speech. The 68 staff members with career milestones (increments of five years between 20 and 40 years of service) combined to give 1580 years of service.
The career milestone recognition was punctuated by speeches about the retirees. With every career milestone celebrated, a tune was played from that year and some trivia facts were presented. When Patrick mentioned that gas was only 89 cents per gallon 35 years ago, a collective sigh of jealousy passed over the auditorium.
After the 20-year milestone achievers received their accolades, the first batch of retirees was called up. The first person honored was Greenacres, SMS, and SHS cleaner Ed Richardson. Stuart Mattey explained, "Richardson's spaces were always ready to go for tomorrow's journey." Nancy Van Camp, who taught at Greenacres and Heathcote, was next up. She was praised for the "genuine joy she exudes," and how she flawlessly "capitalizes on students' preferred learning styles." Jan Schorr was then honored. An anecdote of a Kindergartener's interaction with her at Fox Meadow tells one all they need to know about the dedication of Schorr, when a kid pleaded for her to "just take a couple of days off" instead of retiring.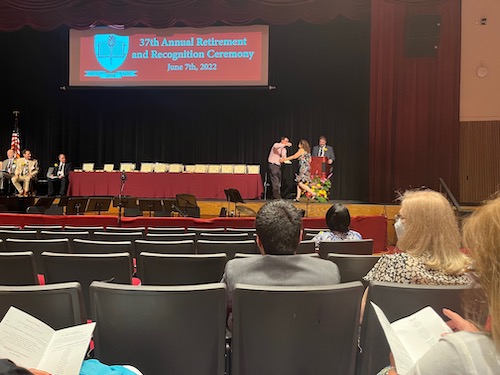 Jami Barzelatto received special recognition for her secretarial duties after 20 years in Scarsdale.
Athletic Director Ray Pappalardi then called up the 25-year milestone recipients, followed by the next set of three retirees. Scarsdale Middle School's Susan Lopez-Leach was described as the school's "true heart." Her "desire to make beauty of the world around her" shaped the way in which she worked every day. IT director Rachel Mosley was congratulated next, with an emphasis on how "the Rachel work day is equivalent to 2.4 human work days." Without her, Scarsdale would have been far behind in the intersectional world of technology and education. Working in the first grade at Quaker Ridge, Sabrina Tavernia, "Ms. T" as her students love to call her, received her well-deserved recognition.
Mattey then introduced the 30-year milestone achievers, noting that the year they started working in Scarsdale, the first text-based web browser was made available to the public. In other words, the individuals recognized have been in Scarsdale for the full duration of this technological revolution.
Cooper House secretary Jamie Barzelatto's retirement celebration speech had a few interesting aspects to it, including a description of how she was a huge success in private enterprise before moving on to her most rewarding work yet: as a secretary for countless students. Quaker Ridge's Lee Sherman was then acknowledged, for her admirable work in the nurse's office. This set of three retirees was capped off by Paulette Clark, a 21-year veteran whose smile graced any hallway she passed through.
Patrick gave thanks to Jennifer Gilbert for her 35 years of dedicated work in Scarsdale. However, this is not yet the end of her road in the school district.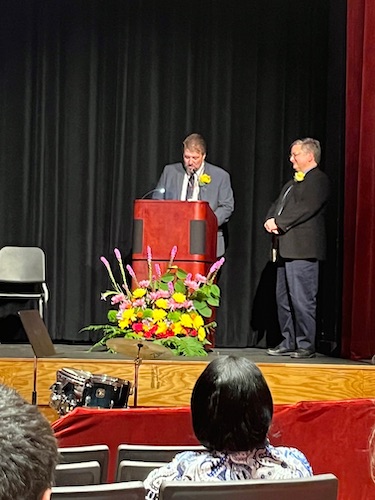 John Harrison given words of praise after illustrious Scarsdale career.High School history teacher and Department Chair John Harrison was the next retiree celebrated. His presence in the high school is impossible to miss, both for students who were lucky enough to have him as a teacher and those who were not. A graduating student once even wrote to HR emphasizing how remarkable of a teacher Harrison was.
Janet Wilcox followed in the proceedings. Scarsdale's "local fashionista," the bus driver of 26 years was thanked for all her hard work and congratulated on a truly deserved retirement.

Greenacres Librarian Carole Phillips was next on stage. Having been at Scarsdale for three decades, the demands of her employment continued to change. Nonetheless, she proved her prowess as a librarian could more than firm the test of time.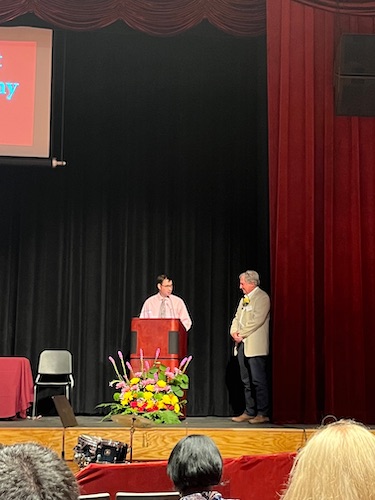 David Wixted receives retirement honors.
Edgar McIntosh then came up to congratulate Jeanne Cooper on 40 years of service to the Scarsdale School District. For her, this also signals the end of an illustrious career in the town. She was the last retiree celebrated, with her authenticity and strides to make avenues for student voice emphasized.
Before Cooper's retirement acknowledgement, David Wixted and Jerry Crisci had their moments in the spotlight. Wixted, the President of the Scarsdale Teacher Association and a decorated teacher, was thanked for all his hard work and the manner in which he represented the teachers.
Then came, Crisci's time to shine. Assistant Superintendent Edgar McIntosh made sure his brief speech about Crisci would be impossible to forget – literally impossible. After changing outfits on stage and putting on a jazz beat, McIntosh started to rap – yes, the Scarsdale Assistant Superintendent for Curriculum was rapping at the retirement ceremony – to humorously, fittingly commemorate Crisci's time in Scarsdale.
McIntosh shared the lyrics: Jerry is Cool: A beat poem (with apologies to Alan Ginsburg) -

"Jerry is cool, Jerry…is..cool. You share your Rockland cookies with veterans and rookies; You move with tenacity and social elasticity and building capacity This is your secret sauce- —-more buddy than boss, more Rachel than Ross, more ballet than lacrosse,

Jerry is cool, Jerry…is..cool. International speaker, knowledge heatseeker, Interest peaker. Influence leaker, sometimes on Friday wears a sneaker.

Jerry is cool, Jerry…is..cool. Jerry, Jerry Rarely contrary, how did your department grow. Jerry knows---Innovation is not just disruption but also careful discussion, It's not just stargazing: but landscape appraising, skillful fundraising, some perfect PowerPoint phrasing, never fazing, and that's what's so amazing…The results are trail-blazing! Jerry knows- Innovation can be an explosion—but also erosion, well chosen, handwoven, less commotion, A harmonic motion.

Jerry is cool, Jerry…is..cool. Jerry went to Rutgers Rutgers, Rutgers. Nothing rhymes Rutgers! Really. Anyone?
Good news for us all this fall, his merry band of Tech with Star Trek shirts and knowing smirks, Will be his legacy, blessedly, breathlessly will take a collective vision, deal with the division, Break it and fix it. Spill it and Mix it. Dear Jerry, go forward with care- but will wish you were there.

Congratulations, Jerry. I have loved being your collaborator and co-conspirator for four years- I look forward to many more years. Because Jerry, you are cool."
Patrick then rounded off the ceremony by inviting everyone to look around the auditorium one final time to see how many special Scarsdale individuals were there to celebrate. After one final round of applause, they were invited outside for refreshments and a continued celebration.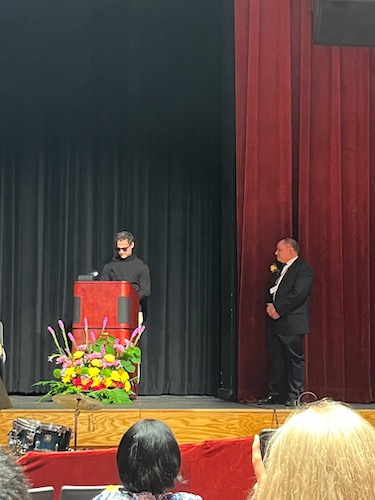 Edgar McIntosh's rap about Jerry Crisci's retirement highlighted the celebration.