SHS Class of 1961 Celebrates Reunion with a Galaxy Forum
Tuesday, 04 October 2022 08:50
Last Updated: Tuesday, 04 October 2022 09:40
Published: Tuesday, 04 October 2022 08:50
Elisa Perednia
Hits: 873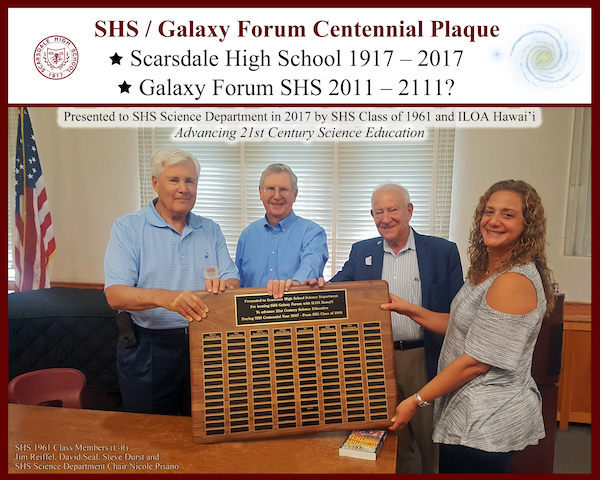 Scarsdale local history and future visions were in focus at Scarsdale High School (SHS) at the 60th- 61st class reunion weekend for SHS alumni class of 1961. Held in-person from September 30 - October 2, the event was inaugurated by ILOA Galaxy Forum SHS 2022 and followed by a discussion lead by SHS Principal Ken Bonamo, and a tour of SHS facilities.

Opening the class reunion on September 30 was ILOA Galaxy Forum SHS 2022, the 10th such Galaxy Forum at Scarsdale High School. Galaxy Forum 2022 highlighted the SHS Centennial Plaque which was dedicated to the school in 2017 and hangs outside the Science Department. It was presented to Science Department Chair Nicole Pisano and the SHS Science Department for advancing 21st Century science education and for hosting the Galaxy Forums since 2011.

The plaque honors the first 100 years since the schools' founding (1917-2017), and the SHS Galaxy Forum program future Centennial, projected to be held annually at the school (2011-2111), with metal nameplates set for engraving through 2111 and beyond. It acts as a living time capsule, being added to each year symbolizing long-range commitment and future visions of science / space education excellence.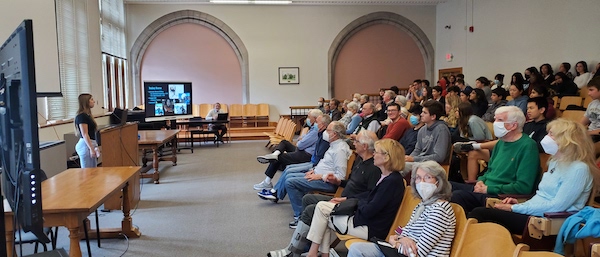 The annual SHS Galaxy Forum program is sponsored by SHS Class of 1961 Alum Steve Durst, founder of Hawai'i-based International Lunar Observatory Association (ILOA).

This year Durst spoke during the SHS Galaxy Forum about Milky Way Galaxy 21st Century Education and the ILOA precursor astronomy instruments set to land on the moon in the Spring of 2023 aboard Intuitive Machines IM-1 mission via SpaceX Falcon 9 rocket. The payload will aim to capture the first ever pictures of the Milky Way galaxy from the surface of the moon with Aloha.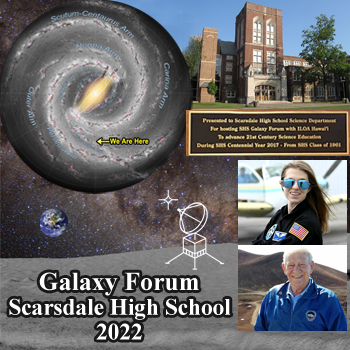 Bailey Burns, a Systems Engineer at Paragon Space Development Corporation, was the featured presenter for SHS Galaxy Forum 2022 and discussed her work and company efforts to advance the Artemis Generation (the next-generation of lunar explorers after Apollo missions), the emerging Cislunar Space Age, and the return to the Moon – for good!

Inspiring the students at SHS to aim for the stars, could the Galaxy Forum program and Centennial Plaque help distinguish SHS and enable Scarsdale on the moon in this century?
Bailey Burns, Steve Durst and Nicole Pisano