A DWI, a Flood and a Bobcat
Thursday, 14 September 2023 11:41
Last Updated: Thursday, 14 September 2023 11:59
Published: Thursday, 14 September 2023 11:41
Joanne Wallenstein
Hits: 1204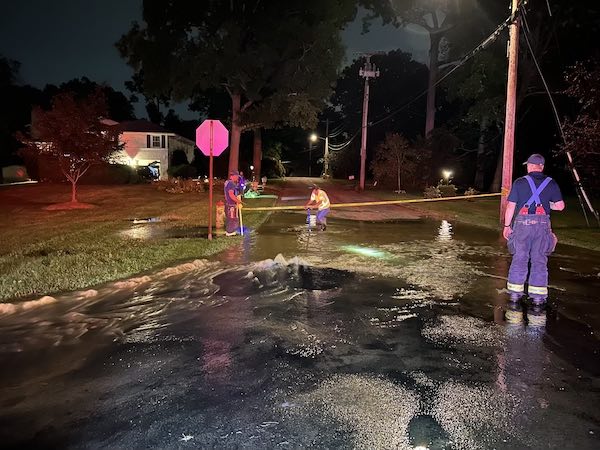 A water main break on Palmer Avenue on September 6.DWI: A driver – Nicole McGee, 35, of White Plains – was arrested after a car accident on Bethel and Richbell roads Sept. 5. The driver struck a utility pole and dislodged it. She was charged with driving while intoxicated – first offense, aggravated DWI, and moving from a lane unlawfully. She was released on her own recognizance with Con Edison was called to examine the pole.
Stolen
On Sept. 4, a Drake Road man reported two checks were stolen from the back porch area of his former house. One was for $619,000 and one was for $59,000. The theft occurred sometime between Sept. 1 and 3.
Update on Pedestrian Death 8-26
Antonio Robles Sanchez, the driver who hit and killed Stephanie Kavourias while she was sitting on a bench in Hartsdale on 8/26, had a minor accident in Scarsdale right before hitting her. According to a Scarsdale Police report at 11 am a white pick up truck driven by Robles Sanchez hit another vehicle at the intersection of Post and Mamaroneck Road.
A Scarsdale Police department spokesman says, "There was a minor collision with no injuries prior to the collision in Hartsdale. Currently, we are conducting a full investigation into the handling of that accident in Scarsdale, cooperating with the Greenburgh PD and the District Attorney's Office. There were no signs of impairment during the encounter with our officer in Scarsdale."

However Hartsdale Police charged him with operating a motor vehicle impaired by drugs and driving while intoxicated.
Burglary
A Post Road resident reported that a family member who might be on drugs entered her house through a rear sliding glass door and burglarized the house Sept. 9.
Identity theft
A Circle Road man reported unauthorized transactions on his Bank of America account for over $400 each. He reported it to the bank.
On Sept. 6, an Evon Court woman reported multiple fraudulent attempts to remove money from her bank account were made, and a fraudulent T-Mobile account was opened in her name.
Disputes
Two men were having a verbal dispute about finances under the public dining tent in Village center Sept.4. They agreed to separate for the night. Police provided a courtesy ride to a bus stop on Central Avenue.
On Sept. 5, a Roosevelt Place resident had a verbal dispute with a driver who blocked her driveway during school drop off. A verbal dispute followed. The resident wanted to report the matter to police.
Suspicious
A white man in his 20s with medium length dark hair was allegedly watching children on a Brewster Road playground Sept. 5. When approached, the man ran away toward Chesterfield Road. School officials requested extra police ridebys.
Phone number
On Sept. 5, a Woods Lane mother reported her children's bus driver rang her doorbell to introduce himself Sept. 5. He allegedly asked her personal questions and asked for her phone number. She felt this was inappropriate and reported it to the bus company. The company said they would change the driver.
Homeless
A disheveled homeless man was allegedly threatening people with a stick on Depot Place Sept. 8. Police observed the man walking with a stick. He said he was getting a donut and would continue his travel. He did not appear aggressive, nor was he threatening anyone.
Civil matters
An ex-employee reported his Scarsdale Avenue employer was refusing to pay him $300 Sept. 8. Police advised it was a civil matter.
A Broadmoor Road resident and household employee were arguing over pay and working conditions Sept. 8. Police de-escalated the argument and advised it was a civil matter.
Cars and roadways
Patrol removed debris from Fox Meadow Road Sept. 4.
A Citi bike was abandoned on Post Road Sept. 5. Police called the company for someone to retrieve it.
A tree fell on Cooper Road striking a house Sept. 6. Police advised the homeowner to contact her insurance company Sept. 6.
A water main broke on Rock Creek Lane and Palmer Avenue Sept. 6. Police closed the roadway to facilitate repairs.
An elderly woman flagged down patrol on Bypass Sept. 8. Police drove her home where she was met by her son. He said she was suffering from early dementia
Police helped a driver change a tire on Post Road Sept. 8.
A driver parked in the Central Taxi lot and a taxi driver blocked the car on purpose Sept. 9. The driver called police. Police advised the parties to call police to work out their differences and explained the lot was private.
A Barker Lane man reported a screw was found in his tire, and he believed it might have been intentionally placed there Sept. 9.
A tree fell on Saxon Woods Road Sept. 9.
Two car accidents were officially reported in Village this week.
Animals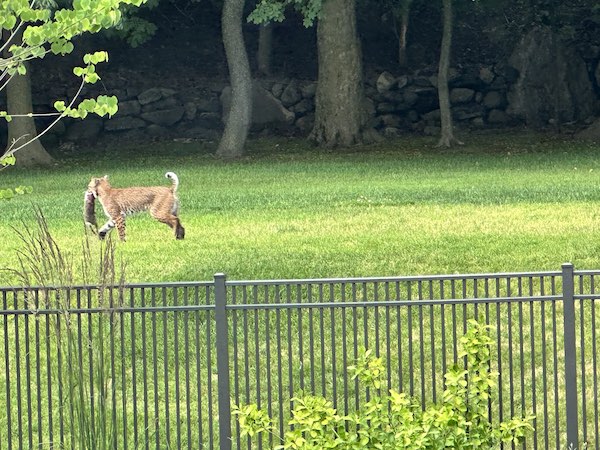 Another bobcat sighting on Harvest Drive in Scarsdale.
A skunk was trapped in a window well at a Parke Road house Sept. 5. Police placed a board at an angle in the window well so the skunk could climb out. Police also provided trappers' numbers to the resident.

On Sept. 7, police provided a Hamilton Road homeowner with a list of animal trappers because an allegedly injured raccoon was hiding beneath the homeowner's shed.

A hawk was reported on Chesterfield Road Sept. 8. It was exhibiting normal behavior.

A bobcat was allegedly spotted on Harvest Drive Sept. 9.

On Sept. 9, police shot a sick skunk at Popham and Garth roads in the interest of public safety.

A dog was found on Hillview Road Sept. 9. Police reunited it with its owner and issued a summons for a dog at large.
Village
Police dispersed noisy kids from Edgewood School grounds after dark Sept. 8.
Lost and found
A Harvest Drive woman reported losing a front license plate Sept. 4.
On Sept. 5, a passerby reported finding money at Boulevard and Johnson Road. He said he did not want to turn it in but wanted to report finding it in case someone called looking for it.
On Sept. 7, a passerby reported finding a large sum of cash at Boulevard and Johnson Road the previous day. He brought it to headquarters. Police counted it and vouchered it for safekeeping at headquarters.
A student ID was found on Chase Road Sept. 8.
Firefighters
On Sept. 5, firefighters extinguished an outside fire involving a grill and a propane tank on Franklin Road.
Firefighters helped a Wildwood Road resident with a microwave that would not turn on because it had been placed in a child lock mode Sept. 8. During that time, the resident slumped in her chair and became unconscious for about a minute. The resident had no recollection of the incident. Firefighters called SVAC for evaluation.
Firefighters stood by for Con Edison at the site of fallen wires on Saxon Woods Road Sept. 10.
This report covering police and fire department activity from Sept. 5-10 has been compiled from official information.

This police report is sponsored by Scarsdale Security who does more than just security. Contact them about remote video for your home or business. Call 914-722-2200 or visit their website.