Police Report : 7-Eleven Employee Charged With Stealing Lottery Tickets from her Employer, Department Personnel Honored at Awards Ceremony
Wednesday, 23 October 2019 08:06
Last Updated: Wednesday, 23 October 2019 08:11
Published: Wednesday, 23 October 2019 08:06
Joanne Wallenstein
Hits: 2676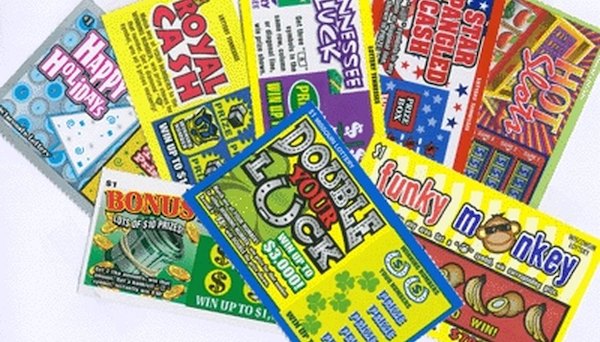 Arrest: On Oct. 16, police arrested Joy J. McQuillar, 20, of Mount Vernon, on a fourth-degree grand larceny charge. McQuillar has been accused of stealing over $2,600 in lottery tickets from her employer, 7-Eleven.
Stolen
On Oct. 17, a business owner advised that someone stole approximately $10,000 worth of equipment from her business address. Police are following up,
On Oct. 20, a Popham Road storeowner reported that two men wearing hats and carrying drawstring bags stole several items from the store and fled toward Depot Place.
Stolen package
On Oct. 18, a Morris Lane homeowner reported she never received a $1,995.78 computer that was supposedly delivered by FedEx on Oct. 15. Police advised her to review her doorbell camera for any footage of the delivery and the possible theft.
Harassment
On Oct. 17, a Reynal Crossing man reported receiving insulting letters and phone calls from a person who was a former friend. The man said he ignored all previous contact until he recently received a letter stating that the former friend would start sending letters to the man's son's place of employment. The man said he did not want to pursue criminal charges, but he wanted the letters to stop. The man said he would consult with an attorney and would contact police again if needed. On Oct. 18, the man filed a formal harassment complaint with police.
Intoxication
On Oct. 18, police observed an intoxicated man acting disorderly on the train station platform. Police stood by and waited for MTA police to arrive. In the meantime, other passengers were escorted on and off the train.
Dispute
A taxi driver reported a passenger exited his car on the Bronx River Parkway after having a fare dispute with the driver Oct. 15. The driver was concerned for the passenger's safety. Police notified Westchester County police.
Calls
A Coralyn Road resident reporting receiving multiple calls from an unknown number in which the caller made kidding noises into the phone Oct. 15. The resident was advised to call the phone company to block the number.
Suspicious
On Oct. 15, a car with Florida plates drove into a Mamaroneck Road temple's parking lot and the driver asked the security guard if he "was watching the game tonight." When the security guard asked the driver if he had official business at the temple, no response was given. The security guard told the driver he was not allowed to remain on the property, and the driver said, "Why Not?" Then, the security guard called police, and the driver left.
On Oct. 16, a Harvest Drive resident reported a woman rang his doorbell looking for a donation, and then again returned to ring his doorbell again, requesting to use his phone for to arrange a ride. Police canvassed the neighborhood for the woman, but she was already gone.
An Oak Lane homeowner said she found a man sitting on her front steps, wearing a backpack and holding a cup of coffee when she went outside to collect her mail around 12:45 p.m., Oct. 18. She asked the man if he needed any help, and he failed to respond. Shortly thereafter, the man left the woman's property. Police canvassed the neighborhood for the man, but he was already gone.
Road rage
According to a walk-in complainant, a motorist failed to yield the right of way and almost hit a pedestrian who was in the crosswalk on Fenimore Road near Brewster Road Oct. 18. The pedestrian then allegedly threw a plastic bottle at the motorist's car. Police examined the motorist's car and did not see any damage.
Elevator
Police taped off access to a malfunctioning elevator at the Scarsdale train station and notified MTA police Oct. 19.
Welfare check
Police checked the welfare of a Brewster Road man at the request of the man's doctor who had been unable to reach him Oct. 19. Patrol successfully contacted the man and asked him to check in with his doctor.
Cars and roadways
A person walked into headquarters Oct. 15 to report that road paint had gotten on his 2019 Jeep due to a roadway not being blocked off following overnight roadway painting. A police car and a 2017 Landrover were also affected.
On Oct. 15, police towed an abandoned 1999 Ford pickup trick with no license plates, registration or insurance to the impound lot.
Police blocked the roadway and put up flares at Heathcote and Morris roads due to a fallen branch and electrical problem with the traffic lights Oct. 17. Con Edison was notified.
On Oct. 17, police moved fallen branches to the side of Brambach Road.
A tree fell on Sage Terrace, knocking our power lines and affecting traffic lights Oct. 17. Police taped off the impacted roadway and notified Con Edison.
Verizon was notified about fallen wires on Secor Road Oct. 17.
The highway department moved a fallen tree from Weaver Street and Quaker Ridge Road Oct. 17.
Police cleared fallen branches from Bypass and Secor Road Oct. 17. Around the same time, a car got into a one-car accident on the Bypass due to fallen branches.
Police cleared fallen branches from Mamaroneck Road and Leatherstocking Lane Oct. 17.
Police notified Con Edison about a fallen tree on Drake Road, fallen branches on Saxon Woods Road, and fallen wires on Post Road Oct. 17.
Police moved a fallen cable wire to the side of Rock Creek Lane Oct. 17.
Police notified the highway department to address a fallen tree on Lee Road Oct. 17.
Police taped off low-hanging wires on Barry Road, pending repair, Oct. 17.
Police conducted traffic control at the sites of traffic lights that were out due to electrical outages on Post Road Oct. 17.
Police monitored traffic at Heathcote Road and Morris Lane while the electricity to the traffic light was being restored by Con Edison Oct. 17.
Patrol asked drivers to move legally but unsafely parked cars near the intersection of Mamaroneck and Sheldrake roads Oct. 17.
Patrol moved fallen phone wires out of a Sage Terrace driveway Oct. 18.


Police called a tow for a disabled truck on Wayside Lane Oct. 18.
The side mirrors of two passing cars struck each other on Post Road Oct. 18. The drivers said they would handle the matter among themselves.
Patrol spoke to staff at Alcott Montessori School and asked them to inform drivers, who were attending an event, to move illegally parked cars on Stonehouse Road Oct. 19. After drivers were contacted, only one illegally parked car remained on the street, and police issued a summons.
Police notified the water department about a broken water main at Catherine Road and Quaker Center Oct. 19.
Police notified Verizon about a low-hanging wire on Barry Road Oct. 19.
Police taped off Murray Hill Road while fallen electrical lines were burning Oct. 20. They remained on scene with firefighters until Con Edison arrived.
Patrol escorted a pedestrian to the sidewalk on Palmer Avenue after she crossed Weaver Street Oct. 20.
Twelve car accidents were reported in the village last week.
Civil matters
On Oct. 15, a Garth Road business owner reported receiving rude messages from a customer. Police reviewed the messages and did not determine them to be criminal in nature. The incident was determined to be a civil matter.
A caller reported that three delivery trucks were blocking the exit of the parking lot at Balducci's market Oct. 18. Police told the general manager about the complaint and advised the caller that since the parking incident occurred on private property, it was a civil matter – not a police matter. The manager assured the caller that he would do his best to resolve parking lot congestion for customers.
Village code
Following a call from a Stratton Road homeowner Oct. 16, police notified an Optimum solicitor that he needed a permit to continue soliciting in the village.
Dogs
On Oct. 16, a Taunton Road homeowner reported finding a small white poodle without a collar. No further information was provided.
Firefighters
According to Scarsdale Fire Chief James Seymour, firefighters responded to 48 incidents this week. He provided details of the following incidents.
On Oct. 14, firefighters provided mutual aid and assisted at a one-car car accident in White Plains.
On Oct. 16, firefighters assisted at a car accident with injuries on Post Road. Two occupants were trapped in the car. They were both conscious and alert. Firefighters extricated them from the car and helped Scarsdale Volunteer Ambulance Corps move them onto backboards to prepare for transport to the hospital. Speedy-Dri was applied to spilled automotive fluids.
A small amount of water was leaking through a light fixture in a River Road bathroom Oct. 16. Firefighters shut power at the circuit and advised the homeowner to call a roofer and an electrician for repair.
Firefighters provided a lift assist on Windward Lane Oct. 17.
On Oct. 20, firefighters were dispatched to Murray Hill Lane for wires down and burning on the pole. Con Edison was notified and corrected the problem while firefighters stood by to assist.
From left, Chief Andrew A. Matturro, Sgt. Eric LoGiudice, Det. Lt. Brendan Kellaher and Sgt. Patricia Arcesi.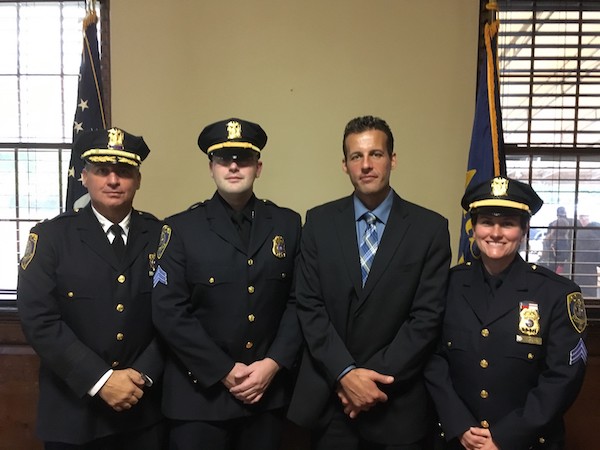 From left, Chief Andrew A. Matturro, Sgt. Eric LoGiudice, Det. Lt. Brendan Kellaher and Sgt. Patricia Arcesi.Police Department Promotion and Awards Ceremony

On October 22, 2019, the Scarsdale Police Department held a Promotional and Awards Ceremony.
Sergeant Brendon Kellaher was promoted to the rank of Detective Lieutenant, Det. Patricia Arcesi was promoted to the rank of sergeant and PO Eric LoGiudice was promoted to the rank of sergeant.
In addition, the following Police Personnel were recognized for exceptional police service:
Sergeant Craig Carroll -Exceptional Service Medal
Sergeant Eric LoGiudice -Meritorious Service Medal
Detective Joseph Serio (Retired) -Exceptional Service Medal & Honorable Service Medal
Detective Jason Bronstein -Administration Recognition
PO James Gannon -Command Recognition
PO Jessie Gold -Two Administrative Recognitions
PO Nicholas Kringas -Meritorious Service Medal
PO Brett Purpura -Administration Recognition
PO Anthony Santana -Administration Recognition
PO Victoria Wanderman -Meritorious Service Medal
Chief Andrew A. Matturro wishes to congratulate all those that were honored.
This report covering police and fire department activity from Oct. 15 - 20 has been compiled from official information.

This police report is sponsored by Scarsdale Security who does more than just security. Contact them about remote video for your home or business. Call 914-722-2200 or visit their website.