Public Safety: Rye Man Charged with DWI, Volunteer Firefighters Sworn In
Wednesday, 22 January 2020 16:58
Last Updated: Wednesday, 05 February 2020 20:29
Published: Wednesday, 22 January 2020 16:58
Traci Dutton Ludwig
Hits: 1623
DWI Arrest: On Jan. 13, at 7 p.m., police arrested Thomas W. Chin, 58, of Rye, on charges of driving while intoxicated (first offense), operation of a motor vehicle with a blood alcohol level of at least .08 of one percent, failure to dim lights and failure to use a turn signal. The arrest occurred after police observed Chin's 2005 Toyota Camry traveling on Chase Road, flashing its high beams at the car in front of it. Police conducted a traffic stop and detected the scent of alcohol on Chin's breath as he spoke. Chin admitted to consuming "one mixed drink an hour ago." Chin was asked to perform field sobriety tests, and an alco-sensor test indicated the presence of alcohol in Chin's system. Based on results of those evaluations, Chin was arrested for drunk driving. He was later released on his own recognizance with a follow-up appearance ticket for Scarsdale Village Justice Court.
Arrest on Warrant

On Jan. 19, New York City police advised Scarsdale police that they had, in their custody, a man who was wanted in Scarsdale. Scarsdale police picked up the man – Lloyd Whea, 34, of Staten Island – and arrested him in execution of the warrant. The warrant was issued in 2018 for failure to appear in court on a charge of bail jumping. Following his arrest, Whea was issued an appearance ticket for Scarsdale Village Justice Court for Feb. 5, and he was released on his own recognizance.
Car Break-ins

A Walworth Avenue resident reported coming home to find a light-skinned, possibly white, male, approximately 5'5" tall, inside his mother's unlocked, parked car, with the dome light on. It was almost 3 a.m., Jan. 19. The male had apparently broken into the car and fled in an older model tan Honda CRV when the resident arrived home. Nothing appeared to have been taken.
On Jan. 19, a Walworth Avenue resident reported her unlocked car had been entered overnight, but nothing was taken.
ID Theft

A Post Road resident reported his ex-roommate possibly stole his debit card and might have used it to fraudulently charge his PayPal account with a $140 debit Jan. 15.
A Cayuga Road man reported fraudulent activity, including forgery, causing money to be withdrawn from his retirement account Jan. 16.
Criminal Mischief

An Overlook Road woman reported parking her 2019 Landrover in the Christie Place garage and returning to find it had been scratched with a blunt object Jan. 13.
Dispute

On Jan. 17, police mediated a verbal dispute between two housemates on Post Road. The housemates agreed to stay away from each other.
Assistance

On Jan. 18, an East Parkway business owner reported a customer visits the business almost every day and speaks aggressively with employees. Police advised the owner to contact them the next time the customer is aggressive.
Individuals Struck by Passing Car

A woman reported she was struck by a passing car while loading a child into a car seat in front of Heathcote School Jan. 13. She said she was suffering leg pain as a result of the accident. The driver of the passing car did not stop. The woman was taken to White Plains Hospital Center for her injuries.
On Dec. 16, a car struck an adult man on an electric scooter on Crane Road at 8:28 a.m. The man was crossing the road in a crosswalk. He was taken to White Plains Hospital Center for injuries. Police noted the scooter was not registered and could not legally be used on any public roads in New York State.
Cars and Roadways

On Jan. 13, a White Road caller reported a car with an expired registration and a flat tire has been parked in the street in front of his house for over one year. Police examined the car and issued the owner a summons for the expire registration. No parking violations were observed.
On Jan. 14, a Corell Road resident reported a white car drove into his driveway earlier that day, then backed out over his lawn and struck a light post.

Police issued a summons to the owner of a car parked in a fire zone on Brewster Road Jan. 15.
A White Road resident complained about a car parked in the street Jan. 15. The car had a valid registration, and police contacted the owner. The owner said he was parking the car there because he did not have room for it in his driveway. He said he would move it to not inconvenience the resident who complained.

The green lens of a traffic light blew open during high winds on Jan. 16. Police stood by and directed traffic until highway workers could arrive for repair.
Police notified the highway department about a fallen tree on Post Road Jan. 16.

The highway department was notified about sewage backing up into a Post Road house Jan. 18.
Police notified the highway department about a broken street sign at Drake and Post roads Jan. 18.
A Post Road resident plowed snow from his driveway into the road Jan. 19. Police advised the resident he was not allowed to pile snow in the street. The lane was temporarily closed while the resident removed the snow.
A resident was concerned that a snow-covered mound on Penn Boulevard might be a car that was involved in an accident Jan. 19. Police investigated the mound and determined it was only a rock and vegetation.
Police moved a manhole cover back into place at Eton and Greendale roads Jan. 19.

Eleven car accidents were reported in the Village during the reporting period.
Animals

Police reunited a lost dog, found on Mamaroneck Road, with its owner Jan. 15.
A Brite Avenue woman reported a loose animal was in her house. Police were unable to locate the animal and provided contact information for local trappers.
A Johnson Road woman reported a neighbor's dog, from Hamilton Road, jumped at and startled her dog while it was being walked Jan. 16.
Lost and found

A wallet found at the Scarsdale Train Station was given to MTA police Jan. 15.
A Peekskill resident reported losing her driver's license, cell phone and personal papers Jan. 15. She last saw the items while inside Starbucks on East Parkway.
The owner of a lost wallet picked it up from DeCiccio's Marketplace, where the wallet was lost, before police could make a report Jan. 17.
Firefighters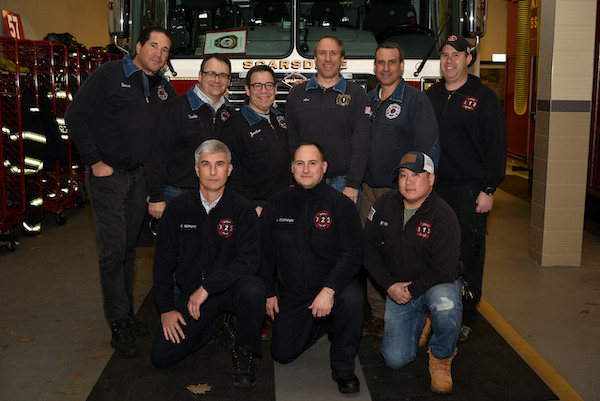 On January 14, 2020 the Scarsdale Fire Department swore in 9 volunteer fire officers at the annual membership meeting. The officers are slated to hold a two year term and have a wide variety of responsibilities pertaining to our volunteer force. Scarsdale's volunteer firefighters responded to 60 incidents in 2019 assisting Scarsdale's career force during structure fires, weather events and mutual aid responses. Pictured from left to right are: Shawn Singer, Charles Swift, Christophe Bernard, Jonathan Bradlow, Jason Costanzo, Louis Mancini, Jeffrey Koslowsky, Andrew Fish and Jeffrey Hill.
Firefighters stood by for Con Edison at the site of a Fox Meadow Road gas leak Jan. 13.
A falling branch struck the roof of a Walworth Avenue house and took out electrical wires Jan. 16. Police and firefighters made sure the residents were OK and the scene was safe while waiting for Con Edison.
Firefighters assisted Scarsdale Volunteer Ambulance with a patient lift on Saxon Woods Road and with medical transport Jan. 16.

Firefighters shut down a malfunctioning boiler in a Shawnee Road house and ventilated light smoke from the house Jan. 17. They advised the resident to call for service.
A Heathcote Road resident reported a lack of water pressure in his house Jan. 19. The water department was notified.
On Jan. 20, water was found leaking from a broken pipe inside a Reimer Road crawl space. Officials turned off water at the main shut off valve and recommended calling plumber for repair.
This report covering police and fire department activity from Jan. 13-19 has been compiled from official information.

This police report is sponsored by Scarsdale Security who does more than just security. Contact them about remote video for your home or business. Call 914-722-2200 or visit their website.