Firefighters Prevent Car Fire from Spreading to Sycamore Road House and Photos from Memorial Day in Hartsdale
Wednesday, 27 May 2020 13:07
Last Updated: Wednesday, 27 May 2020 14:02
Published: Wednesday, 27 May 2020 13:07
Traci Dutton Ludwig
Hits: 1063

A motorcade of veterans, two vehicles from each fire department and a motorcycle escort from the Greenburgh Police Department made stops around town to pay tribute to those who made the ultimate sacrifice protecting our country. Photo by Alan Zale/Hartsdale Fire DepartmentOn May 22, firefighters extinguished a car fire inside an attached garage on Sycamore Road. Firefighters made sure all three residents of the house had evacuated, and Scarsdale Volunteer Ambulance Corps checked them on scene. No injuries were reported. Firefighters used a pre-connected hose line to extinguish the fire, which had ignited in a 2001 Buick LaSabre that "had not been used for some time before it was turned on and started to smoke," according to the owner. It was reported that smoke had filled the garage and part of the interior of the house. In overhauling the area after the fire was out, firefighters pulled down part of the garage ceiling to check for fire extension. They also checked the house to ensure safety. The house was ventilated using fans, and it was checked for possible CO accumulation before the occupants were allowed to re-enter. The majority of the smoke and fire damage was contained to the car and the garage. The residents contacted a tow to remove the damaged car. Mutual aid, on the scene, was provided by Hartsdale, Greenville and Fairview Fire Departments. White Plains and New Rochelle Fire Departments relocated to SFD HQ to provide coverage there. Scarsdale Volunteer Firefighters assisted on scene. According to an official report, it appeared a fire in the engine had gotten hot enough to melt a hole in the hood. Singe marks were also observed on the front fenders and hood. There were no signs of criminality and the fire was apparently caused by an electrical fault with the vehicle.
Arrested
In response to police investigation of a previous incident, Laurence Haynes, 25, of Glassboro, NJ, presented himself at headquarters on May 21 to answer the charge of fourth-degree grand larceny. The charge was issued because police determined Haynes used a fraudulent credit card to purchase a $1,192.17 Gibson SG guitar from a Village retailer. Haynes was released on his own recognizance and ordered to appear at Scarsdale Village Justice Court on June 24.
Stolen mailbox, cash
On May 18, a Garth Road business owner reported her mailbox had been stolen on May 16 after a customer left a cash payment of $640 in it for a layaway item. The owner discovered the theft when she went to pick up the payment envelope on May 17. Further discussion with the local U.S. Postal carrier uncovered that the mailbox had been missing since May 16. The mailbox had been affixed to the front door of the business.
Erratic behavior
A Bank of America employee, from the Christie Place branch, called police to report a female customer was displaying erratic behavior inside the bank. According to bank staff the woman was upset because her banking app was not working on her phone. Bank employees told her to call customer service to troubleshoot the problem. At that point, the woman allegedly became irate and shook the Plexiglas barrier at the counter. The woman was sitting calmly in a chair when police arrived. Police stood by while the bank manager helped her withdraw money from her account. No damage was caused.
Car break-ins
On May 18, a Continental Road resident reported $25 worth of CDs and $20 in loose coins were stolen from his parked, unlocked car overnight.
On May 19, a Black Hawk Road woman reported that someone broke into her son's girlfriend's car that had been parked in her driveway since May 17. The perpetrator stole $200 cash, gift cards and a red wallet. The car was said to have possibly been left unlocked.
On May 19, a Colonial Drive resident reported an unlocked, parked car in his driveway was entered the previous night, and a wallet, $300 cash, numerous credit cards and personal papers were stolen.
On May 19, a Dickel Road man reported his nanny's unlocked car had been entered the previous night, and a small sum of cash was stolen.
On May 21, a Colonial Road woman reported someone stole loose change, a cell phone charger and a key fob from her unlocked, parked car.
In May 24, a Walworth Avenue man reported an individual came onto his property and attempted to enter a parked car at approximately 4:20 a.m. earlier that morning. It was captured on video. Police are following up.
On May 24, an Edgewood Road resident reported someone entered and tossed three unlocked parked cars in his driveway overnight. The resident said nothing of value was stolen.
Shoplifting
A white woman wearing a hood and facemask shoplifted shaving equipment from the Popham Road CVS May 18. The incident was captured on video, and police are investigating. The woman was described as wearing black pants, a black jacket and a gray T-shirt. She was carrying a red and white tote bag.
Identity theft
On May 18, a Post Road resident reported one fraudulent PayPal transaction on his credit card account. The transaction has been disputed.
On May 19, a Penn Road resident reported someone filed fraudulent unemployment claim benefits in her name. She learned about it after her employer's HR person informed her that the NYS Dept. of Labor had contacted the HR person about the claim. One payment of $1,0008 had already been made against the fraudulent claim. The NYS DOL is investigating the matter.
Hypodermic needles
Hypodermic needles were found in a Sprague Road driveway and on the roadway of Boulevard and Clarence and Johnson roads during the morning of May 23. Police collected the needles and took them to Scarsdale Volunteer Ambulance Corps for proper disposal.
Harassment
On May 20, a young woman reported being verbally harassed by an older man while sitting on a bench at Davis Park, on Edgewood Road.
A Village woman reported receiving unwanted text messages from an unknown man claiming to be a "secret admirer" May 21. The woman blocked the man's number.
Bicycle, ATV
Around 5 p.m., May 21, a Canterbury Road woman reported someone stole a green Schwinn bicycle from outside her house within the last 20 minutes. While canvassing the neighborhood, police saw a child riding a green bicycle across the street. The child took the bicycle because it was old and laying near the curb, causing confusion that the bike had been left outside for the taking. The child apologized and returned the bicycle.
A caller reported a girl was riding an ATV on Sherbrooke Road without the use of a helmet May 21. Police found the ATV parked in a nearby driveway but were not able to locate the rider. Police received a similar call on May 23. Police went to the scene and spoke with the girl. She was informed that it was illegal to ride an ATV on public roadways. She said she would only ride the ATV on her private property.
Pandemic restrictions
Police shut down non-essential construction work being done on Dolma Road without a permit May 19. All workers left the scene, and the job was halted.
A gathering of people at a Walworth Avenue house dispersed when patrol arrived May 19.
Police dispersed a group of kids playing basketball at a Boulevard court May 19, May 20 and May 22.
On May 21, police reminded people maintain social distancing and follow mask guidelines while they were waiting to pick up food from a Garth Road restaurant.
On May 24, police reminded people in a Secor Road parking lot to maintain social distancing.
Civil matter
An Edgewood Road woman reported her property was inside an Uber driver's car that was involved in a collision and being towed somewhere May 23. She said she needed help retrieving her property. Police called the driver who confirmed that the woman's property was inside the car. The driver provided all information about where the car was being towed and the process for retrieving the property.
Scooter accident
On May 19, a 42-year-old local man on a scooter allegedly disregarded a stop sign on Rodney Road and entered the intersection with Southwoods Lane at 11 a.m. This caused a collision with an oncoming car, driven by a 66-year-old Village man. The scooter driver left the scene before police arrived and did not report any injuries.
Cars and roadways
On May 18, Con Edison subcontractors were working to stabilize a leaning utility pole on Heathcote Road.
Car keys were run over on Wayside Lane, rendering them dysfunctional, May 18.
Police helped the car owner get in touch with a service dealer to get a replacement key made. In the meantime, the car was secured in a parking lot in the Village.
Con Edison was informed about low-hanging wires above Rectory Lane May 18.
Police set up flares around a disabled car on Post Road, while the driver was awaiting a tow, May 18.
Police safely escorted a pedestrian off the Weaver Street roadway May 21.

Police stood by a disabled car on Secor Road to direct traffic while the driver waited for a tow May 21.
Police notified the water department that a Ridgecrest West resident requested help with turning off a leaky valve May 22.
Four car accidents were reported in the Village during the reporting period.
Village code, noise
A caller reported a man walking up to houses on Taunton Road and leaving business cards May 20.
In May 22, police asked a Nelson Road resident to lower the volume of music after neighbors complained of noise.
A yelling man sitting on a bench outside of a Spencer Place business told police he was passing through the Village on foot, while on his way to a destination in White Plains May 23. He stopped yelling, continued on his way without incident.
Animals, birds
On May 18, police assisted a Haverford Avenue woman with a badly injured bird that later died on her property.
A caller reported that a man and woman were walking a "white-faced Collie" in the area of Wakefield and Carthage roads, when the man reportedly picked up his dog's excrement and discarded it in a sewer drain May 18. Police went to the area to speak with the couple, but they were gone.
On May 19, a Cornell Street resident reported a black sedan, possibly an Audi, struck her small French bulldog after the unleashed dog ran into the street. The driver reportedly stopped, exited his car and offered to help and left without providing his information. He was described as a white man in his 50s with gray hair. The dog was taken to an animal hospital. The owner did not yet know the extent of the animal's injuries.
Lost and found
A passerby found a brown wallet near Garth Road and gave it to police, who were able to return it to its owner May 18.
A caller reported losing a purse near the area of Weaver Street and the Hutchinson River Parkway May 21.
On May 24, a Gatehouse Road resident reported losing one license plate in the Village.
Firefighters
On May 18, elevated carbon monoxide levels were reported in a Church Lane house, caused by contractors who had used a gas-powered saw in the basement. Firefighters ventilated the space
On May 19, firefighters extinguished a brush fire at a private house on Heathcote Road. They advised the resident that it was unlawful to have an "open burn" in the
Village.
On May 20, firefighters assisted Hartsdale firefighters with a structure fire on Edgewood Road. After arrival, they were assigned to interior operations to assist with opening up walls and ceilings and to search for hidden fire on the first floor in the rear of the structure. They stayed on scene until the fire was out, and they helped clean up and pack the hose.
On May 23, smoke was coming from wooden floorboards in a Rochambeau Road house. There, firefighters found a plumber soldering a copper pipe on the exterior of the house. Firefighters opened up inspection holes in the bay walls on the first and second floors and detected light smoke and heat. Firefighters used an extinguisher to put out small pockets of fire in individual bays.
On May 23, firefighters assisted at a rollover accident, with injuries, on the Hutchinson River Parkway. One patient was transported to Westchester County Medical Center.
This report covering police and fire department activity from May 18-24 has been compiled from official information.
Memorial Day Celebration in Hartsdale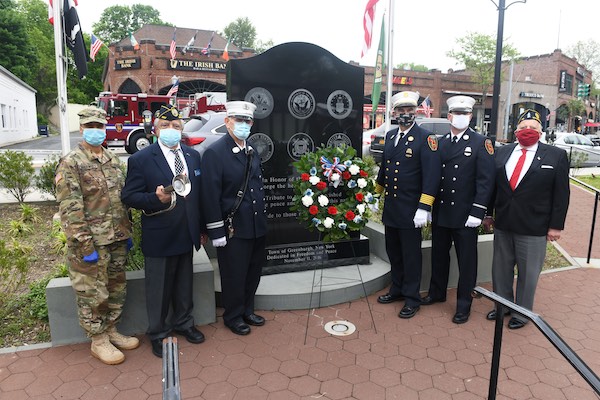 Photo by Alan Zale/Hartsdale Fire Department

The Hartsdale Fire Department's Tower Ladder 15 and Car 2171 led emergency response vehicles from the three fire districts, Hartsdale, Fairview and Greenville, around the Town of Greenburgh on Memorial Day, Monday 25, 2020 to pay tribute to those in the military who gave their lives protecting our freedom. Traditional Memorial Day celebrations and parades could not be held with the need for social distancing as a result of the Covid-19 virus so an alternate plan was devised.

Starting at DeSanti Plaza by the Hartsdale train station, a small motorcade of veterans, two vehicles from each fire department and a motorcycle escort from the Greenburgh Police Department made stops around town to pay tribute to those who made the ultimate sacrifice protecting our country. Members of the Hartsdale Fire Department place a wreath at the Veterans Memorial in DeSanti Park followed by a veteran playing Taps. They then proceed to the 911 Memorial on Central Avenue where Taps were again played. Members of local Girl and Boy Scout troops participated in the brief ceremony. Next was Greenburgh Police Headquarters on Tarrytown Road where a wreath was place and Taps were again played. The final stop was Fairview Fire Department Headquarter where two floral crosses were placed next to the flag pole and the ceremony concluded with Taps.
Photos by Alan Zale/Hartsdale Fire Department

This police report is sponsored by Scarsdale Security who does more than just security. Contact them about remote video for your home or business. Call 914-722-2200 or visit their website.