Update on Serious Accident on Brewster Road: Occupants Thrown from Car
Tuesday, 12 January 2021 09:06
Last Updated: Wednesday, 13 January 2021 12:50
Published: Tuesday, 12 January 2021 09:06
Joanne Wallenstein
Hits: 2308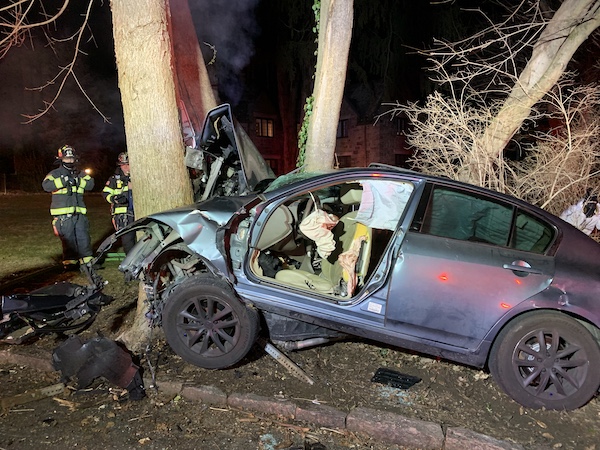 (Updated January 13, 2021)

This in from the Scarsdale Police:
On January 11, 2020 at approximately 6:53 PM, the Scarsdale Police Department responded to a report of a serious automobile accident on Brewster Road just north of Olmsted Road involving a single vehicle that struck a tree. Upon arrival of the police, it appeared that two occupants were ejected. The Scarsdale Fire Department removed the other three occupants from the vehicle--
The five occupants of the vehicle were treated for various injuries at the scene by paramedics from the Scarsdale Volunteer Ambulance Corps with assistance from Eastchester, Harrison, and Larchmont Volunteer Ambulance Corps and were immediately transported to the Westchester Medical Center for treatment. At this time, their conditions are unknown, however, according to police, there were no fatalities.
On January 13, Police reported that the five occupants from the car included the following:
-The driver is a 17 year-old male from Elmsford
-The occupants are an 18 year-old male and a 19 year old male from Elmsford, an 18 year old female from Scarsdale and a 17 year old female from White Plains.

As of January 13, 2021 there was no update on their conditions.
The car was not registered to a Scarsdale address.
The Scarsdale Police Department was assisted at the accident scene by the Westchester County Police Accident Investigation Unit. The accident is currently under investigation. No other details are available at this time. Updated information will be released as the investigation progresses.