Thieves Go Shopping on Porches, Stolen Mercedes Benz and More Coyotoes
Wednesday, 24 November 2021 18:38
Last Updated: Wednesday, 15 December 2021 17:56
Published: Wednesday, 24 November 2021 18:38
Traci Dutton Ludwig
Hits: 1458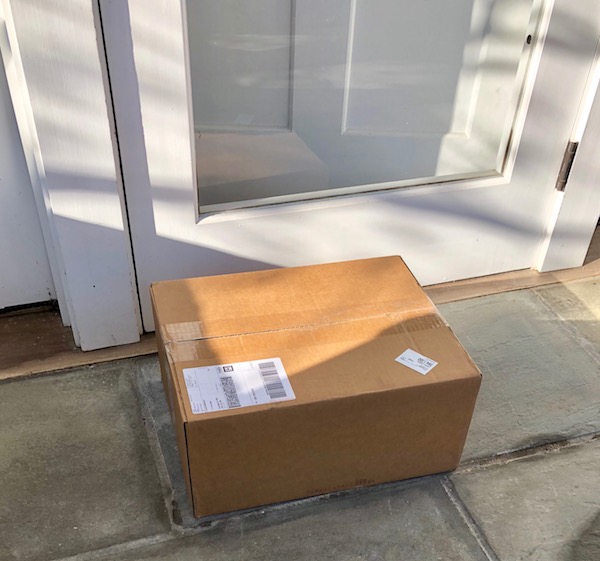 Stolen packages, mail: A package containing a $158 sweater was stolen from a Secor Road porch Nov. 19. The suspect was described as a man wearing black pants and a green hooded sweatshirt. His skin color was described as black.
A postal employee reported an unknown person stole a tray of mail from his van prior to delivery on Clarence Road Nov. 19.
On Nov. 20, a Secor Road resident reported several packages had been stolen from his front porch approximately 10 minutes after they had been delivered by an Amazon driver on Nov. 19.
On Nov. 20, another Secor Road resident reported a package delivered by Amazon on Nov. 19 around 11:15 a.m., had been stolen from his porch around 1:20 p.m. later that day. The theft was captured by a doorbell camera.
Stolen car and bicycle
A Bronx resident reported his $100,000 Mercedes-Benz, which he had parked with the keys inside, had been stolen from Brite Avenue around 12 p.m., Nov. 18. Also stolen were items inside the car, including a Louis Vuitton book bag, sports equipment, a passport, personal documents and $2,200 cash.
A $675 Metro brand mountain bicycle was stolen from Depot Place Nov. 18.
On Nov. 19, a caller reported that his bike had previously been stolen from the bicycle rack on East Parkway but he did not report the incident at the time. However, on Nov. 19, the caller decided to report the theft because he saw a bicycle matching his stolen bike on the same East Parkway bike rack, and he wondered if the bicycle might be his. He did not have the serial number or any identifying information, and he said he purchased his bike outside the United States. However, the present bicycle displayed a Danny's Cycles sticker on its frame. Police checked with Danny's Cycles to see if the sticker had been placed there recently, such as following a service visit. However, a store employee said that they only place their stickers on bicycles that they sell or assemble. Therefore, it did not appear as if the bicycle with the label was the same bicycle as the one reported as stolen.
Stolen
On Nov. 15, a Chrome Book and an iPad were reported as missing from the Scarsdale Union Free School District. A District employee said a student was last in possession of the Chrome Book, stored in his backpack during a football game Oct. 1. Following the game, he could not find his backpack, and it was assumed to have been stolen, together with the computer. In another incident involving a missing iPad, a Quaker Ridge parent reported that he was the victim of car theft and the District-owned iPad was stolen as part of that theft. However, police were unable to find any reports of the car theft in this jurisdiction. The District employee was making the reports for insurance purposes.

A Secor Road resident reported someone removed four snow tires from his property Nov. 15. The tires were last seen near his garage at the end of a long driveway.
On Nov. 19, a Weaver Street gas station manager reported a driver and passenger in a tan Mercedes-Benz pumped approximately 13.7 gallons of gas into the car and said they would be paying with $9 cash and the rest with Apple Pay. Following pumping the gas, the attendant received the $9 cash and asked the passenger to follow him into the office to accept the Apple Pay payment. Instead, the passenger got back into the car, and the car left – leaving an unpaid balance of $52.58.
Identity theft
A Saxon Woods Road man reported that $45,000 was fraudulently transferred out of his account, following a fraudulent email which the man initially believed had been sent by a construction company whom he had hired to do work Nov. 16. The email was, however, fraudulent, and the money was sent to an unknown person.
On Nov. 19, a Brite Avenue man reported someone opened a fraudulent unemployment claim in his wife's name.
Scams
On Nov. 20, a Cooper Road man reported he was lured into providing personal information via text message, including his name, date of birth and his previous home address, to an unknown person alleging to be a woman with whom he had been communicating on a dating app in late October. He believed the unknown person created a fake profile using the woman's information from the dating app.
On Nov. 20, an Aspen Road woman reported she had been tricked into purchasing $100-value Google Play gift cards and emailing photos of the cards to a person who requested the cards. The person had alleged to be one of her friends, but after the Cooper Road woman emailed the photos to the friend and she "did not receive the response she was expecting," she realized she had been the victim of a scam. She confirmed this after speaking with her friend, who confirmed her email had been hacked.
Oil spill
While receiving an oil delivery, an overflow occurred that resulted in an oil spillage on a Bradley Road property Nov. 18. The spilled oil affected the resident's front garden area. A supervisor from the oil company came to the scene, and placed absorbent on the spilled oil.
Broken window
A Sheldrake Road laundry room window was broken by a piece of metal debris that cracked the window and ended up inside the room Nov. 19. Most likely the debris was kicked up from a piece of landscaping equipment.
Disputes
Police mediated a verbal dispute between a landscaper and his employer at the corner of Bell Road and Boulevard Nov. 18. The dispute was verbal in nature and concerned the way work was to be done, as well as payment over past work. During the disagreement, one of the partied allegedly slipped on a Belgian block and allegedly re-aggravated a past injury. As a result of police mediation, the employer agreed to pay the landscaper $180 for his previous services.
On Nov. 18, a Fox Meadow Road resident reported a verbal dispute during a custodial exchange, during which one parent raised her voice at the other parent.
Leaves
On Nov. 19, a Stratton Road woman reported she had received a notice that a pile of leaves placed outside her property could not be picked up due to branches and grass clippings mixed into the leaves. She also claimed the leaves had been placed there by her former landscapers and the leaves did not belong to her property. This could not be verified because it was after the alleged fact. Police, however, did not observe branches and grass clippings in the leaf pile and therefore asked the highway department to pick up the leaves.
Help
A Village Court clerk requested police assistance in dealing with a woman who came to the window and was irate about a parking ticket Nov. 18. She was asked to leave.
Police helped an Edgewood Road resident get inside her house after she was accidentally locked out Nov. 18.
Cars and roadways
On Nov. 15, Police stood by while a contractor moved machinery away from a fire hydrant on Paddington Road.
On Nov. 16, police issued warnings to improperly parked car on Brambach Road.
On Nov. 16, police issued a summons for a parking violation on Overlook Road.
On Nov. 16, a driver reported that his car was struck on Post Road, but the other driver did not stop.
Police and firefighters helped a Hamilton Road woman get back inside her car after he was accidentally locked out Nov. 16.
On Nov. 16, a caller reported a minor hit-and-run accident with a Liberty Line bus at Post and Popham roads.
The fire and water departments were advised about a knocked-down fire hydrant on Popham Road at Depot Place Nov. 17. Upon investigation, officials determined that a ring used to secure the hydrant was cracked in three places, causing the hydrant to become dislodged. It did not appear that the cracked bracket ring was the result of any criminal mischief. Nor were there any tire marks or signs of accident debris in the area. It appeared that oxidation of the metal and loose bolt joints caused the hydrant to become dislodged and tip over.
A car reportedly struck a parked car on Cayuga Road before leaving the scene Nov. 17.
Police notified Con Edison about branches entangled in wires on Birchall Drive Nov. 17.
On Nov. 19, a driver reported that her car had been struck and damaged while she was parked in Balducci's parking lot on Palmer Avenue. The other driver left the scene without reporting the incident.
Police reached out the highway and engineering departments to investigate a leaning tree on Overhill Road Nov. 19.
After trying unsuccessfully to contact the owner of an illegally parked car impeding traffic flow on Madison Road Nov. 20, police issued a summons.
Six car accidents were reported in the Village this week.
Kids
Kids were reported to be ringing doorbells and running away from houses on Sheldrake Road Nov. 19.
Animals
Coyote sightings were reported on Paddington Road Nov. 15.
Police shot a mangy coyote walking with an unsteady gait and looking ill or injured on Woods Lane Nov. 16.
A small dog was reported to be loose at Brewster and Cohawney roads Nov. 16. Police went to the area to look for it, but it was gone.
On Nov. 17, a loose dog wandered into a Spier Road yard before it was retrieved by its owner.
A coyote, described as "sick looking and skinny," was reportedly seen on Taunton Road Nov. 17.
A coyote sighting on school grounds was reported by Edgewood School employees Nov. 17.
Police reunited a small, white dog –found loose on Lawrence Road – with its owner, who was out driving around and looking for the dog Nov. 17.
Village code
On Nov. 16, police issued a summons to a Rock Creek Lane resident for an oversized leaf pile blocking traffic and impeding visibility.
On Nov. 19, police twice asked a Harvest Drive homeowner to lower the volume of music after neighbors complained of noise. Following the second complaint, the music was completely turned off.
Firefighters
On Nov. 18, firefighters assisted at a two-car accident at Post Road and Wayside Lane. One vehicle was up an embankment, leaning onto the other vehicle. The vehicle was a roll hazard. Firefighters anchored the hazardous vehicle to a tree and used a Hurst Quick Strut to stabilize the vehicle. Both vehicles were removed by tow.
On Nov. 18, firefighters assisted at a three-car accident at Post and Popham roads.
On Nov. 22, firefighters discovered elevated carbon monoxide readings coming from a defective heating system in a Heathcote Road house. They shut down the system and ventilated the house. Con Edison was notified and red-tagged the boiler. Con Edison noted this was a recurring issue.
This report covering police and fire department activity from Nov. 15-21 has been compiled from official information.

This police report is sponsored by Scarsdale Security who does more than just security. Contact them about remote video for your home or business. Call 914-722-2200 or visit their website.