House Fire Hides Behind Bathroom Ceiling on Tisdale Road, Man Pulls Thief From Car
Wednesday, 20 July 2022 08:40
Last Updated: Thursday, 21 July 2022 13:03
Published: Wednesday, 20 July 2022 08:40
Traci Dutton Ludwig
Hits: 984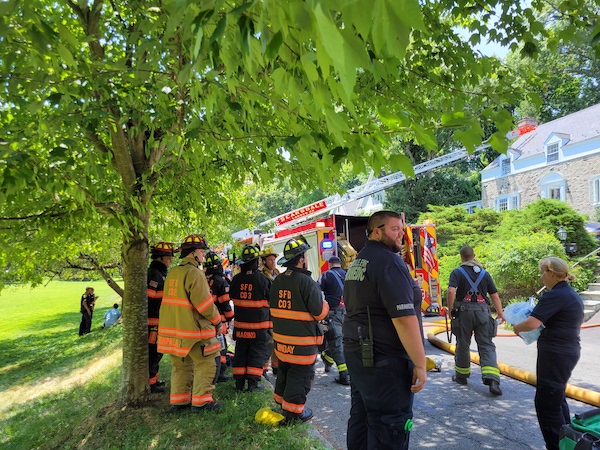 A house fire broke out in a second-floor bathroom of a Tisdale Road house July 13. Firefighters were dispatched to the scene and saw light smoke showing from the ridge vent of the two-story, wood-framed house. The homeowner approached initial crews and reported that the house had been evacuated when smoke was noted throughout the second floor. During interior investigation, firefighters observed light smoke on the first floor and moderate floor-to-ceiling smoke on the second floor. There was no visible fire. A 360-degree scene survey was conducted by firefighters, and contractors' equipment was noted on the rear side of the house.
Multiple contractors' ladders were observed extended to the second-floor drainage gutters with scaffold planks in place. A worker was on the roof directing a garden hose stream into a corner roof opening in an attempt to extinguish the fire. This worker was advised by command to return to the ground level and maintain a safe distance from the structure.
A 1.75" hose line was brought to the second floor for fire suppression operations. Primary searches of the structure yielded negative results. Crews breached the drywall ceiling of a second-floor bathroom after detecting increased thermal contrast depicted on a thermal imaging camera. Smoke emanated from this opening, and the hose line stream was directed into the void space. Command confirmed with interior crews that the area breached was the internal counterpart to the exterior fire damage. The attic was evaluated for fire extension with charring noted between rafters in an unfinished space. Overhaul was conducted to ensure complete extinguishment. The structure was evaluated for significant additional thermal signatures with negative results. Positive pressure ventilation was utilized to expel smoke from the house, and the situation was deemed to be under control. The Scarsdale Fire Department Origin and Cause Team responded to the scene for further investigation.
Firefighters were assisted in this incident by the other following agencies, some of whom were covering for Scarsdale fire department: Fairview, Hartsdale, Greenville, White Plains and Eastchester fire departments, Con Edison, the Scarsdale building department, Scarsdale police and Scarsdale Volunteer Ambulance Corps.
Attempted car theft
An attempted car theft was reported on Weaver Street at approximately 4:20 p.m., July 15. The owner of the car told police a suspect got into his 2020 BMW worth $100,000, with the keys inside. The owner saw the suspect, opened the car door and pulled the suspect out of the car. The suspect then fled the scene.
Car break-in
On July 11, a Hampton Road man reported someone broke into his parked car, rummaged through it and stole a bag of change. The incident occurred around 2 a.m., as per video surveillance, the owner said. The video showed a sedan pull up to the driveway, where two men exited the car, walked up the driveway and entered the Hampton Road parked car. After about 30 seconds, the men left, got back into the sedan and drove off.
Identity theft and scams
On July 11, a Highland Way man reported a debt collection agency mailed him paperwork related to an unknown debt totaling $2,739.65.
On July 12, a Chesterfield Road man reported that someone filed a fraudulent unemployment claim in his name.
A Walworth Avenue man reported that his bank informed him that three of his checks had been "washed," which means they had been stolen, were altered and were attempted to be cashed. The checks were originally written on May 16. After being altered, they were cashed on various dates in June, for various fraudulent amounts totaling more than $43,000.
On July 13, a Montrose Road woman walked into headquarters to report that she believed a person was intercepting her mail because two checks that she had mailed from a USPS mailbox were stolen, altered and fraudulently cashed for more than $20,000.
On July 15, an elderly Gorham Road resident reported being scammed out of approximately $45,000 through a computer pop-up scam. The pop-up window stated that the resident's computer had been hacked and that the resident needed to wire $45,000 to an unknown person in order to research and identify the person responsible for the hack. Shortly after going to the bank and initiating the transfer, the resident became suspicious and believed he was being scammed. He informed his bank to retract the wire transfer. The bank said it would investigate the matter and attempt to get the money back.
On July 16, a Brewster Road man reported that he discovered an AT&T account linked to his name, for which he had no previous knowledge. He determined then that the account had been fraudulently opened.
Mail fraud
A sticky substance, intended to enable mail theft, was found near the mail depository slot at a public mailbox located at Dobbs Terrace and Fenimore Road July 17. Police informed the Postal Inspector for follow-up.
Criminal mischief
On July 11, a 19-year-old female driver from White Plains said she was followed by a man on a street scooter who punched her driver's side mirror and broke it. The incident has been classified as an incident of road rage.
A rear window in a 2004 Subaru car parked in a Post Road driveway, as well as a glass panel in a post light on the same property were found to be shattered. The owner of the car reported it to police July 11.
Suspicious
A woman reported a white van was driving on the same streets that she was walking on, but the driver did not attempt to speak with her or approach her. Nevertheless, she was concerned and reported the matter to police July 12.
The daughter of a former Penn Boulevard resident reported seeing someone appear to come to the Penn Blvd. house with carpet, and shortly thereafter the surveillance camera lost connection July 13. Police checked the house, and everything was determined to be in good order.
According to a Meadow Road caller, a heavyset, white man in his 40s was attempting to sell jewelry out of his black Ford Explorer with Massachusetts license plates July 13. Police canvassed the area but could not find the man.
Help
Police conducted a welfare check of a Heathcote Road daughter July 12. She was okay and said she would call her mother.
On July 15, police mediated a dispute between a passenger and an Uber driver on Archer Lane. The dispute was the result of a misunderstanding due to a language barrier.
On July 17, police removed a bicycle from the waterway near the high school's Brewster Road lot and placed it in the bicycle rack.
Burning lawn debris
A caller reported seeing smoke coming from a Morris Lane property July 15. Police went to the scene and noticed a wheelbarrow filled with burning lawn debris. Police used a garden hose to extinguish the fire and cautioned the resident to refrain from burning lawn debris.
Cars and roadways
On July12, police asked a worker to move his vehicle to a driveway so as to not impede traffic flow.
Police assisted a driver with a flat tire move his car into the Quaker Ridge School lot where he could safely leave it there for a tow July 12.
Police directed traffic around a disabled vehicle at Post Road and Wayside Lane until the vehicle could be safely moved into a parking lot to await a mechanic July 15.
Police put flares around a car with a flat tire at Bypass and Secor Road while the driver waited for assistance July 15.
One car accident was reported in the Village this week.
Animals
An injured rabbit was observed on the side of Cayuga Road July 11. It was immobile and seemed to be "mortally injured," according to police. It was not in a position for police to safely put it out of its misery.
A loose friendly dog was reported in the Mamaroneck Road area July 12. It ran away before it could be apprehended.
Village code
On July 11, police asked soccer players to leave Quaker Ridge field. Police advised the players that a permit was necessary to play soccer there.
A Brambach Road resident complained about not being able to sleep at night due to hearing his neighbors' voices outside an open window July 17.
Lost and found
A Rock Creek Lane man reported losing his car's front license plate somewhere in the vicinity of Weaver Street July 11.
On July 12, a Fox Meadow Road man reported losing his U.S. passport. The last time he saw his passport was inside his house.
On July 13 a person reported that license plates mailed to her from the DMV were never received.
On July 13, a Village resident reported losing her car's rear license plate.
A Ridgecrest East woman reported losing her Green Card while traveling through the Canadian and United States border July 15.
A passerby found a wallet in Greenburgh and brought it to the Scarsdale police station July 15. Police contacted the owner and returned the wallet.
A passerby found a lady's purse at Duck Pond and Heathcote roads and brought it to police July 17. Police identified the owner and returned the purse to her.
Firefighters
On July 17, a propane tank was leaking on Continental Road. Firefighters isolated the tank until proper repairs could be made. A house affected by the propane was aired out by a family member under firefighters' supervision.
On July 12, firefighters stood by to cover for White Plains firefighters wile they were battling in a fire in a multiple dwelling.

On July 13, firefighters assisted Hartsdale fire department with a dumpster fire.

On July 14, a sink garbage disposal in a Garden Road kitchen overheated, Firefighters isolated the circuit in the breaker and advised the resident to contact a repair company.

On July 17, an underground propane tank was hissing and leaking on Continental Road. Firefighters isolated the tank until proper repairs could be made. The house affected by the propane was aired out by a family member under firefighters' supervision.
This report covering police and fire department activity has been compiled from official information.

This police report is sponsored by Scarsdale Security who does more than just security. Contact them about remote video for your home or business. Call 914-722-2200 or visit their website.
(Pictured at top: Fire on Tisdale Road.)