Police Report: Person Killed by MTA Train North of Crane Road Aug. 14
Thursday, 18 August 2022 12:14
Last Updated: Thursday, 18 August 2022 13:03
Published: Thursday, 18 August 2022 12:14
Traci Dutton Ludwig
Hits: 3698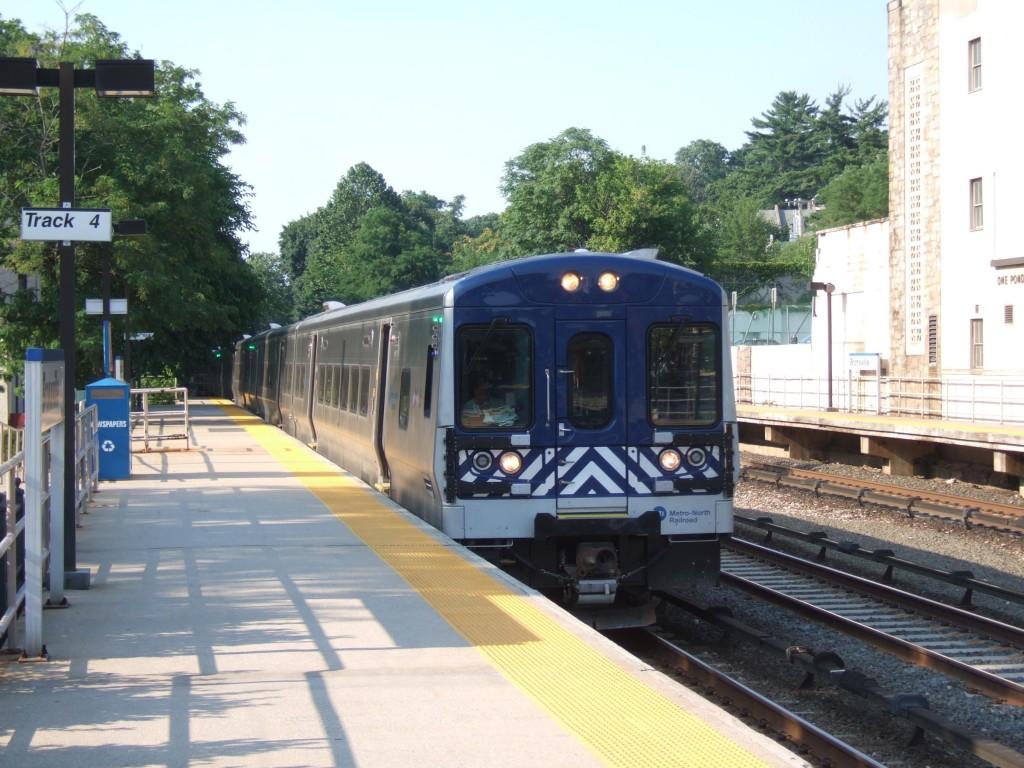 Person killed by train: At 12:45 a.m., Aug. 14, firefighters were called to assist MTA police with an incident involving a person who was killed after being struck by an MTA train on the northbound tracks, north of Crane Road. The person was confirmed dead, and firefighters helped move the person's body from the tracks. Scene lighting and a rescue train were brought in on the southbound tracks, and tracks were de-energized so firefighters could assist passengers as they transferred to the rescue train. MTA police were investigating the incident.
An MTA spokesperson provided the following information: "The incident happened at 12:45 AM (August 14, 2022) just north of Scarsdale station. It was a fatal incident. There were no injuries to anyone on the train. Harlem Line service was partially suspended from 12:54 am to 2:21 am. No criminality suspected."
Bail jumping arrest
On Aug. 10, Stanley De Jesus Cruz, 28 of Astoria, was arrested on six active arrest warrants dating back to 2019 for bail jumping, burglary, criminal mischief and criminal possession of stolen property. Cruz had been in Westchester County Jail on other charges, and Scarsdale police picked him up and transported him to headquarters to process the arrest. Cruz was arraigned, transported back to Westchester Court Jail and ordered to appear in court on Aug. 17.
Stolen
On Aug. 8, a man reported he previously lost his wallet after taking it to the Scarsdale Pool, believing it fell out of a bag he was carrying. Following the loss of the wallet, the wallet was allegedly "intercepted" and stolen by an unknown person. The man who reported the incident said the air tag on his wallet indicated it was last seen at an address in Port Chester on Aug. 7. Some credit cards also revealed possible fraudulent activity,
A package, from Costco, containing a patio umbrella was stolen from a Murray Hill Road doorstep Aug. 10.
Criminal mischief
On Aug. 12, a Quentin Road man reported someone damaged the door handle of his 2019 Audi overnight, possibly in a larceny attempt.
Identity theft
On Aug. 12, a Kent Road resident reported he was the victim of identity theft because someone fraudulently accessed and obtained airline miles valued at over $2,000 from his American Airlines miles account.
Harassment
A jogger reported that another person whom he passed while jogging on Post Road followed him, cursed at him and attempted to lunge at him as the result of a verbal dispute Aug. 11. The jogger asked to be taken to the hospital because he was distressed. He said he was not afraid because he thought something was "off" with the person.
Assistance
Police and firefighters helped unlock a car door on Ogden Road to free a child who accidentally got locked inside the car Aug. 10.
Police helped a disoriented woman found on Popham and Garth roads, displaying "an altered mental state," by contacting her family members Aug. 11. The woman's husband arrived to pick her up. She declined medical attention but was evaluated by Scarsdale Volunteer Ambulance Corps.
Police and firefighters helped stop a leaking water pipe that burst in a Crest Lane bathroom Aug. 12. The homeowner was advised to call a plumber.
After a Lyons Road resident complained that a pesticide applicator was spraying chemicals on a neighbor's lawn, police checked the applicator's credentials and referred the matter to the State Conservation Police for follow-up.
On Aug. 14, a Bethel Road resident reported that someone was dumping debris in her backyard near a stream. Investigation revealed the items in question were old tree limbs and shrubbery that had died and naturally fell onto the lawn.
Allegations
Patrol was flagged down by a man in Chase Park regarding an issue with a band member playing in the orchestra Aug. 11. The man said he has been having an ongoing issue with the band member, who is a woman. He reported that when she saw him in the crowd, she said, "This is what I think of you" and proceeded to spit on the ground. The spit did not touch the man. Police interviewed the band member. She said she had no knowledge of who the man was. She said she had had something in her mouth, and that is what caused her to possibly spit.
Suspicious
On Aug. 10, a Post Road man said he returned home to find a person in an unknown car sitting in his driveway. He inquired and the person said he was an Uber driving waiting for a passenger. However, the man had not called for an Uber. The man photographed the person's car, and the person allegedly got angry and left.
A person was reportedly walking on Post Road with a cane, pointing the cane at passing cars, Aug. 11. Police arrived on scene and saw White Plains police already tending to the situation.
A Popham Road bank employee reported a man was in the bank, possibly attempting to commit fraud Aug. 11. She said he could not answer a question about who recommended him to do banking there, and that is why she thought his attempt to open an account might be suspicious. She said the man filled out the paperwork and left the bank.
On Aug. 12, a driver on Scarsdale Avenue reported seeing a couple across the street, possibly "casing" his rental car, picked up from the Shell station, on Aug. 11. The couple was last seen in a blue Honda sedan.
On Aug. 13, two men in a white van pulled into a Bradford Road driveway twice and walked to the rear of the property. When the homeowner questioned them, the men said they were "looking for a bouncy castle." The resident advised them that they were at the wrong address.
Picketer
A picketer at a concert at Chase Park complained that she had a negative interaction with a band member, described as "older, overweight, white woman" Aug. 14. The band member allegedly demanded that the picketer leave the park because she did not condone the picketer's form of peaceful protest against the Village. After the picketer refused to leave, the band member allegedly became irate and used profanities. When leaving the park area, the band member was said to have rolled down her window and said, "I hope you trip and get hurt. I hope you break your legs." Police documented the complaint.
Welfare check
A person wearing ski jacket and a hood was waiting at a bus stop at Wilmot and Heathcote roads Aug. 8. Police inquired if the person needed assistance, and the person declined.
On Aug. 13, police checked the welfare of a Meadow Road resident.
Cars and roadways
On Aug. 8, police assisted a driver with a disabled sanitation truck on Saxon Woods Road and escorted the truck and a HELP truck to the Village compost lot for attempted repair work.
A passing truck on Cambridge Road pulled electrical service wires from a house Aug. 8. Police notified Con Edison, and firefighters stood by.
On Aug.8, police informed Con Edison about sneakers dangling on wires at Heathcote and Duck Pond roads. Police notified Con Edison.
On Aug. 10, a jogger reported he was almost hit by a car that did not yield to pedestrians in the crosswalk at Sherbrooke and Heathcote roads.
Patrol helped a driver move a car with a flat tire to a safe location off Post Road, where the driver could wait for assistance, Aug. 11.
The water department was notified about a significant water leak on Mamaroneck Road Aug. 11.
A woman who parked her car on private property on Boulevard was advised to move her car Aug. 12.
On Aug. 12, police notified Verizon about a branch trimmer that got entangled with a low-hanging wire. Police attempted to untangle the equipment from the phone wire, but they were unsuccessful.
Three car accidents were officially reported in the Village this week, including one on Fenimore Road involving a 41-year-old White Plains driver who left the scene of a property damage accident and was subsequently issued a summons Aug.12.
Civil matters
On Aug. 8, police advised a Fox Meadow Road resident to follow up in family court regarding an order of protection that had been allegedly violated.
On Aug. 14, a Cambridge Road man reported he was having difficulties with a former tenant who left his rental space in terrible condition. Among other things, the man reported there was obvious sewage backup, since resolved, in the space. Wet insulation, wet cardboard boxes and a water line were evident. Police advised the man it was a civil matter.
Village code
A caller reported a "mosquito hunter" sign posted at Valley and Farley roads in violation of Village code Aug. 10. Police called the listed number on the sign, and a secretary said the sign would be removed within the hour.
On Aug. 11, police asked a River Road man to lower the volume of music after neighbors complained.
Residents complained about noise from a Village event on Boulevard Aug. 12. Police investigated the noise and found it to be reasonable. The recreation department as informed about the matter.
A resident of a house near Madison and Tunstall roads turned off the music as soon as police arrived on scene to deliver a noise complaint Aug. 13.
On Aug. 13, police issued a summons to a Johnson Road landscaper who was using a gas-powered leaf blower in violation of Village code.
A Bell Road neighbor complained about loud drumming in the neighborhood Aug. 13. Police spoke with the drummer who apologized for the noise. He explained he was practicing before he went away for school, where he is studying music.
Lost and found
Key fobs, for an Audi and two other cars were found on an initialed lanyard on Sherbrooke Road Aug. 8. Police vouchered them for safekeeping.
On Aug. 14, a Highland Way resident reported a damaged blue mountain bike was found on his property in the bushes. Police picked up the bike and disposed of it.
Firefighters
On Aug. 8, firefighters were called to address a stuck elevator in a Saxon Woods Road building. Upon arrival, management said the occupant was out of the elevator.
On Aug. 8, firefighters received a report of a cat stuck 25 feet high in a Sprague Road tree. Firefighters advised to place tuna and water at the base of the tree to prompt the cat to come down on its own. After 20 hours, firefighters rigged a rope and basket to help the cat down. Food was placed in the basket to attempt to lure the cat inside. Firefighters advised the resident to call them once the cat was down.
A water leak in a Sheldrake Road house caused a false alarm activation Aug. 8.
On Aug. 8, firefighters helped a Mamaroneck Road resident open a stuck door.
Firefighters assisted at a car accident on Griffen and Grand Park avenues Aug. 9.
Firefighters were called to assist at a Hutchinson River Parkway car accident Aug. 9.
A clogged dryer vent at a Park Road house was creating steam Aug. 9. Firefighters advised to have the vent cleaned.
A person fell in a Seneca Road bathroom behind a locked door Aug. 10. Firefighters unlocked the door so SVAC could help the person who fell.
On Aug. 11, a Mamaroneck Road resident called firefighters to assist with finding the water meter on his property after receiving a water bill in excess of $3,500. Upon looking for the meter, the resident noticed a large area of clear standing water on his property near the location of the obscured meter. Firefighters informed the water department.
Firefighters stood by for Con Edison at the site of a gas leak on Barry Road Aug. 11.
Firefighters opened windows to ventilate a Harvest Drive house after food got scorched on a stove in a Harvest Drive house Aug. 11.
Firefighters shut water to a leaking toilet in a Crest Lane house Aug. 12.
Firefighters stood by for Con Edison at the site of a fallen electrical wire on Heathcote Road Aug. 12.
On Aug. 13, firefighters assisted Hartsdale fire department with a possible reported roof fire in Hartsdale's jurisdiction.
Firefighters helped a Cambridge Road resident move a table in the garage so the table would not longer be blocking a car Aug. 13.
On Aug. 13, firefighters assisted Fairview fire department with a possible reported porch fire in Fairview's jurisdiction.
This report covering police and fire department activity from Aug. 8-14 has been compiled from official information.

This police report is sponsored by Scarsdale Security who does more than just security. Contact them about remote video for your home or business. Call 914-722-2200 or visit their website.