Police Report: BMW, With Keys Inside, Stolen from Brite Avenue Driveway
Wednesday, 28 September 2022 15:46
Last Updated: Thursday, 29 September 2022 12:56
Published: Wednesday, 28 September 2022 15:46
Traci Dutton Ludwig
Hits: 1306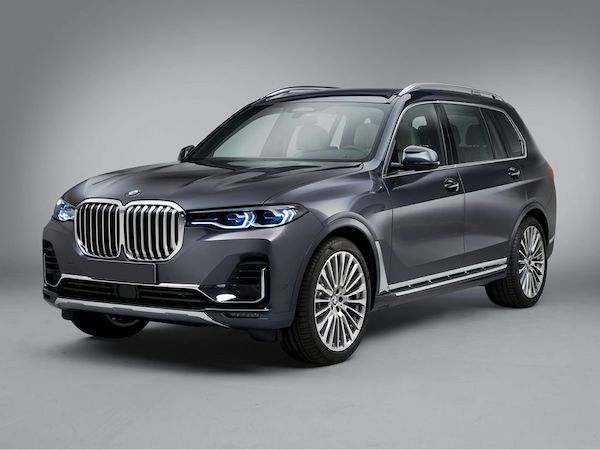 Stolen car: A 2022 BMW X7car was stolen from a Brite Avenue driveway overnight and reported the morning of Sept. 21. Keys had been left inside the car. The car was reported to be valued at $75,000.
Arrested
On Sept. 21, police conducted a traffic stop after noticing a driver in a white Ford transit van speeding in a Mamaroneck Road school zone. The driver – Roberto Caceda, 44, of Yonkers – was determined to be unlicensed, with three suspensions on three separate dates and one scoff. Therefore, the driver was placed under arrest and charged as follows: unlicensed driving, aggravated unlicensed driving, driving without insurance, speeding and failing to notify the DMV of a change of home. He was released on his own recognizance and ordered to appear at Scarsdale Village Justice Court later that day.
Identity theft
On Sept. 20, a Boulevard woman reported that someone field a fraudulent unemployment claim in her name.
Broken windows
Two storm windows reportedly fell out of a building's second-floor on Harwood Court Sept. 19. Police taped off the area around the broken windows and a maintenance worker cleaned up the debris. Firefighters also assisted.
A landscaper was reportedly using a weed whacker and accidentally sent a rock through a passing car's window near the intersection of Mamaroneck Road and Crossway Sept. 20. Police assisted the driver and the landscaper exchange information.
Nails
A Brookfield Road woman reported that a worker came to her house to retrieve tools, and after doing so the worker intentionally threw a handful of long nail onto her driveway Sept. 23. She had video surveillance of the incident and wanted to document it.
Neighbors
An Autenreith Road woman reported that a neighbor's tree cutting service was "very loud" and a branch "shook her house" when it fell Sept. 19. Police went to the area and the spoke with the tree cutters. They said they were done for the day.
Dispute
Two employees were having a verbal dispute related to compensation at a Harwood Court workplace Sept. 25. Police advised them to separate.
Confusion
A caller reported his 2020 Infiniti had been stolen from a meter spot on Chase Road Sept. 19. Police found the car parked on Autenreith Road instead.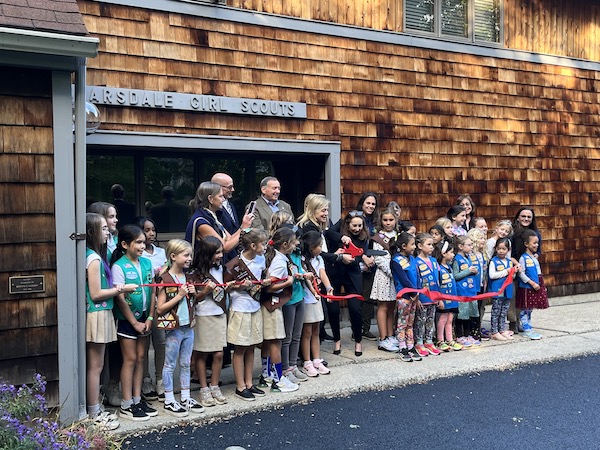 Brownies and Scouts celebrated the re-opening of the Girl Scout House on Wayside Lane on September 28, 2022. With a new ventilation system and a repaved parking lot, the building is back in service.
At 12:44 a.m., a Highland Way man reported an Uber driver just stole his property and drove away. With police help, it was determined that a language barrier caused the driver to believe he was supposed to pick up the man's property and drive it to a location. The Uber driver returned and instead picked up the man and completed the trip correctly.
Suspicious
A Fox Meadow Road resident reported an unknown man, approximately 40-50 years old, was on his property. The resident confronted the man, but the man refused to answer any questions. The resident, who is a tenant, said his landlord was having problems and the house was being foreclosed. This situation, according to the resident, had prompted other people, such as brokers and appraisers, to show up at the house unannounced and unwanted. Police suggested the resident contact his landlord.
Two residents reported a man on their property, alleging looking around cars with a flashlight and claiming to be from an animal control unit looking for a raccoon Sept. 23. At one house, the man said he was from a pest control company and sprayed the resident's lawn with alleged pesticide. The man was not wearing a uniform or driving a marked van. He was driving a white van.
A Greenacres mother reported her teenage son had been playing basketball and working out at Greenacres playground On Sept. 24. A white man in his 20s wearing a green vest was also there working out. When the teenager left, the man also left and appeared to be following the teenager. The teenager said he biked faster to get away from the man, and he eventually lost sight of him.
Pedestrian struck
A man reported his watch was struck by a vehicle in a Mamaroneck Road parking lot Sept. 21. The man said he moved his arm out of the way while the car was making a turn so only his watch was impacted. He did not report any injuries. The driver, who was in a straight-only lane, said there was a miscommunication, and he thought he was supposed to make a turn.
Cars and roadways
On Sept. 19, police closed Church Lane so Con Edison and highway workers could address a fallen branch on wires and remove it.
Con Edison corrected low-hanging wires on Post Road Sept. 19.
Police picked up loose, fallen wires from Fox Meadow Road and placed them at the side of the road Sept. 19.
Police taped off an area around a fallen branch at Scarsdale Avenue and Popham Road and notified highway workers for cleanup Sept. 19.
Police helped direct traffic to clean congestion caused by a tow truck incident near Popham Road and Depot Place Sept. 20.
Police advised drivers they could not park in restricted areas near school zones during pickup times, on Chesterfield Road and Brite Avenue, Sept. 20. As part of the follow-up, police advised the crossing guard to inform headquarters if cars were parked in violation of posted signage.
Police asked drivers to move their trucks from Brewster Road to reduce traffic congestion Sept. 21.
Police observed a car with scofflaw status, due to numerous unpaid parking tickets on Scarsdale Avenue Sept. 22. Police issued a summons and called for a tow. Before the tow arrived, the driver returned and said he would go to Village Hall and immediately rectify the matter.
Police removed a fallen branch from Bell Road Sept. 22.
Police issued summonses to illegally parked cars on Hampton Road near Fox Meadow School Sept. 22.
Verizon and Con Edison were called about downed wires resulting from a fallen tree, on Dickel Road Sept. 22.
A car got stuck on a portion of a cement wall at the end of a Greenacres Avenue driveway Sept. 23. Police stood by until a tow arrived.
A woman was reportedly in labor on the Hutchinson River Parkway Sept. 24. While police and paramedics were on route, the call was cancelled because the woman's location was in another jurisdiction, and other units had already arrived on scene.
One car accident was officially reported in the Village this week.
Dogs and animals
A dog owner and his dog were playing catch in a middle school field Sept. 19. Police asked the owner to leash his dog.
A Murray Hill Road woman reported seeing a coyote in the neighborhood on numerous occasions in the recent past.
A man walked into headquarters on Sept. 26 and reported that a dog had bitten him Sept. 22. He asked police to document the matter. He said the bite occurred while he was walking on White Road, and a dog lunged at him and bit his arm. The dog was described as a mixed breed, and it was leashed at the time. He went to Westchester Medical Center as a precaution. The bite was bandaged, and the man received a rabies vaccination. He said he would be contacting the dog's owner himself to check the dog's health records.
Village code
A Meadow Road resident placed bulk garbage at the street Sept. 20, and neighbors complained. Police informed the resident that he would have to call the sanitation department to arrange for pickup rather than just leaving bulk items at the curb.
Loud music was coming from a location were there were many parked cars on Murray Hill Road Sept. 23. Police noted that approximately 300 people were anticipated at the event, and police advised staff of a noise complaint. They also advised staff to make sure parked cars did not impede traffic flow.
Police advised a Fenimore Road resident of a noise complaint, and the resident turned off loud music Sept. 23.
Police issued a summons to a worker causing noise before allowable construction work hours, as per Village code, Sept. 24.
Police advised a Secor Road facility manager of a noise complaint, and the manager turned off loud music Sept. 24.
Police removed illegally posted signs in the Village Sept. 25.
Lost and found
On Sept. 20, a Spencer Place storeowner reported finding a driver's permit outside his store. It was expired; so police shredded it.
On Sept. 20, a wallet was found inside a Popham Road restaurant.
Firefighters
Firefighters cut open a car's doors to remove an injured person from the car following an accident at Fenimore and Brewster roads Sept. 19. Scarsdale Volunteer Ambulance Corps was on scene to treat the person.
Firefighters used an extinguisher to put out a grease fire coming from a restaurant stovetop on Chase Road Sept. 20. The cause of the fire was "kitchen crew attempting to burn off grease from the stove by covering grates with aluminum foil, according to the fire report."
A Lincoln Road resident reported an unusual interior odor Sept. 22. Firefighters traced the odor to a sheen on liquid in a sump pump pit. They drained the pit and washed the area. They told the resident to service the sump pump and to call again if the odor comes back.
Firefighters helped a Madison Road resident change batteries in a smoke detector Sept. 24.
Smoke from a wood-burning pizza oven set off a smoke detector in a Garth Road restaurant Sept. 24. Firefighters referred this ongoing matter to the fire inspector and suggested the smoke alarms be moved to different locations to prevent frequent false alarms.
A closed fireplace flue in a Brewster Road house caused smoke to accumulate inside the house Sept. 25. Firefighters ventilated the house and opened the flue.
This report covering police and fire department activity from Sept. 19-25 has been compiled from official information.