Police Crack Down on Illegal Signs and Leaf Piles -- Plus a Lawn Mower Fire
Thursday, 17 November 2022 09:18
Last Updated: Thursday, 17 November 2022 09:26
Published: Thursday, 17 November 2022 09:18
Traci Dutton Ludwig
Hits: 1519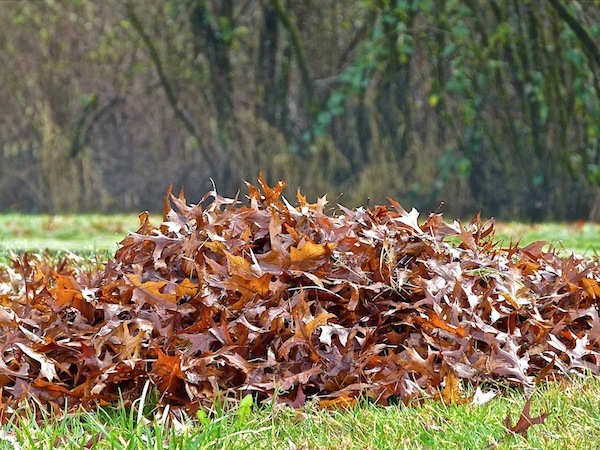 Village code violations: Police spoke with homeowners and real estate agents to move signs placed in the Village right of way, so that the signs would be in compliance with Village code, on Carthage and Murray Hill roads Nov. 7, Richelieu and Hamilton roads Nov. 8, Brewster and Post roads and Hickory Lane Nov. 9, and Cushman Road Nov. 13. Advertising signs, which prompted police to issued summonses to the owners, were removed from Clarence Road Nov. 9. One real estate agent was issued a summons on Nov.10 because she did not comply with relocating her sign on Brewster Road after she was given a 24-hour warning with instructions to relocate the sign. Other signs, with no identifiable owner, were removed and discarded from East Parkway, Bypass, Weaver Street, Griffen and Scarsdale avenues and Fenimore, Popham, Fox Meadow, Heathcote, Mamaroneck and Meadow roads this week.
Police issued summonses for improper use of gas-powered leaf blowers to landscapers on Nelson Road Nov. 7 and Carman Road Nov. 12.
Leaves left on Berkeley Road were blocking the roadway Nov. 8. Police issued the homeowner a summons.
Leaves left on Brewster Road were blocking the roadway Nov. 9. It was eight feet deep, 30 feet long and five feet high. Police issued the homeowner a summons. Other leaf piles were blocking the sidewalk on Heathcote Road this day. Summonses were also issued.
On Nov. 10, police issued summonses for leaf piles, placed in violation of Village code, on Tisdale Road and Greenacres Avenue.
On Nov. 11, police issued summonses for leaf piles, placed in violation of Village code, on White and Catherine roads and Brite Avenue. Brite Avenue piles, in particular, were observed to be extending into the roadway more than five, six, seven and nine feet. One pile was also blocking a fire hydrant.
A delivery driver was making a delivery on Scarsdale Avenue at 5:47 a.m., Nov. 10. Police informed the driver that deliveries were permitted only after 6:30 a.m. weekdays and after 8:00 a.m. on weekends.
Police dispersed noisy kids from Roosevelt Place Nov. 12.
Police issued noisy workers a summons for starting work prior to 10 a.m. on Cushman Road on Sunday, Nov. 13.
A Church Lane man complained his neighbor was cutting down trees Nov. 7. The neighbor produced a valid permit for the work, and the job continued.
Stolen
A Chase Road woman reported that a bag worth approximately $1,890 was missing from her house Nov.9.
Identity theft
On Nov. 11, a Church Lane resident reported that a line of credit was opened in his name without his knowledge or permission on Nov. 8. The account was closed, and no loss occurred.
On Nov. 12, a Rugby Lane resident reported that a line of credit was attempted to be opened in his name without his knowledge or permission.
Arrest on warrant
On Nov. 9, police picked up a defendant from Westchester County Jail and transported him to Scarsdale where he was arrested on the strength of a bench warrant Nov. 9.
Help
Highway workers helped retrieve keys that fell into a storm drain at Spencer Place and Chase Road Nov. 11.
Police mediated a disagreement between two residents over the "norms" of laundry machines in a Chateaux Circle laundry room Nov. 13.
Cars and roadways
A car struck a White Avenue fire hydrant and left the scene Nov. 7.
Police asked the highway department to remove a large fallen branch from Post and Burgess roads Nov. 7.
Police helped a driver whose car ran out of gas on Post Road around 9 p.m., Nov. 7.
Police helped the driver of a large truck safely maneuver its way onto Post Road from Tompkins Road Nov. 8.
A car parked illegally in a Popham Road lot was towed to White Plains, as per building management, Nov. 9. Police were informed in case the owner inquired about the car.
Police asked workers to move construction vehicles so a Normandy Lane resident could safely and easily enter and exit his driveway Nov. 9.
A truck that struck a bridge on the Hutchinson River Parkway was stopped on an entrance ramp, obstructing traffic flow Nov. 9. Police assisted Westchester County police move the truck to a safer location where it could be inspected and the diver could be cited.
Police provided directions to an elderly couple in a white Honda on Crossway, due to the fact that they had made a wrong turn and gotten lost, Nov. 9.
On Nov. 10, a BMW, with Florida license plates, which had scofflaw status, was observed on Harwood Court. Police spoke with the owner who said she would respond to Village Hall immediately to rectify the matter.
Police notified Verizon about a fallen wire on Fairview Road Nov. 12.
Damage to a car parked in a lot at Autenreith and Popham roads, during inclement weather, was most likely caused by storm debris, police told the owner of the car, Nov. 12. They advised her on proper follow-up.
A tree was resting on telecommunications wires on Whig Road Nov.12. Police taped off the area and notified Verizon.
Four car accidents were officially reported in the Village this week.
Civil matters
On Nov. 9, a Brewster Road woman alleged her neighbor drives onto her driveway and knocks down cones. Police advised the woman this was a civil matter.
On Nov. 12, the trustee of an estate, involving a house in Scarsdale, reported that a person changed locks on the house and had mail forwarded from the house address to another address, without proper permission. The person who allegedly committed these acts had been named in a previous will but had been "left out" of the current will, the trustee said. Police advised it was a civil matter and urged the trustee to document all interactions with the person.
Animals
A Hampton Road resident expressed concern over "erratic behavior" of a squirrel in the backyard Nov. 7. Police observed the squirrel and noted its behavior was consistent with other members of its species. It did not appear sick or injured, according to police. Police then helped to relocate the squirrel to the woods in a less populated area of the Village.
Police helped reunite a dog with its owner on Hampton Road Nov. 8.
A sick raccoon was reported to be in a sewer catch basin on Varian Lane Nov. 9. According to the police report, "patrol drove over the sick raccoon with [a police cruiser], and it was in an obvious lifeless condition." The highway department was notified for removal.
On Nov. 10, a dead deer was found on Griffen Avenue. Police asked the highway department to remove it.
Lost and found
On Nov. 11, a driver's license was found on Brewster Road, near Fox Meadow School, by a passerby and given to police. Police vouchered it for safekeeping.
Firefighters
On Nov. 8, a Popham Road resident reported that building maintenance staff " inadequately repaired ceiling concrete with 'spackle.'" The resident provided fire department members with photographs that included the images of the ceiling damage before the repair. The photographs depicted a ceiling with exposed reinforcement bar. The ceiling structure is noted to be concrete with steel bar reinforcements, called rebar, and finished with plaster typical of fire resistive structures. The resident's apartment is located on the top floor of the building with a contiguous apartment ceiling and roof structure, according to firefighters. In the apartment in question, firefighters observed cracks in an approximately four-foot by 2-foot section of the ceiling where a repair had been performed. These cracks were deemed to be consistent with the shrinking effect that occurs as water evaporates from thick applications of a compound or filler. Firefighters evaluated the roofing material above the apartment and noted a heavily weathered membrane with no obvious penetrations. Command advised the resident that the apartment could continue to be occupied but to avoid areas of the apartment with the observed cracking and damage. The Scarsdale Building Department was notified of the damage to ensure that proper repairs are arranged.
On Nov.9, firefighters were called to Sycamore Road on the report of an outdoor brush fire. Upon arrival, firefighters found a gas-powered lawn mower was involved and on fire as well. Firefighters extinguished the equipment fire and the burning brush area around the machine. They overhauled the mower to make sure the fire was completely extinguished. The landscaping company removed the burnt lawn equipment from the premises, and firefighters informed the homeowner.
On Nov.10, a Morris Lane worker reported a gas odor coming from an open excavation. Firefighters stood by for Con Edison and checked the basement of nearby houses to verify that no gas had migrated inside.
On Nov. 11, firefighters were called to investigate a reported smoking car at Post Road and Lorraine Place. Upon arrival, firefighters found a car with its hood up with what appeared to be smoke coming from the engine compartment. Upon further investigation, the "smoke" was determined to be steam, and there was engine coolant dripping out of the radiator. Firefighters identified this matter as an engine overheat. They isolated the battery to ensure safety.
On Nov. 12, a driver stated he saw smoke coming from his car while driving near Huntington Avenue and Post Road. He then pulled over, opened the hood and noted flames in the engine compartment. When he dropped the hood, the flames dissipated. Charred leaves and organic material were noted below the hood. No obvious damage was noted to the vehicle; however; however, underlying damage could not be ruled out. Firefighters advised to have vehicle towed for evaluation of safe operation.
This report covering police and fire department activity from Nov. 7 - 13 has been compiled from official information.

This police report is sponsored by Scarsdale Security who does more than just security. Contact them about remote video for your home or business. Call 914-722-2200 or visit their website.