DeCicco Family Markets Sponsors Third Annual Student Mural
Wednesday, 17 May 2023 11:08
Last Updated: Wednesday, 17 May 2023 14:47
Published: Wednesday, 17 May 2023 11:08
Amy Nadasdi
Hits: 292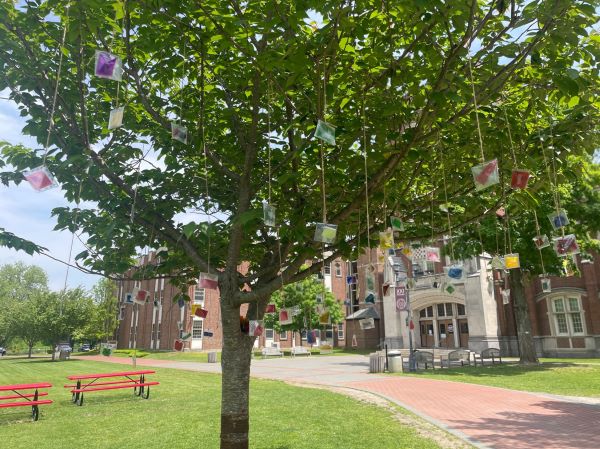 Healing Tree Scarsdale residents are likely familiar with the pair of blue and gold wings that adorn DeCicco Family Markets on East Parkway in the village. These wings were designed and painted by high school students in the National Art Honor Society. Amy Nadasdi, chair of the Scarsdale Arts Advisory Council, is excited to announce the unveiling of a new mural in the village. She recently shared the following letter:
Scarsdale Village's Arts Advisory Council is excited to announce the unveiling of a new mural created by members of the Scarsdale High School chapter of the National Art Honor Society. Please join us on Thursday, May 25th at 6 pm in front of DeCicco's on East Parkway for the big reveal and celebration.
Frank DeCicco of DeCicco Family Markets has shown his commitment to beautifying our Village Center by sponsoring a third public art project. Previous projects have included the Wing the Dale mural on East Parkway and the Village Scene mural in the DeCicco parking lot. Arts Advisory Council Chairperson Amy Nadasdi has worked for the past several years to connect village merchants to student artists to collaborate on various art projects. "Once again, we are honored to have DeCicco Family Markets support both our students and this community by providing the opportunity to display public art in our downtown area."
Guided by Scarsdale High School Art Teacher Janna Johnsen, this beautiful public art project demonstrates the students' commitment to fostering a sense of pride in our community and enhancing the quality of life for all residents and visitors to our Village Center.
Of the mural, Johnsen says, "The National Art Honor Society (NAHS) students of Scarsdale High school have given their interactive art installation "Healing Tree '' (located at the high school) another life, illustrated in a new colorful public mural to be installed in Scarsdale Village. Please visit and experience the next chapter of the animated Healing Tree swirling with our young student artists' messages of gratitude and hope, filled with vivid color and light." Healing Tree
Members of the public are invited to join us as Mayor Arest presides over the brief unveiling ceremony in front of the DeCicco's wall to celebrate our young artists and their remarkable contribution to our Village Center.