Culinary Treasures from India at Coromandel
Monday, 13 March 2017 17:27
Last Updated: Monday, 13 March 2017 17:38
Published: Monday, 13 March 2017 17:27
Judie Dweck
Hits: 5779
Sometimes subtle, sometimes spicy, the cuisine of India is always varied and exciting. With its large menu of dishes from north to south and east to west, of this vast country, Coromandel in New Rochelle is the perfect place to sample this distinctive cuisine. The infinite combination of spices and herbs expertly combined for each dish, sets Coromandel among the best restaurants to enjoy Indian cuisine in the county. The knowledgeable co- owner Joji Parappallil traces his family roots to Karala. He attended school in Switzerland where he studied the many facets of the culinary field. "When Coromandel opened about 16 years ago, there were not many dining spots in the area. This has changed through the years and now many restaurants dot the neighborhood. I describe our restaurant as a fine dining spot that serves regional Indian food in a vibrant atmosphere. Our high quality ingredients, ambiance, service and cleanliness add to our success. Our food is consistent since we personally train our chefs and a manager is always present."

The main dining room is bright and cheerful with royal blue light fixtures and walls encrusted in gold. They seat about 70 guests in the dining area and 20 at the bar.

I shared a culinary sampling of the large variety of dishes offered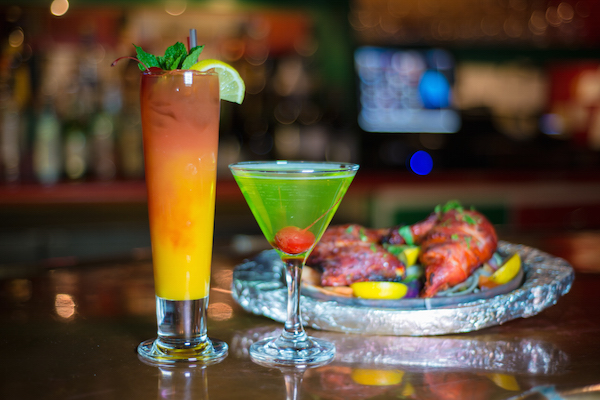 with Joji Parappallil. Our dishes spanned India from Delhi, Madras, Punjab, Bengal, and Kashmir, as well as Karala, where Parappallil grew up. A parade of appetizers arrived. Rather than tasting familiar starters such as lamb samosas or masala dosa, we ventured into several dishes that I had never tried. Calamari Coromandel were spicy well flavored rings of calamari lightly dusted with breadcrumbs. They were fried and tossed with onions, red and green bell peppers, garlic, curry leaves and a touch of ketchup and just enough red chili to enhance the dish. Tawa Ruyyali arrived as chopped shrimp and fresh crabmeat combined with tomatoes and onions and mild spices for a delightful dish. We moved on to the familiar lasanki gobi. Their rendition of cauliflower florets, breaded with corn flower and fried and tossed with tomato sauce with a hint of garlic and green herbs was crisp and well balanced. Another popular appetizer was sheikh kebab. Ground lamb seasoned with cumin, mint and coriander imparted flavor to these tandoori grilled savory treats. Next to be tried was one of the signature dishes at Coromandel, known as Coromandel Shamm Savera. These delightful pinwheels had the appearance of sushi. The center of these dumplings was paneer (the Indian cheese) and the wrapper was a fresh spinach dough. These pinwheels were surrounded by a sauce of tomato, honey and spices, resulting in a delicious mildly flavored dish. Baingan Burani shows off the eggplant very well. The breaded slices are topped with yogurt, mint and just enough tamarind to lend a sweet and tart flavor.


An Indian meal would not be complete without a taste of their varied breads. At Coromandel, you can partake of a variety of naan, paratha, chapatti and poori. We enjoyed the garlic naan with finely minced garlic and cilantro.
Entrees span the country, as well. You will find familiar dishes such as chicken tikka masala, chicken vindaloo, lamb pasanda, lamb saag and shrimp jalfrazi and even several beef dishes, not often included on Indian menus. Of course, Coromandel features a large variety of vegetarian dishes such as Kashmiri Navaratan Khorma with its excellent cashew and almond sauce and bhindi do pyaza.

If okra is your choice. Tandoori dishes hot out of the tandoor clay oven are expertly prepared here. Choose from chicken fish, lamb, singly or in combination. We were entranced by the absolutely delicious Ghustaba. These New Zealand lamb chops were meaty and marinated in yogurt, spices and a grinding of nutmeg for a tender tantalizing result, with a melt in your mouth texture. For me, that required picking up each chop with my fingers to enjoy every last bite of these succulent chops. Grilled vegetables added color to this excellent dish. From the seafood selections, a personal favorite is Manglorean Prawns. Large shrimp are simmered in a coconut ginger sauce with curry leaves. This specialty from Karnataka is a mild soothing dish, perfect with nicely cooked basmati rice. It will clarify the thought that all Indian food is hot. This is one of their milder creations, of which there are many.

I completed my meal with carrot halwa and ras malai,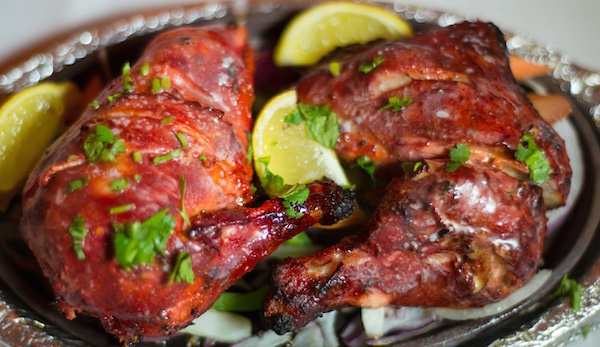 two Indian classics prepared with finesse here, and not too sweet. My personal array of dishes from the Coromandel menu convinced me that at Coromandel, the art of combining herbs and spices is alive and well. Since each dish is made to order, you can specify the degree of spice you prefer. For the newcomer to Indian cuisine, sample the lunch buffet or the weekend buffet where you can taste a large variety of dishes at one meal. The choices change daily. Parappallil suggests sampling each dish repeatedly to grow accustomed to the range of spices. Coromandel offers catering facilities and can seat up to 125 guests in their adjoining party dining room which even boasts a dance floor. If you choose to dine on Wednesday evenings, your dinner may be enhanced with live music. Coromandel has other locations in Connecticut.

Coromandel Cuisine of India
30 Division Street
New Rochelle, NY
914 235 8390

Recipe

CHICKEN CURRY (SERVES 4)

Ingredients:
1 pound chicken breast in 1 inch cubes
3 medium onions, chopped
1 Tbsp. chopped ginger
1 Tbsp. chopped garlic
2- 3 medium tomatoes, chopped
1 Tbsp. chopped fresh coriander leaves
4 Tbsps. ghee or oil
1 inch cinnamon stick
4-5 cloves
4-5 green cardamom
½ Tbsp. turmeric powder
2 Tbsps. coriander powder
1 Tbsp. cumin powder
1 tsp. red chili powder
Salt, to taste
½ cup yogurt
1 Tbsp. garam masala powder

Directions:
Heat ghee or oil in a thick bottom pan. Add cinnamon, cloves and green cardamom and sauté for half a minute. Add onions, ginger and garlic and continue to sauté for 2- 3 minutes stirring continuously. When it is brown, add the turmeric, coriander, cumin garam masala and red chili. Mix well and add the chopped tomatoes. Stir and cook until the oil separates from the ingredients. Stir in the chicken and salt. Add 2 cups of water and bring to a boil. Cover and cook on a low heat until the chicken is fully cooked. Sprinkle with coriander leaves and serve hot.

• Ghee, garam masala and spices can be purchased at Indian groceries.
Contributor Judie Dweck has been writing about restaurants and food for many publications. She teaches creative cooking to children at Scarsdale elementary schools. Through the years, her articles have appeared in Jack and Jill Magazine, Spotlight, The Pleasure of Cooking and The Scarsdale Inquirer. She balances her restaurant tastings with daily ballet classes.