Bienvenidos to Mariachi Loco II in Scarsdale
Monday, 02 October 2017 16:50
Last Updated: Thursday, 05 October 2017 13:06
Published: Monday, 02 October 2017 16:50
Judie Dweck
Hits: 6803
Many years ago, I had the pleasure of enjoying some totally homemade authentic Mexican food at a very informal small spot on Central Avenue in White Plains, Mariachi Loco. Through the years, the dining room was enlarged and a Mexican grocery was opened by the owners next door. This week, I continued following the culinary journey of owner Guillermo Arellano and his family, who recently opened Mariachi Loco 11, on Central Avenue, as well, in Scarsdale. It occupies the grand space that was Casa Maya. Arellano arrived here from Puebla, Mexico in the late 1980's. When I chatted with him several years ago, he said," I came to New York to have a better life. Our dream is to open other locations in the future." A few months ago his dream was fulfilled with the opening of Mariachi Loco 11. Raul Rojas, a longtime family friend is its capable manager. Rojas said, "Arellano always enjoyed the popular song Mariachi Loco, and thus his restaurant received that name. They feature a mariachi band on weekends, as well as a performer who serenades the guests with songs from the 1980's.
As I parked conveniently in the shopping strip, the doors to the restaurant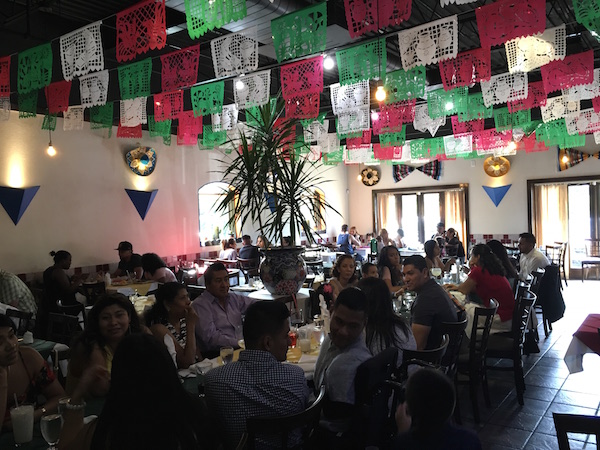 were open and the cheerful sounds of Mexican music filled the late summer air. The large space seats about 95 guests with an additional 20 at the bar. The many tables are covered with white linen and red and green over cloths. The ceiling is hung with a multitude of the popular red, white and green cut out banners depicting kitchen scenes of Mexico. Gold and silver embellished sombreros of many colors, black and white photos of well-known Mexican musicians, Mexican pottery and dolls and a lovely large mural painted by Arelllano's daughter grace the walls.
The menu is very extensive with variations of popular enchiladas, tacos, tostadas, quesadillas, burritos and fajitas, as well as chicken, meat and seafood entrees. It will take many visits to get a true sampling of these delights.
The kitchen is in the hands of Chef Apolo Mendez and his staff. Even the tortillas, the basis for so many of the dishes are handmade in the kitchen for both corn and flour varieties in sizes to suit each dish. Chef Mendez clearly enjoys his job. He has graced the kitchens of many restaurants in Manhattan, Yonkers and Elmsford and is competent in preparing dishes from appetizers to pastries, all from scratch.
Warm chips and a well-spiced salsa kept us busy as we waited for our dishes to be freshly prepared. For starters, we enjoyed Fiesta Mariachi Loco. This sampler platter was centered around a mountain of nachos, layered with tortilla chips, melted cheese and refried beans. Surrounding it was Mariachi's rendition of chicken fingers, tender chunks of breaded chicken seasoned with salt, pepper and parsley, a tasty and juicy tidbit, flautas with beef, queso fresca, that mild delicious cheese, and tortillas topped with chicken, onion and cilantro. Their version of guacamole was chunky to get the full flavor of the avocado and studded with chopped tomatoes. Other starters included a large selection of nachos, tortas, enchiladas, quesadillas and soups. I remember enjoying the seafood soup at their White Plains spot. It was generously filled with shrimp, calamari and crab in the shell all floating in a rich well-seasoned broth.
Our host, Senor Rojas suggested chicken alambre for our entrée. A bed of rice was the base for tender strips of chicken breast with peppers and onions and a touch of cheese. It was light and delicious. All sauces here are homemade. I sampled tomato, green tomatillo, red and mole varieties. Each was unique. My favorites were the salsa verde with tomatillos which had just enough spice to give it a kick and their classic mole, rich and delicious. This complex sauce enjoys the addition of Mexican chocolate in its long list of ingredients.
At a recent lunch, I enjoyed a steak enchilada topped with that piquante green sauce.
The julienne strips of beef filled the tortilla to overflowing and the green sauce gave it a bit of heat. The mild shredded Oaxaca cheese and a touch of Mexican crema complemented this hearty dish. A chopped beef filled chimichanga was loaded with a savory beef filling and lightly fried. Rather than rice and beans I enjoyed mixed sautéed zucchini, onions, peppers and mushrooms with it. Shredded lettuce completed this lunch combination, of which there are many. These lunch combos made good use of the tortillas, "The bread of the people", unleavened corn or wheat flour pancake like discs, prepared by hand in the kitchen of Mariachi Loco 11. I look forward to trying New York Steak Poblano, chiles rellenos, camarones ala Veracruzano , shrimp in garlic sauce and pork chop in green sauce. The choices are numerous and each dish is prepared to order.
The classic non-alchoholic beverages, that are offered here are Aguas Frescas. These fruit waters are freshly prepared in many flavors. We enjoyed a tall glass of hibiscus water, very refreshing, as well as a classic horchata, prepared with strained boiled rice, sugar and cinnamon. My future requests may include tamarind, mango and pineapple. The restaurant is also known for its margaritas and other mixed drinks.
If you choose lunch here, there are many combinations offered, salads and vegetarian dishes. The portions at lunch and dinner are quite large. Desserts are all house made here, as well. Classic flan, churros and sopapillas ae popular. We savored tres leches cake. Beautifully prepared by Chef Mendez with whole, evaporated and condensed milk and garnished with fresh whipped cream and mixed berries, it was a delicious finale to our fiesta of Mexican dishes.
As you leave, note the huge painted ceramic sombrero that sits near the door inviting you to special events at Mariachi Loco 11. It is filled with mints and colorful reminders of Wednesday ladies nights, Monday through Friday happy hours and Sunday brunch that the entire family can enjoy. Take out and catering are offered, as well.
Yes, Mariachi Loco 11 is a welcoming spot to enjoy the authentic home made treats that comprise Mexican cuisine in a casual very festive atmosphere. Try it soon.
Mariachi Loco 11
706 Central Avenue
Scarsdale
914 8745033
Recipe: Salsa Verde
Ingredients:

1 bunch fresh cilantro, leaves only
15 tomatillos
4 fresh cloves garlic
3 or 4 jalapenos, stems removed
Salt to taste
Directions:
Remove the husks from the tomatillos. Wash the tomatillos and the jalapenos. Bring 8 cups of water to a boil. Add the tomatillos and the jalapenos and boil them for 3 to 5 minutes. Remove from the water and cool in a bowl in cold water. When they are cool, put all ingredients in a blender with ½ cup water. Blend and enjoy. If it is too thick add a bit more water.
* tomatillos and jalapenos can be found in Mexican grocery