Welcome 2018 with a Prime Steak Dinner at Flames Steakhouse
Tuesday, 02 January 2018 12:24
Last Updated: Wednesday, 03 January 2018 08:33
Published: Tuesday, 02 January 2018 12:24
Judie Dweck
Hits: 6688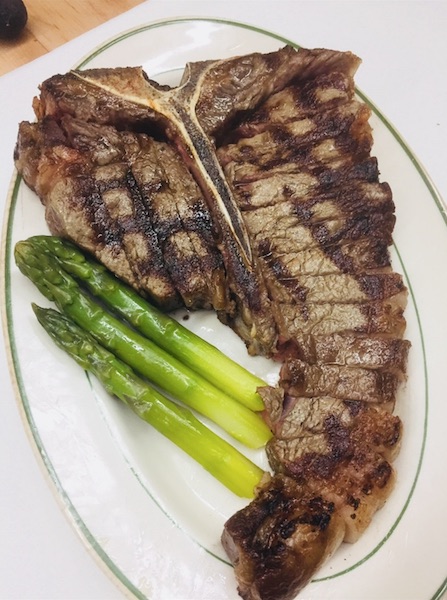 Does the mention of filet mignon, porterhouse, shell steak and t-bone make your mouth water? If so, hurry over to Flames Steakhouse which recently relocated from Briarcliff Manor to Elmsford. There are many steakhouses in Westchester ranging from chain type establishments to privately owned upscale restaurants. Flames falls into the top tier of the second category serving prime USDA certified angus beef that is butchered and dry aged in their own facility. They take great pride in their products.
Owner and executive chef Nikolla Vulaj arrived here from Montenegro as a young teen in 1972. He worked in the kitchen of the ship he sailed on. He learned his craft at a meat market on Arthur Avenue in New York. He continued honing his skills at many fine New York restaurants including the renowned Peter Luger in 1992. He opened the original Flames Steakhouse in Briarcliff Manor. This was followed by Giaradino d'Oro in the Wall Street area of New York in 2001. Just a few months ago, he sold his Briarcliff restaurant and opened Flames Steakhouse, closer to our neighborhood, in Elmsford. Vulaj said, "The important qualities of a chef- owner are to have a good understanding of food, recognition of quality and purchasing only the best products... We put a great deal of effort into running our restaurant with a hands on approach. Everything is made to order. We appreciate our guests and we take great care in presenting our dishes to them. My goal is to make Flames Steakhouse a landmark destination." In Vulaj's own words, "Our job is to create dishes that bring our guests great pleasure. That is my job and I love it."
As you enter the restaurant, a roomy bar area is to your right. The impressive curved marble bar is equipped with a fine variety of drinks. To the left is an intimate dining room with about nine tables. Adjoining it are doors that open to an additional dining room, adding to the seating capacity. It has a classic setting with crisp white cloths, a fireplace with a large mirror above it, dark wood wainscoting, a beamed ceiling, a wall of wines and a collection of gold leaf framed art work which adds to the charm and warmth of the space. The floor is carpeted which keeps the noise level down at busy dining times.
A basket of thickly sliced country bread was warmed with slab of butter as we checked out the menu. The appetizers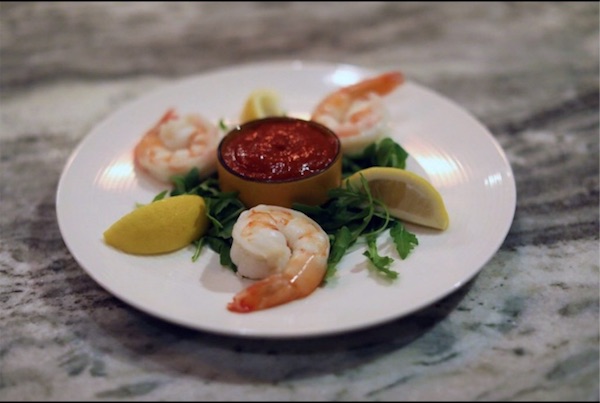 ranged from Italian specialties to typical steakhouse choices, as well as a few inventive beginnings. While shrimp cocktail and crabmeat cocktail appear on many steakhouse restaurant menus, at Flames they are very special. The shrimp are huge and meaty, and the crabmeat is colossal – the best quality available. Served with house made cocktail sauce, each of these choices was exceptional. The popular burrata, fresh as could be, rested on a slice of ripe tomato. How nice to have a tomato that actually tastes like a tomato in late December. Owner Vulaj indicated that, "I won't buy tomatoes out of season that are not tasty." A few leaves of fresh basil added flavor to this delightful starter. Italian specialties of baked clams oreganata, fried calamari, and eggplant rollatini are offered as well. We loved the eggplant,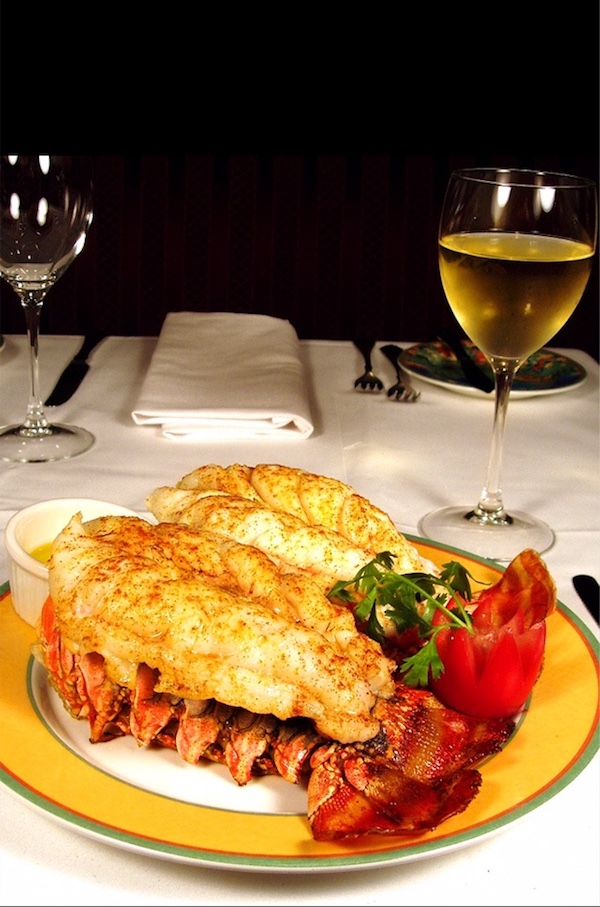 a family recipe. The slices of eggplant were rolled with prosciutto and fontina cheese and served with a light tomato and mascarpone sauce, which complimented the dish. Oysters, cold antipasto, a variety of salads and grilled Canadian bacon are other possible starters. Unique on a steakhouse menu was the tuna wasabi. Here the sushi quality tuna was nicely spiced, seared and served over seaweed salad with ginger and wasabi as accompaniments. It was a very refreshing dish that perks up the palate, giving another example of the superior quality of ingredients used at Flames.
We look forward to Flames Steakhouse's main event, especially the USDA prime certified angus beef that has been butchered and aged at the restaurant. There are exceptional options like the prime shell steak, a t-bone, or filet mignon on or off the bone. Depending upon the size of your group there is a classic porterhouse for 1, 2, 3 or 4 in which you can savor the texture and taste of both strip and filet cuts. I opted for the bone in filet mignon. It arrived black and blue as requested and was served steakhouse style on a platter set on an inverted plate so the sumptuous juices pooled at the bottom of the dish. Our server sliced it into thick wedges and I was ready to dig in. The quality spoke for itself. It was so tender and smooth, and barely needed the serious steak knife at my setting. With the typical steakhouse style, I enjoyed creamed spinach, sautéed onions and crisp tiny cubes of home fried potatoes.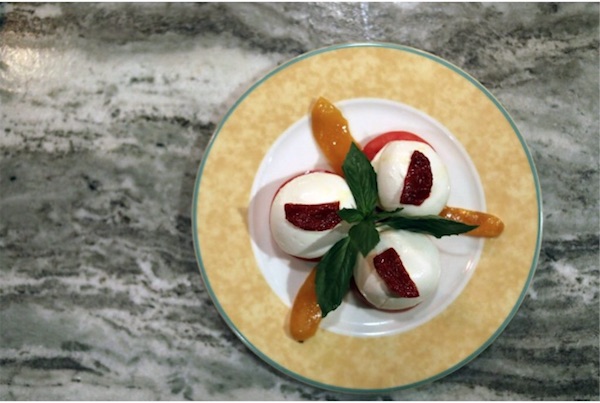 The small potato cubes allowed for a crunchy and wonderful result. House made steak sauce was presented and was delicious but the meat stood on its own without the addition of sauce. The steak sauce can also be purchased to enjoy at home. There are other entrees such as the extra thick veal chop with mushrooms, domestic rack of lamb, chopped steak, salmon, several chicken dishes, lobster, and surf and turf. If pasta is your desire, penne vodka, linguine in white clam sauce, and spaghetti carbonara are some of your options.
As expected, desserts here are homemade. Perhaps you might try the apple strudel, chocolate cake, crème brulee, and as we enjoyed, zecchino, a family favorite. A layered trifle of reduced English cream with vanilla beans and white chocolate, topped with mocha mousse was a perfect finale to our excellent meal. A large and expanding selection of International, Italian and domestic wines are available to accompany your meal.
If lunch is your meal of choice, many salads, sandwiches, pastas and entrees are offered. Flames can accommodate over 100 guests for private parties.
As an added note, Chef Vulaj opened Flames Wood Fired Pizza and Italian Cuisine next door, a casual spot serving a large variety of pizza and Italian dishes for dine in, pick up and delivery.
We welcome Flames Steakhouse to lower Westchester with open arms and hearty appetites. We look forward to many excellent steak dinners there, where the food and service are top notch.
Flames Steakhouse
121 East Main Street
Elmsford
914 592 3500
http://flamessteakhouse.com
Recipe: Flames Original Crab Cakes

Ingredients:
1 large Idaho potato, peeled
1 pound jumbo lump crabmeat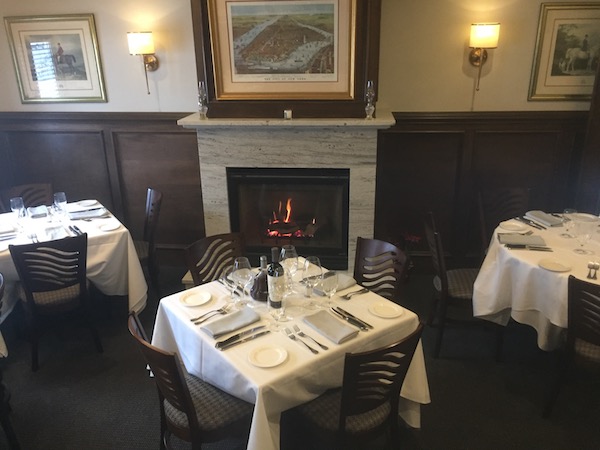 1 tsp. Dijon mustard
3 scallions, finely chopped
2 egg whites, whipped until foamy
¼ tsp. salt
Pinch black pepper
Pinch red crushed pepper
½ cup cooked corn kernels
1 cup breadcrumbs
Light vegetable oil for pan searing
Directions:
Bake the potato halfway. Shred it on a hand cheese grater. Place it in a bowl with crabmeat, mustard, scallions, egg whites, salt, peppers, and corn. Mix well by hand. Add the breadcrumbs until mixture is firm. Form the mixture into large circles, ¾ inch thick. Pan sear for 2 minutes on each side over medium flame. Place in a 350 degree oven for 10 minutes. Serve with your favorite tartar or other sauce and enjoy.