The Tantalizing Taste of Thai Food at Little Thai Kitchen
Monday, 21 May 2018 13:01
Last Updated: Monday, 21 May 2018 14:19
Published: Monday, 21 May 2018 13:01
Hits: 5977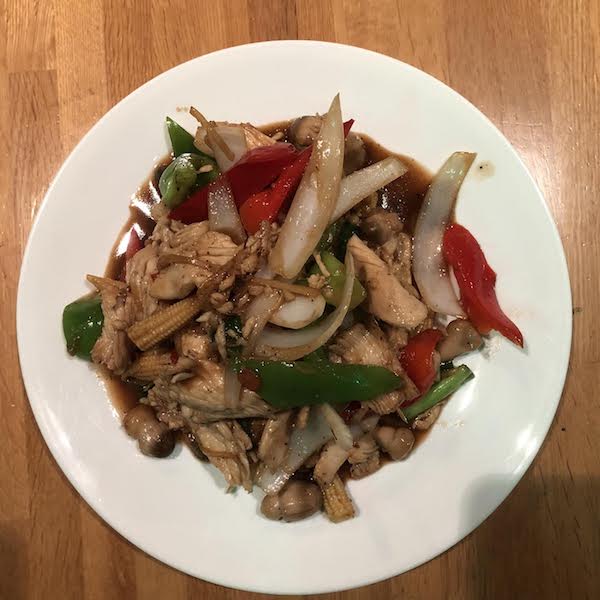 Eating in, takeout and delivery are the many options offered at Little Thai Kitchen, conveniently located on the Popham Road Bridge at the Scarsdale train station. Seating about 20 people it is a very casual spot to savor the tantalizing taste of Thailand and a fine alternative to the usual Chinese or pizza takeout meal.

I stopped in for lunch recently and chatted with Manager Jeab, who indicated that lemongrass, lime leaf, basil, and chilies are some of the important ingredients in the Thai kitchen. "At Little Thai Kitchen, everything's made to order so we can adjust the seasonings to suit your taste. We enjoy welcoming and serving guests who are familiar with our cuisine, as well as those who are trying it for the first time." It's nice to know that gluten free dishes are available and msg is not used in their cooking. Jeab said, "Our cooking is nicely spiced clean food." The owner Billy Peter Rung, met with success in Scarsdale and new branches of Little Thai Kitchen have opened in Chappaqua and Rye.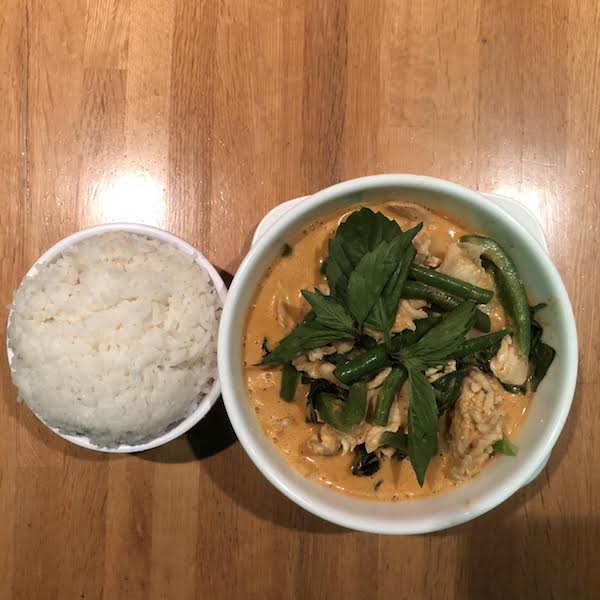 Simplicity is the best way to describe the atmosphere of Little Thai Kitchen. The seating here consists of white plastic molded chairs, a long bench, many shelves housing a variety of sauces and relishes, white dishes and paper napkins. The focus is clearly on the food. Delightful aromas are evident as you enter Little Thai Kitchen. For a tiny restaurant the menu is very extensive. We started with the classic tom yum soup. This savory soup has a hint of tartness. We enjoyed ours with shrimp. Lemongrass and lime leaves gave it a unique flavor and prepared us for the many starters to follow. Chicken satay was nicely grilled on a skewer and served with a classic house made peanut sauce which enhanced the thinly sliced chicken breast. Beef satay is available, as well. Thai curry puffs arrived as a thick flaky pastry crust exploding with a tangy mixture of minced chicken, onions, potato, and curry powder. They were very flavorful and were perfect with a sweet plum sauce. Several variations of dumplings are a nice starter. We enjoyed the basil chicken steamed variety, as well as pan fried pork dumplings. With warm weather on its way, two good choices are po pia sod and summer shrimp rolls, each wrapped in rice paper. The shrimp roll is filled with shrimp, vegetables and basil and the po pia sod is flavored with fresh mint and vegetables, for a very refreshing taste. Hoisin sauce complements these rolls.

Salads are a popular part of a Thai meal. Papaya salad combines green papaya, carrots, tomatoes, peanuts and Thai fresh chilies. It usually includes fish sauce, but that can be left out upon request since it is an acquired taste. Yum Nam Sod is a must try suggestion with ground chicken, lime dressing, chili, onion scallion and roasted peanuts. Of the many salad choices, duck, beef, chicken, tofu, calamari and shrimp are the main ingredients.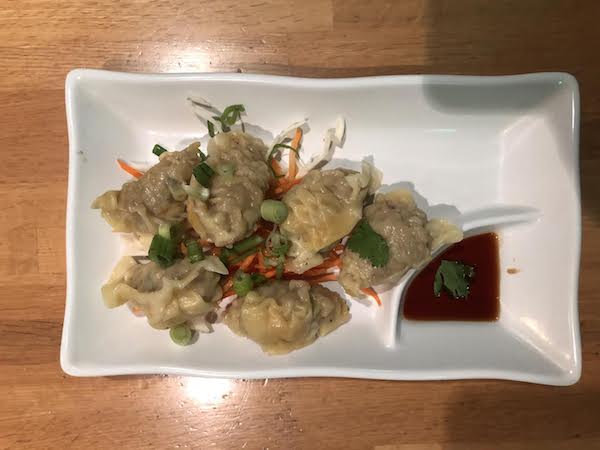 Entrees of duck, chicken, flank steak, seafood and vegetables are numerous. Classic and impressive curries are offered, as well. We loved our Thai Massaman Curry, with coconut, beef, onions, potatoes, carrots and peanuts. The sauce was just divine and worked well with the fragrant jasmine rice. If you prefer your curry without coconut, try the jungle curry with eggplant, string beans, bell peppers, bamboo shoots, mushrooms and basil. Red, green, yellow and panang curry are offered here as well. Among the entrees we loved the flavor of the cashew chicken with pineapple, onions, bell peppers, celery and cashew nuts. Noodle dishes are standard fare in Thailand. Choose from drunken rice noodles spicy in a basil sauce, pad see -ew with broccoli, egg and soy sauce or as we enjoyed pad Thai. These thin rice noodles were combined with bean sprouts, eggs, peanuts and chicken and flavored with tamarind were a fine rendition of a classic dish. You can also enjoy your rice noodles in a big bowl of Thai noodle soup with shrimp, chicken, tofu, duck or beef. Thailand is one of the greatest rice growing countries in the world. If rice is your desire, there are several varieties to choose from. Try the Indonesian nasi goreng fried rice or perhaps the fresh basil fried rice. Future entrees may include duck tamarind, Thai mango chicken, beef basil, shrimp with three flavored sauce and sweet and sour fish. This is a very busy kitchen with so many delicious choices.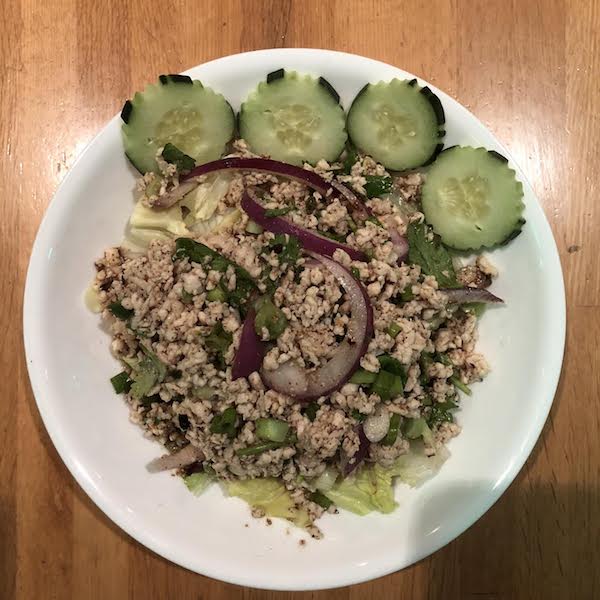 It was time for dessert, and I just couldn't resist the mango with sweet sticky rice. The ripe mango was peeled and thickly sliced and sat beside a mound of Thai sweet sticky rice and coconut cream. A sprinkling of sesame seeds completed this perfect dessert. My beverage of choice was Thai iced coffee, a sweet ending to a lovely meal.
After a few meals at Little Thai Kitchen, lemongrass, galangal, kaffir lime and nam prik pao will become part of your culinary vocabulary. Thai cooking is a varied cuisine that is beautifully executed at Little Thai Kitchen. Try it soon.

Little Thai Kitchen
13 Popham Road, Scarsdale
914 472 6600
Tom Yum (Thai shrimp soup) serves 4-6
10 cups cold water
1 ½ pounds fresh shrimp, shelled and deveined, reserve shells and heads
2 stems lemongrass, pounded to release flavor *
2 inch piece of galangal *
2 whole chilies *
2 Tbsps. vegetable oil
3 leaves of kafir lime, torn into pieces*
2 shallots, sliced
2 Tbsps. nam prik pao [chili paste]*
2 Tbsps. salted fish paste*
¼ cup fresh lime juice
4 grape tomatoes, halved
6 button mushrooms, sliced
2 Tbsps. chopped fresh cilantro leaves
*Available in Asian markets
Wash the shells and heads and drain well. Heat oil in a saucepot. Fry heads and shells until pink. Add water, lemongrass, galangal, lime leaves, whole chilies, and shallots and bring to a boil. Cover the pot and simmer for 20 minutes. Strain the stock and discard the solids. Return stock to a boil and add the shrimp and simmer for about 4 minutes until cooked. Add fish sauce, chili paste, lime juice, tomatoes and mushrooms and heat. Divide among bowls and sprinkle with chopped cilantro. Serve.