Sea Flame Restaurant: A New Addition To The Scarsdale Dining Scene
Tuesday, 27 August 2019 07:44
Last Updated: Thursday, 10 October 2019 08:29
Published: Tuesday, 27 August 2019 07:44
Judie Dweck
Hits: 6728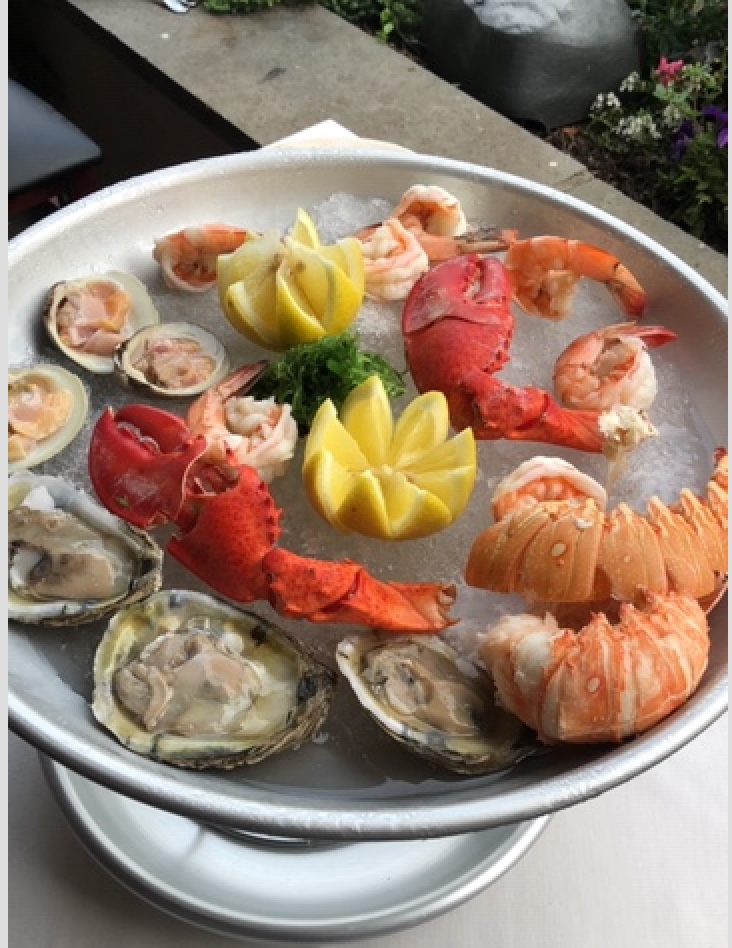 As I settled at a table near the window of the recently opened Sea Flame Restaurant in The Vernon Place Shops, across from Lord and Taylor, in Scarsdale, many curious shoppers stopped to peek in and read the menu in the window. After partaking of a lovely lunch, my advice to these onlookers who came to this area to shop, is …stop in for lunch, dinner, brunch or happy hour to enjoy this friendly, welcoming new dining choice right here in Scarsdale.

Sea Flame Restaurant is owned by the gracious Tim Demaj, a veteran in the restaurant business who has owned restaurants in Manhattan and Yorktown. He truly makes his guests feel comfortable, as I observed him visiting several tables in the dining room and chatting with the guests. Demaj said, "I live nearby and noted that the area needed a restaurant like Sea Flame. The dishes here are traditional and the name Sea Flame indicates that we serve both seafood and steak, as well as many Italian inspired dishes. I'm very fussy about the details at Sea Flame, Consistency is very important here. Our name is a variation of the phrase surf and turf. Our goal is to provide good quality and service and to make our guests feel comfortable. Our fresh fish and seafood is delivered daily. Our prime steaks are dry aged for 21-30 days. One of our signature dishes is our tomahawk rib eye steak. With the bone intact, it requires a hearty appetite. The best part of this business is socializing with my guests. I feel great happiness when they say how much they enjoyed their experience here. If I were dining here, I would probably start with a crab cake, followed by a tomahawk rib eye or a porterhouse steak."

The space has been decorated with an eclectic flair. Seating about 120 guests, a bar is to the left. Attractive Moroccan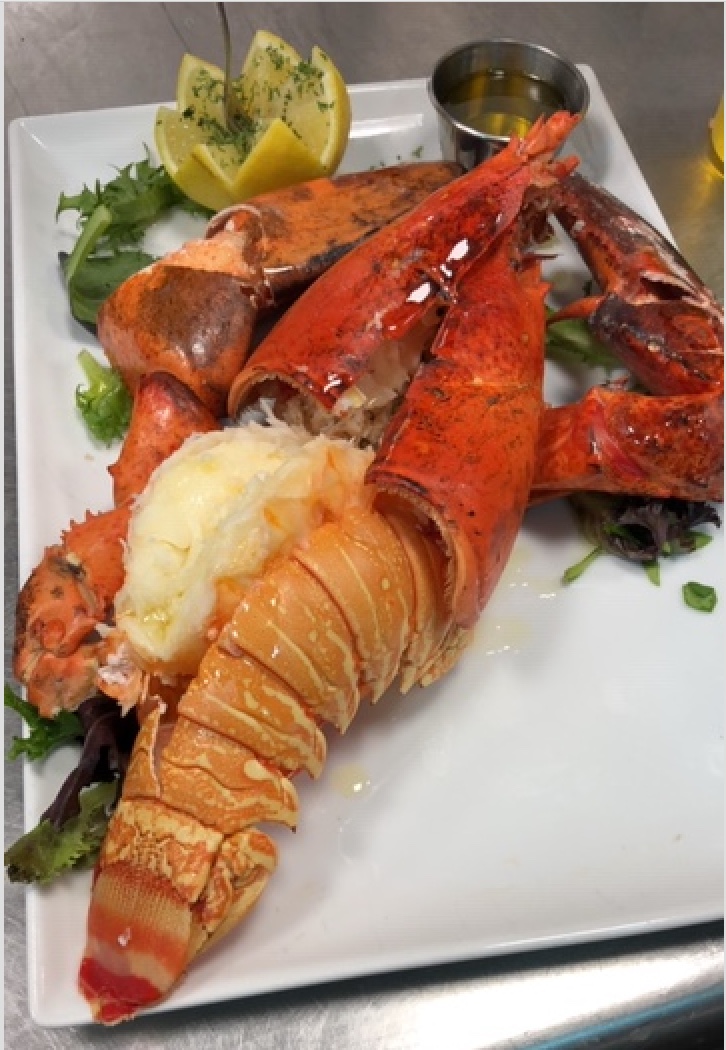 chandeliers light the area. Several TV screens are there for your enjoyment. On the opposite side of the room are several banquettes. Delicate cappa shell wall hangings give each area a bit of privacy. The tables that fill the center of the room are set with rust and white linens and each table boasts contemporary salt and pepper grinders and an oil and vinegar cruet. In contrast to the bar area, the lighting here is super modern. My eye kept focusing on the ' tie dyed ' blue, coral and gray painted wall towards the back- very soothing indeed. As I sat on a very comfortable chair, I checked out the menu as mellow music played in the background.

My recent meal included selections from the sea as well as the flame. Each dish was nicely presented on white china, which provided a fine palette for displaying the food. Grilled octopus, its tentacles carefully arranged on the plate, was grilled to perfection, and tender as could be. It sat beside a crisp salad of mixed greens, cucumbers, tomatoes, red onion in a lemon dressing. A carved lemon sprinkled with parsley completed this plate, a most refreshing beginning to my tasting. A "crabby" crab cake followed. It was a hearty size and nicely seasoned. A mixed salad shared the plate. Lemon garlic aioli was there for dipping. For me, it is important that the predominant ingredient in a crab cake is crabmeat and not breadcrumbs and at Sea Flame this was accomplished.

Future appetizers may include smoked salmon, fried calamari, baked clams, or tuna tartare. Another nice way to start your meal is with selections from the raw bar. Oysters, clams, lobster, colossal crabmeat or shrimp cocktail, all delivered daily are offered. A seafood tower combines many of these treasures from the sea where freshness is paramount. If you choose to start your meal with a salad I suggest the spring salad with greens, apricots, cranberries, cucumber, and Asian pears in a balsamic vinaigrette. On a cooler day, try minestrone, or onion soup or perhaps lobster bisque that a gentleman at a nearby table appeared to be devouring with gusto.


Onto the entrees: We opted for the stuffed shrimp. The truly super jumbo shrimp, tail on, were butterflied and very generously filled with a crabmeat filling. Garlic, white wine and fresh lemon enhanced this excellent dish. Note that all of the dishes here are quite generous in size. From "the fire" we were presented with a sizzling platter, with the warning that the platter was very hot, of porterhouse steak. Sliced tableside, each slice revealed its charred crust and very rare center, as requested. Hash brown potatoes were a fine accompaniment.

On future visits I expect to try Chilean sea bass marechiara with clams, mussels and a light marinara sauce, crab stuffed lobster, seafood risotto with shrimp, scallops and lobster, grilled lamb chops or perhaps surf and turf with filet mignon and lobster tail. Some fresh asparagus, creamed spinach, sautéed onions and mushrooms might accompany my meal.

Complete your meal with a house made dessert, perhaps cheesecake, tiramisu, panna cotta, apple strudel, chocolate cake or crème brulee.

The lunch menu includes a starter, entrée and dessert at a modest cost. Some options are Caesar salad, lobster bisque or baked clams to start. Entrees include linguini with clam sauce, penne vodka with grilled chicken, chicken martini, or perhaps a chicken Caesar wrap or California burger. Cheesecake, panna cotta or tiramisu can complete your weekday lunch.

On Monday through Friday lunch is served until 4 PM. There is weekend brunch, as well. There are happy hours Monday through Friday from 3.30 to 7 pm, well priced for appetizers and drinks.

A visit to Vernon Place Shops is enhanced with the new and long awaited addition to this shopping strip opposite Lord and Taylor on Post Road, where grocery shopping, clothing shops, a greeting card store, a nail salon and sneaker store are neighbors of Sea Flame Restaurant.

Sea Flame Restaurant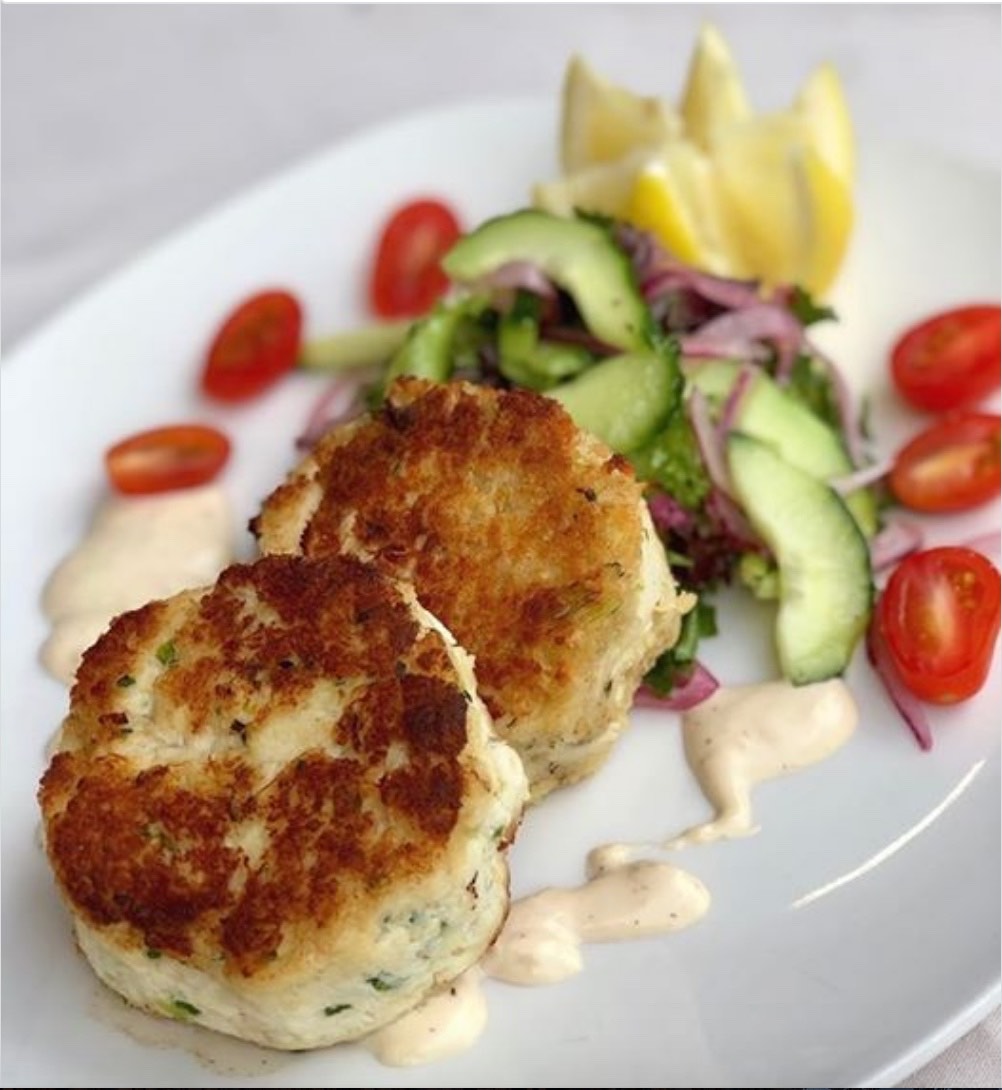 709 Post Road
Scarsdale, New York
914 874 5366

Recipe:
Linguini with White Clam Sauce (serves 4)
Following is my rendition of this flavorful dish.

Ingredients:

36 small clams, well scrubbed

1/4 cup olive oil
4 whole cloves garlic
¼ tsp. freshly ground black pepper
½ tsp. chopped oregano
2 Tbsps. minced parsley
½ tsp. chopped basil
1 pound linguini cooked al dente and drained
Directions:

Heat oil in saucepan. Brown garlic in it. Discard garlic. Add clams and herbs to the oil. Cover the pan and cook on low heat for about 10 minutes or until clams open. Place the hot drained pasta into 4 bowls. Let clams rest for 5 minutes and then divide the mixture among the pasta bowls. Serve.