If You Crave a Caribbean Meal …..Try Krave, a New York Eatery in New Rochelle
Monday, 23 September 2019 12:38
Last Updated: Monday, 23 September 2019 12:47
Published: Monday, 23 September 2019 12:38
Judie Dweck
Hits: 3715
Pork belly sticky bunsAs many new residential buildings arise in New Rochelle, take note of the many new restaurants arriving, as well. One of the very exciting additions to this dining scene is the colorful Krave, A New York Eatery. With the closing of A Place to Go, Edwin Crisp, known as Chef Chrissy, and his charming wife Chyrisse, the general manager, embarked upon their new venture in April with the opening of Krave, where great service compliments the food.

Chef Chrissy said, "Krave is a showcase of Caribbean food, a modern take on comfort food." His eyes light up when he talks about his passion for cooking. "I grew up watching my mom cook at home. My dad owned a bar and I helped out there, as well. My family roots are in Jamaica and I grew up in the Bronx. My parents are my inspiration and I put my own special touches on traditional dishes. Cooking always came easy to me. My goals for the future are to create an environment that showcases the Caribbean style. We live in New Rochelle and love our community. We want Krave to be the "go to "place in New Rochelle for solid comfort food and a New York City type environment, a place to unwind at the end of the day. I enjoy cooking for people who love food. I would have loved to have Anthony Bourdain as a guest at Krave. I look at my ability to cook as a gift and I get great pleasure of sharing this gift with our guests."

Enter into a cheerful roomy lounge and bar area with bright yellow and green seating, large windows letting the sun shine in. Many high top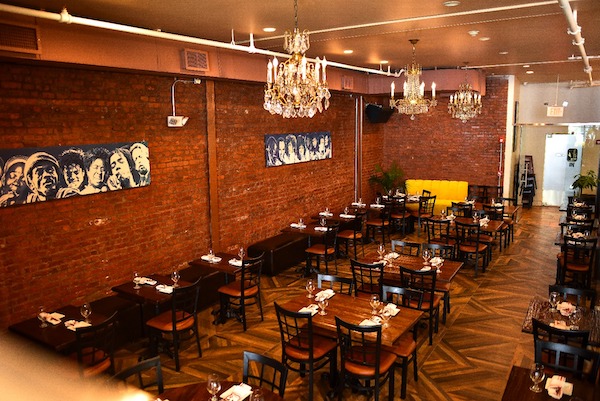 tables, a classic wood and marble bar, t.v. screens blue velvet banquettes and a larger than life planter provide a perfect spot to socialize with a very NYC vibe. A large selection of rum drinks add to the Caribbean mood. Seating about 130 guests, the dining room is divided into a glass enclosed area, often used for parties and an open area as well. Crystal chandeliers provide lighting. Two montages of famous faces from the entertainment world grace the walls. They are the works of Jamaican artist Michael Escoffery. You will dine with Jim Hendrix, Bob Marley, Etta Jones and Miles Davis, to name but a few familiar faces.

The menu here is filled with Caribbean flair. Not to be missed among the small plates are the superb peppered shrimp. Here, tail on shrimp are sautéed and served in an outstanding scotch bonnet pepper sauce guaranteed to perk up all of your senses. I requested some bread and warm pita triangles arrived and I dipped the bread into every last bit of this tangy sauce. Egg roll wrappers are filled with jumbo lump crabmeat, lobster and breadcrumbs along with red chilies, garlic and Chef Chrissy's blend of spices and sophisticated tartar type sauce. Chef Chrissy puts his special twist on the Asian eggroll. Coconut shrimp, cod fish cakes, Krave wings with lemon pepper, jerk or fried await our taste. If you wish to start with a salad try the quinoa salad with the grain tossed with grapes, cashews and seasonal vegetables.
Reading an article about luxurious dining in California's wine country, a dish of mac and cheese was highly praised. It arrived in a golden egg. At Krave a porcelain bowl is the container of choice and the healthy portion of mac and cheese could not have been more satisfying. Chef Chrissy's mac and cheese is one of the favorite a la carte accompaniments and you don't have to travel to the west coast to enjoy it. Be prepared for a very rich rendition of this classic where the mini elbow macaroni is mixed with a variety of cheeses each imparting its unique flavor such as asiago, gouda, provolone, mozzarella and cheddar.

Rice and peas, a Caribbean staple is a delightful combination of rice and peas with coconut cream, fresh ginger and other spices permeating the dish. It is a perfect side to enjoy with many entrees.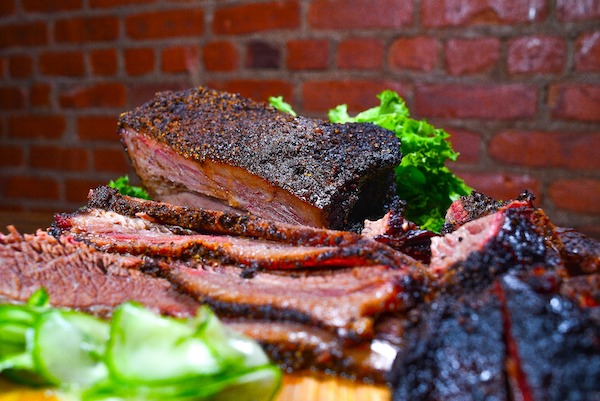 Beef brisketEntrees that we sampled were traditional comfort foods. Each selection showed off the skill that Chef Chrissy uses with his spice rubs and sauces. He is a master at this art. I just loved the jerk pork, "the other white meat", which was so tender- no knife needed and crunchy on the outside. The complex sauce had hints of allspice, cinnamon, Scotch Bonnet peppers, onion and fresh ginger in perfect proportions for a tantalizing result. Jamaica boasts its preparation of oxtail stew. In Chef Chrissy's kitchen the long cooking slowly simmered stew cooks in its own gravy which combines a mirepoix of ginger, scallions, thyme, garlic and of course, Scotch Bonnet peppers, resulting in a glossy gravy, pleasing to the eye, as well as the mouth. I look forward to trying Dutch Pot fried chicken, and jerk chicken, as well. For the vegetarian at your table curried tofu with fresh vegetables, tofu chop suey and vegetable fried rice are offered. Fresh seafood dishes of whole red snapper, stewed, steamed or escoveitch, whole bronzino with jerk sauce, and lobster tail curried or jerk await future visits, as well as surf and turf and even a krave burger.

If you arrive at Krave from Thursday through Sunday, you will be fortunate enough to avail yourself of their house smoked meats and bbq prepared in their in house top of the line smoker. We sampled the beef brisket. Seasoned with the chef's dry rub it was melt in your mouth delicious. We look forward to sampling other smoked specialties of baby back pork ribs, housemade jerk sausage and the very popular pork belly sticky buns with housemade coleslaw. Even the coleslaw has the chef's special touch with a bit of Dijon mustard in the dressing. On Sundays from 12- 3, enjoy selections from the brunch menu such as ackee and saltfish, chicken and rum infused waffles, fish and grits and snapper with green bananas.

We ended our tasting with the double trouble cake. The bottom layer was the popular rum fruit cake also known as black cake which was
Pepper shrimptopped with cheesecake and drizzled with berry sauce. Sweet potato pudding, mango berry cheesecake and coconut rum cake are other choices.

Enjoy Krave a delightful dining experience with a Caribbean twist at the new and exciting restaurant in New Rochelle.
Krave…A New York Eatery
8 South Division Street
New Rochelle
914 740 7240

A Tasty Note:
Ii recently returned to Ambadi in White Plains, which I wrote about in January, and I was delighted to find the food and service excellent. If Indian cuisine is your desire, visit Ambadi for high quality nicely seasoned dishes prepared with love and care.