Vintage and Rare Cars Wow Visitors to the 17th Annual Scarsdale Concours
Tuesday, 15 October 2019 13:47
Last Updated: Tuesday, 22 October 2019 15:09
Published: Tuesday, 15 October 2019 13:47
Joanne Wallenstein
Hits: 2104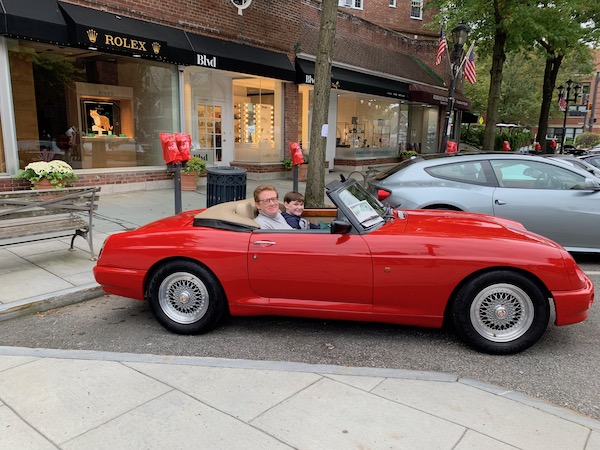 Jay and Barney Read in their 1994MG RV8Organizers estimate that as many as 1,000 people visited the 17th annual Scarsdale Concours in Scarsdale Village on Sunday October 6. The event attracted even more entrants than last year, with 150 cars on display. The cars, some of them true antiques, were driven to town by local owners, from Long Island, Brooklyn and Connecticut and as far away as Maryland and Pennsylvania.
The oldest car on display was a 1910 Model O Steam Car, owned by Scarsdale residents Mitchell and Wendy Gross. We spotted a Packard, Porsche, Fererari, Chevrolet, Coup de Ville and many car brands we no longer know.
Each car had a story behind it. Father and son team Jay and Barney Read explained that their red 1994 MG RV8 had belonged to Jay's dad who lived in England. The family moved to Connecticut a month ago and couldn't bear to leave the coveted car behind. So here it was, in Scarsdale.
This year's event raised over $40,000, which will be shared among three charities:
The Scarsdale Police Benevolent Association
The Scarsdale Volunteer Ambulance Corps
Scarsdale & Edgemont Family Counseling Service
The event is a big logistical job – and here is a list of the board members who made it happen:
Andy Albert
Alex Forschner
Kevin Higgins
Richard Hubell
Sanford Miller
Kevin and Will Reed
Mark and Ben Rossano
David Rossett
Lawrence Sachs
Ken and Zachary Schneider
Leif Waller
Commenting on the show, Board Member Andy Albert said, "The car show was a great success this year! We put in a lot of hard work through out the year in preparation for the show – I am happy that the weather once again cooperated, and we were all able to enjoy the many cars on display. It is particularly rewarding to participate in a car show like this, and be able to give back to the community and it's charitable organizations. I hope everyone enjoyed the show."
The Scarsdale Concours Board wishes to thank their sponsors:
Advocate Insurance/Chubb
Pepe Auto Group
Miller Motor Cars
Jaguar and Land Rover of Larchmont
Photos by Sophia Albert and Joanne Wallenstein