Granita Cucina and Bar in Hartsdale: Molto Bene
Monday, 25 November 2019 17:26
Last Updated: Monday, 25 November 2019 17:43
Published: Monday, 25 November 2019 17:26
Joanne Wallenstein
Hits: 2703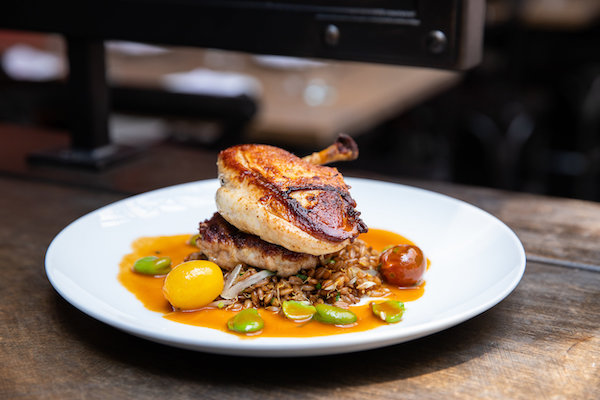 Pan seared chicken with fava beans.When Frankie and Fanucci's closed its doors in Hartsdale a few months ago, many sighed and bemoaned the loss of yet another favorite eatery. It had been a casual spot for pizza and salads, reasonably priced, willing to deliver and reliable. But then we learned that the same management planned to reinvent the restaurant-both the menu and the décor- and open it as Granita Cucina & Bar serving "modern Italian food" and featuring a welcoming bar.
Granita, which refers to a frozen limoncello drink that is served at the end of every meal, opened two weeks ago and is already hopping. We visited on a Tuesday night and found locals socializing at the bar and sampling offerings from the menu. The restaurant has been thoroughly redone in black, white and green and features a long marble bar, a wall of inviting banquettes and bistro style lighting, tables and chairs. Much to our surprise we found that even with a tile floor, the busy restaurant had good acoustics and we could easily converse across the tabletop.
The menu includes many small plates for sharing, along with salads, pizzas, pastas, and entrees (secondi) and vegetables (contori). The large selection ensures that everyone at the table will find something they enjoy.
For starters we tried the arancini, which were fried rice balls with a dollop of smoked mozzarella in the middle. These were delectable. Also from the antipasti menu we ordered the wood fired meatballs which arrived atop creamy polenta in a sauce of tomatoes (pomadoro) and basil oil. Other options included octopus, roasted beets, burrata, yellow fin tuna tartare, and fried calamari.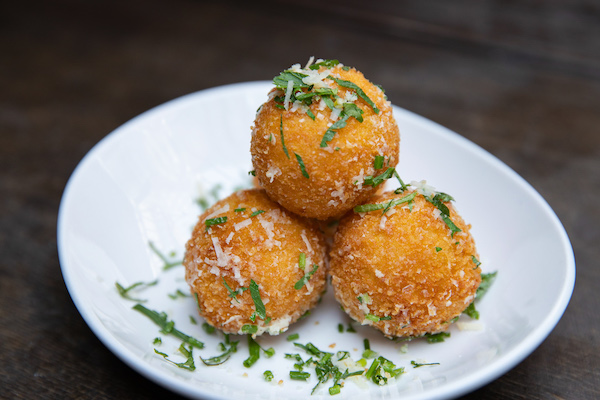 Arancini filled with smoked mozzarella.
Next up was the mixed green salad with squash and goat cheese, topped with candied pecans and dressed in maple vinaigrette. Other salads included the arugula, fennel, radish and orange salad and a Caesar salad with gem lettuce, baby kale, and watercress. Any of these salads can be turned into a meal with a topping of salmon, shrimp, steak or chicken.
For those missing Frankie and Fanucci's, the menu includes nine choices of wood fired pizza – including a gluten free version. There's everything from the traditional margherita to krispy kale with kale pesto, mozzarella, parmigiano and lemon zest to prosciutto with tomato sauce, arugula and parmigiano-reggiano.
For our pasta course we went for the fusilli with wild mushrooms, market greens, truffle oil and sundried tomatoes – all good! But again, if you prefer gnocchi with short rib ragu, linguine with shrimp, or a hearty carbonara, they are all available.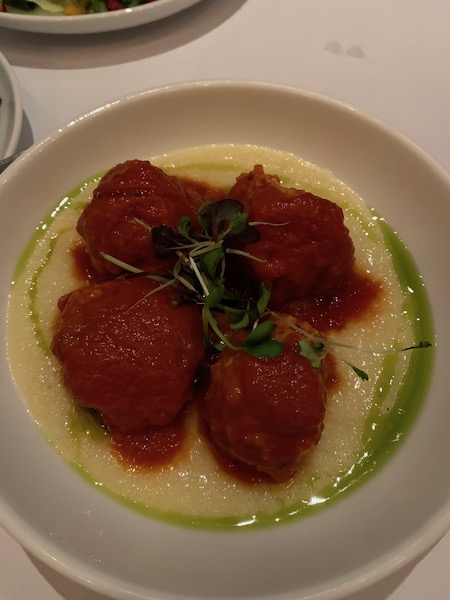 Wood fired meatballs over polenta.And as if this was not enough, you'll find a full range of main courses to complement the small plates. I would highly recommend the pan seared chicken, served atop sprouted rye berry with shallots, fava beans and tomato confit. The chicken was pan roasted to perfection, crisply on the outside, moist on the inside and sure to please all. We also had the branzino, grilled with lemon and fresh herbs, served with a side of broccollini.
We finished our meal with two desserts: Bread pudding with crème anglaise and an almond chocolate tart topped with vanilla ice cream. Though we didn't need more, I must say both were molto bene!
The service was leisurely and gracious -- permitting us time to enjoy the qualith meal, the neighborhood vibe and the happy feeling that we would be back often to savor expertly cooked food in a relaxed atmosphere.
The icing on the cake was the refreshing iced limoncello, or granita, that's served at the end of every meal.
Granita Cucina & Bar is open for lunch and dinner seven days a week and offers cocktails for 2/$13 and wine for 2/$10 at happy hours.
That said, if you miss Frankie and Fanucci's, their Mamaroneck location will deliver to your home in Scarsdale, so give them a call.
Granita Cucina and Bar
202 East Hartsdale Avenue
Hartsdale, NY
914.725.8420
https://www.granitany.com
Hours: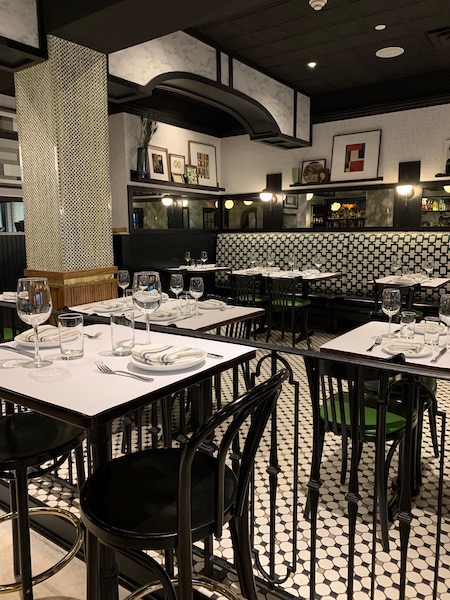 The restaurant has been totally redone.
Sun - Thurs: 11:30 am - 10 pm
Fri & Sat: 11:30 am - 11 pm
The bar is open till it's closed.