America's Favorite Food At Westchester Burger Co. In Scarsdale
Saturday, 30 November 2019 14:58
Last Updated: Saturday, 30 November 2019 15:03
Published: Saturday, 30 November 2019 14:58
Judie Dwck
Hits: 3342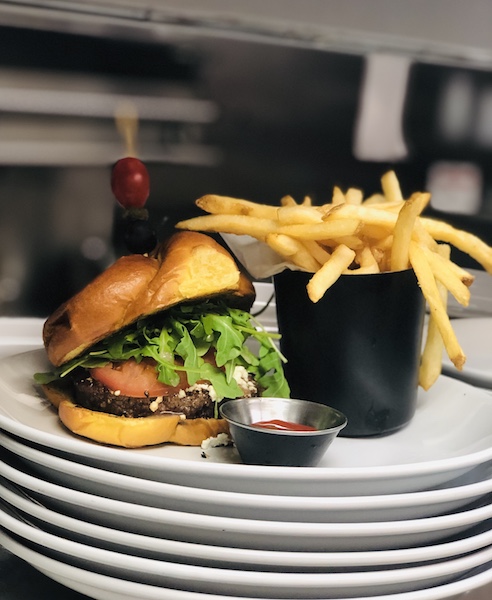 Garth Road is quickly becoming the place to visit for a large variety of restaurants. Most recently, I stopped at the new Westchester Burger Co. Managing partner Vincent Corso explained that Angelo DiFeo, owner, chose the Scarsdale location since Scarsdale is a community generated area with strong family values. "We want our presence to be felt in Scarsdale and the surrounding communities. We try to accommodate current trends such as vegan, vegetarian and gluten free diets, as we bring you America's favorite food and much more. Our house made quality dishes set us apart from many other burger spots."

Seating about 85 guests, the casual space has a bar and high tables towards the back and many tables and banquettes fill the dining room. Corso described the room as quaint and comfortable. The kitchen team was entirely trained by Angelo DiFeo. His mother is a chef and he learned his craft at the family restaurant, Grazziela, in White Plains. Plants in the wall niches, movie posters and a wall sized black and white wall hanging, the work of Sabrina's murals, catches your eye. The spot has a simple contemporary feel. I was happy to note the cloth napkins at each setting in this casual restaurant.

To start your meal, try an everything Bavarian pretzel, Reuben or chicken spring rolls, crispy mac n cheese or stix and bisque, grilled cheese and tomato bisque, or as I did, Brussels sprouts. With the mention of Brussels sprouts, many people will turn up their nose and say no thank you. Clearly, they haven't tasted the dish, as served at WBC. Here, the sprouts are cut in half and roasted with the addition of chopped cashew nuts, mint, sweet Thai chili and a drizzle of spicy sriracha aioli. For " fine dining between the buns" they offer 21 combinations to suit every taste. If you wish you can also build your own burger with choices of protein, toppings and breads. The WBC Burger with its all natural blend of beef, is enhanced with smoked mozzarella, lettuce, tomato, pickle and a mayo based WBC sauce, on a brioche. The Balboa Burger is a beef burger topped with Swiss cheese, bacon, and frizzled onions on a garlic toasted bun. The grass fed lamb burger is rich in flavor with a julienne of zucchini, caramelized onions and rosemary flavored aioli on focaccia. Those are the ones I sampled. It will take 18 more visits for me to try them all. The greenhouse burger is a double stacked veggie burger with guacamole and a balsamic vinaigrette. There is a plant based burger, a sesame seared tuna burger, A Reuben burger with pastrami and a bada bing burger with a hot Italian sausage blend, broccoli rabe and provolone and a bison burger, and the list goes on. There is even a sophisticated kobe burger. They are served with either a salad or fries. The sweet potato fries were crisp and tasty. In the event that you have not had your fill of turkey, there is a Thanksgiving burger with ground turkey, corn bread stuffing, cranberries and gravy.

In addition to their varied burgers, there are sliders and tacos, as well. I was very impressed with the blackened tuna taco. The rare tuna was combined with avocado and poblano cream with an amazing blood orange power blend which gave the fish a truly delicious flavor. I look forward to trying the beer battered cod taco, the wild mushroom flatbread and the zesty arugula flatbread, as well. Wings are a popular choice here. " It's all about the sauce". Try old bay, spicy sriracha, Thai peanut, or chipotle citrus bbq to name but a few sauce choices. Among the entrees, fish and chips, grilled Atlantic salmon, roasted or fried chicken, and blackened ahi tuna are offered. I couldn't resist the bbq baby back ribs. They were fall off the bone tender and the slow, low cooking intensified the bbq flavor.

If you wish a lighter choice, the harvest salad with arugula, beets, apples, dried cranberries, walnuts and goat cheese with a shallot vinaigrette or the farmhouse salad with avocado, red onions, and croutons with that amazing blood orange dressing with or without a protein are fine possibilities.

The list of homemade finales are varied and rich. Brownie sundae, tiramisu, fried oreos, very berry napoleon and bago dough are some choices. There is even a gluten free chocolate cake and a bread pudding of the day. Creative cocktails perhaps a Manhattan in Westchester, Pear Collins, or Concord Grape Mojito can accompany your meal.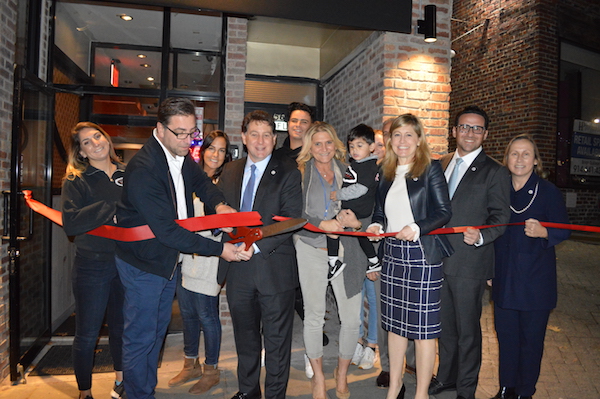 Scarsdale Mayor Marc Samwick and Village Trustees Jane Veron, Justin Arest and Lena Crandall celebrated the opening of the restaurant with a ribbon cutting on Tuesday November, 26.

At lunch, in addition to the regular menu, there is a $12 lunch special. Stop in for happy hour weekdays from 4-7 PM. If Sunday brunch is your meal of choice, from 11-3 WBC offers, "The ultimate brunch experience. " Whet your appetite with smoked salmon flatbread, apple cinnamon French toast, vegetable frittata, chicken and waffles or a protein bowl. WBC seems to be the LEGO of the food world, with offers to build your own omelette or build your own burger, with many options for added ingredients.

WBC also offers private parties, catering and food trucks. You can order from Grubhub. Enjoy the WBC experience. With the large variety of dishes offered I probably would add "and more "to their name.
Westchester Burger Company
56 Garth Road
Scarsdale
914 205 5900