Fig and Olive Files for Bankruptcy
Tuesday, 07 July 2020 09:06
Last Updated: Tuesday, 07 July 2020 09:08
Published: Tuesday, 07 July 2020 09:06
Joanne Wallenstein
Hits: 7081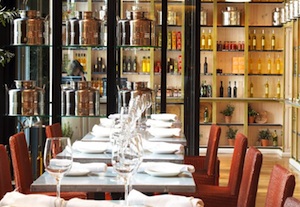 The COVID crisis is predicted to be the end for many restaurants and now Scarsdale is seeing one of its first casualties Fig and Olive, with nine restaurants in Scarsdale, New York City, Washington DC and Los Angeles has filed for bankruptcy.
According to Bloomberg News, the reasons for the failure included the pandemic and employee lawsuit related to a Salmonella outbreak in the Washington and Melrose Place restaurants. In 2015, 39 people who ate at the Los Angeles restaurants were sickened with Salmonella which was blamed on the restaurant's Truffle Mushroom Croquettes. Additional cases were reported at their Washington DC site. The company settled cases with many of the diners for an undisclosed amount.
The restaurants are owned by Luxury Dining Group who filed for bankruptcy protection, blaming employee lawsuits and the pandemic. The Scarsdale Restaurant is located in the Vernon Hills Shopping Center and is spacious and sleekly designed with indoor and outdoor seating. The restaurant opened in 2010 and features a long wine bar and Mediterranean fare as well as their own brand of olive oil.
Some of the companies nine restaurants could reopen depending on their potential. According to the article, 700 people were laid off and only 34 remain on staff.