Sunrise Swim for Cancer Research
Wednesday, 19 August 2020 13:47
Last Updated: Wednesday, 19 August 2020 13:47
Published: Wednesday, 19 August 2020 13:47
Michael Zeller
Hits: 685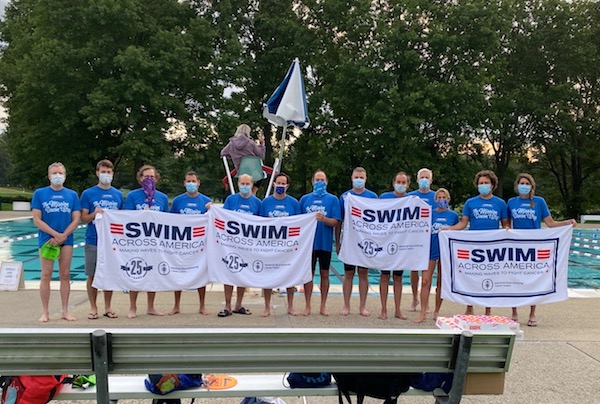 On August 14th, 13 early morning swimmers met at the Scarsdale pool, for a Swim Across America fund raising event.
Swim Across America has grown in the past 34 years to organizing swims nationwide. Over that time, they've raised 85 million dollars which has provided a number of top cancer research facilities, including locally, Memorial Sloan Kettering Cancer Center with needed funds.
Though such organized events have been limited this year due to the COVID virus, Scarsdale swimmers, some who annually participate in a 3 or 6 mile SAA swim in the Long Island Sound, on their own arranged a "relay" swim at the pool. The total distance by these 13 was an impressive 25 miles, while to this point raising over $22,000! In just the past 15 years swimming as a group, these Scarsdale swimmers have raised more than $750,000 overall for cancer research!!!
Such a success was deserving of a post-swim celebration. What better way at 7:30, then with coffee, donuts, and for those daring souls, a plastic cup of champagne. It worked for us!