Announcing the Winners of the 2020 Halloween Window Painting Contest
Tuesday, 20 October 2020 14:24
Last Updated: Thursday, 22 October 2020 16:06
Published: Tuesday, 20 October 2020 14:24
Joanne Wallenstein
Hits: 2086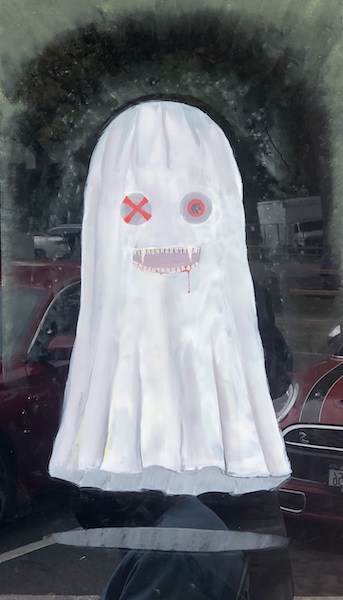 The Grand Prize went to Alexandra and Leo SimonYoung painters continued a Scarsdale tradition on Sunday October 18, painting the town orange in the annual Halloween Window Painting Contest. Painters from elementary to high school created colorful, comic and intriguing work on the windows of Scarsdale retailers. If you haven't done so already, get out and take a walk to see their work before the rain takes it down. The contest was orchestrated by Dan Walczewski at the Scarsdale Recreation Department. Congratulations to all the participants on a wonderful gallery of work.
According to Walczewki, about 330 windows were painted. With teams and family entries he estimates that just over 900 people participated in the event. There were more entries this year that last, especially in the Family category. The judges are a group of seven volunteers who all are either current or former Scarsdale residents or village employees.
Below find the complete list of winners and honorable mentions by all age groups from the Recreation Department.
First place in Group A went to Tyler Culang for work at Pookie and Sebastian
Group B First Place winner Emily Fields at Wilson and Sons
Group C First Place Sophie Luo
Group D First Place Grace Henry at Scarsdale Eye Center
Group E First Place Olivia Liu at Douglas Elliman
Group AA First Place Winners Maia Etkes and Emma Earthy at 15 Boniface Circle
Group BB First Place Winners Alice Hoffman and Maya Zaitchick at Merle Norman Cosmetics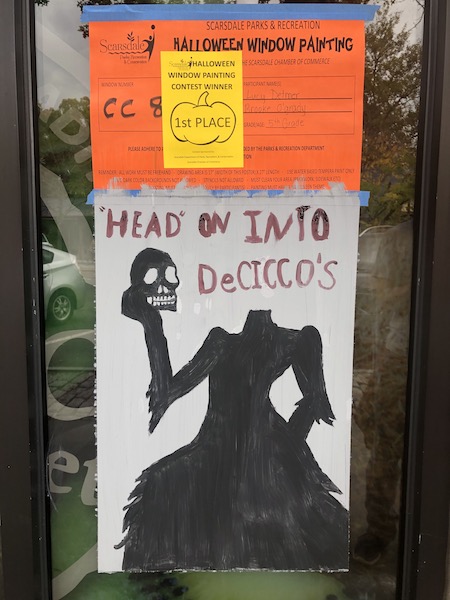 Group CC First Place went to Lucy Detmer and Brooke O'Grady for their work at DeCicco's
Group DD First Place - Zoe Greenberg and Edie Chow's "Unmasked" at Chase Bank
First Place for Group EE went to Alicia Xin and Olivia Sun at Pizzarelli's