Petiquette
Tuesday, 30 November 2010 19:39
Last Updated: Tuesday, 30 November 2010 20:29
Published: Tuesday, 30 November 2010 19:39
Hits: 3348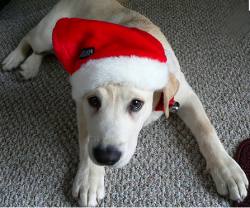 Given this holiday infused season and the potential for squabbles over Thanksgiving turkey, Hanukah latkes or Christmas ham, as well as the advent of the awkward office holiday party (is Michael Scott your boss?), it is an ideal time to introduce a new etiquette column. We invite you to e-mail etiquette questions to scarsdalecomments@gmail.com, and we will post suggested solutions to your disquieting queries regarding proper (or improper) decorum.
Dear Ms. ePost
: My husband and I are both very allergic to dogs. Whenever there is a family gathering at the grandparents' house, my sister-in-law and brother-in-law bring their dog, in spite of the fact that we have told them numerous times – between sneezes with our itchy eyes watering - that we are allergic. What constitutes correct 'petiquette' in this case?
Sincerely,
Gone to the Dogs (at Grandma's house)
Dear Gone to the Dogs:
If you haven't done so already, you could try asking sis- and bro-in-law directly to please leave the dog at home. If they refuse, you have a choice: stay home, or arm yourselves with antihistamines and mountains of tissue. Kibble for thought: perhaps the in-laws value the dog's company more than that of you and your husband.
Yours truly,
Ms. ePost