Maroon and White Celebrates Winter Athletes
Wednesday, 20 March 2019 19:20
Last Updated: Wednesday, 20 March 2019 20:03
Published: Wednesday, 20 March 2019 19:20
Emmeline Berridge
Hits: 4166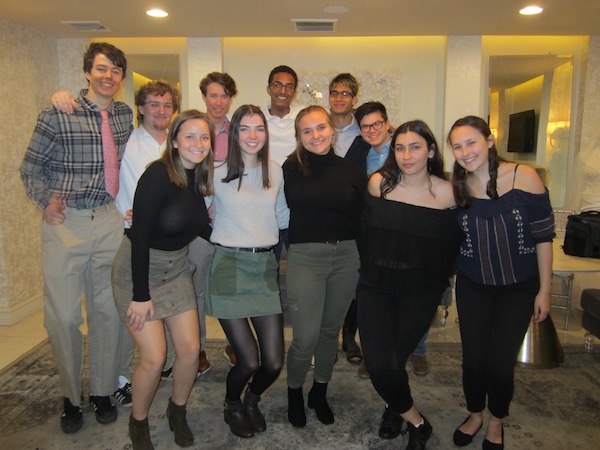 Skiers: (left to right): top, John Lloyd, Frederick Lowey, Jared Blinken, Derek Von Redden, Spencer Mann, Harry Liu bottom, Jaeda Dean, Connie Ferragu, Josephine Lacoudre, Sofia Vittori, Jackie NewmanThe annual Maroon and White sports awards winter dinner, which celebrates Scarsdale High School's winter sports athletes, was held last week at Lake Isle country club. The dinner is an incredible opportunity to honor Scarsdale's dedicated athletes and promote raider pride. 193 of the winter athletes were New York State Scholar Athletes, and there were a multitude of All-Section and All-League selections.
Ski: The ski team had a successful 2018-19 season, with 3 state qualifiers in seniors Jared Blinken, John Lloyd, and Connie Ferragu. All 3 also made it to the Eastern championships. Harry Liu was alternate. The team will surely miss this strong group of seniors, who represented the Scarsdale ski program well on the Section 1 and New York State slopes.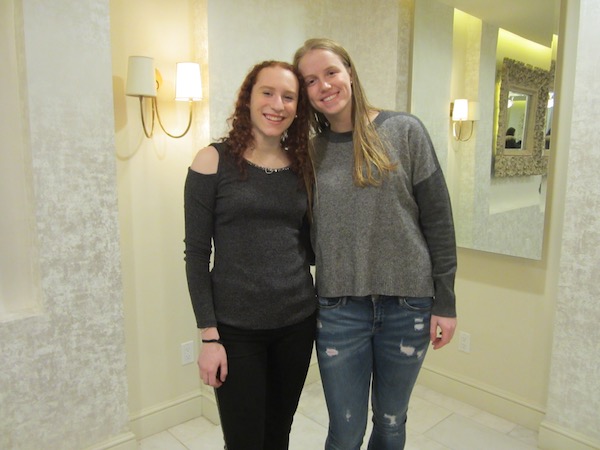 Girls Basketball (left to right) Nina Metviner, Emmeline BerridgeGirls Basketball: The girl's basketball team had a notable season, with a 10-10 record, including tough last second losses against league rivals Mt. Vernon and White Plains. Senior Nina Metviner noted that the highlight of the team's season was their scavenger hunt around Scarsdale during December break. Metviner also mentioned "what was so special about this team was the incredible deep friendships formed among our teammates, from trampoline parks to scavenger hunts around scarsdale to creepy trips to buckout road." Only graduating two seniors, and returning 7 underclassmen, raiders girls basketball will build off of the bonds formed this year to propel them to a successful 2019-2020 season.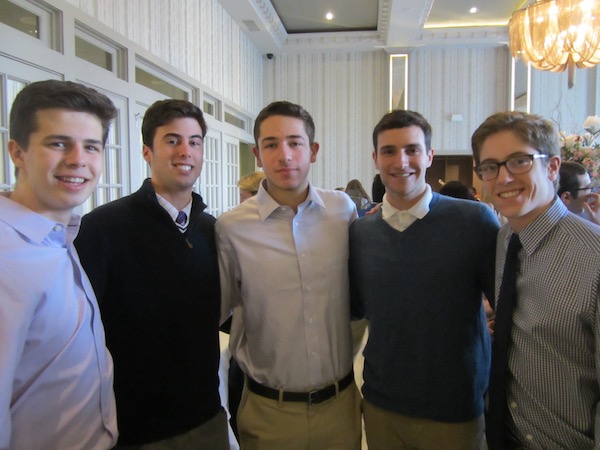 Boys Basketball (left to right) Connor McCarthy, Samuel Thompson, Cole Kattan, Eitan Altman, Joey Lane (not pictured: Evan Huo) Boys Basketball: Coming into the season with a new coach, the boys basketball team relied on their seniors to assume a crucial leadership role. The group didn't just accept this position-- they thrived in it. Going 8-0 to start the season, with an ultimate 14-8 record, the team showed that they were a force to be reckoned with in Section 1. Boys basketball galvanized support from a large fan base this season, an occurrence rare for the usually limited Scarsdale crowd. The team will miss the leadership and skill that came from their senior class, including All-Section and All-Conference player Cole Kattan.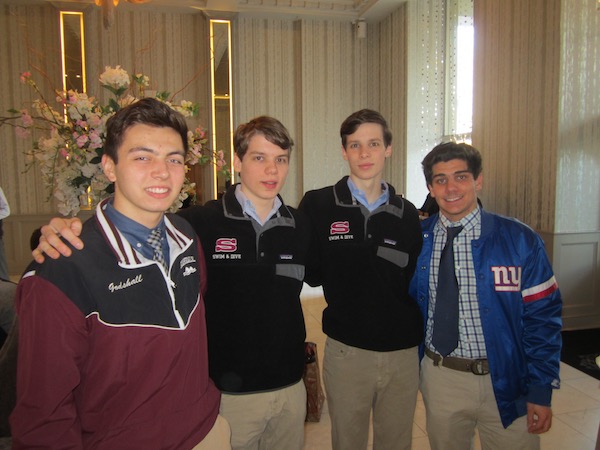 Boys Swimming (left to right), Peter Godshall, Riley Haffner, Jackson Haffner, Alex Eforo (not pictured: Alec Greenwald, Michael Disanto)
Boys Swimming: With a significant number of seniors to encourage team unity and morale, the boys swim team had a successful season. Senior Michael Disanto noted that "although our record may not show it we had a lot of strong swims, which can be credited to hard work and strong team morale." This morale can be seen in Disanto's highlight of the season, which was when an Eastchester swimmer was struggling with the 500 free--- an extremely arduous event-- and the entire Scarsdale team rallied behind him to cheer him on. This sense of spirit and camaraderie established by the seniors will carry on for years to come.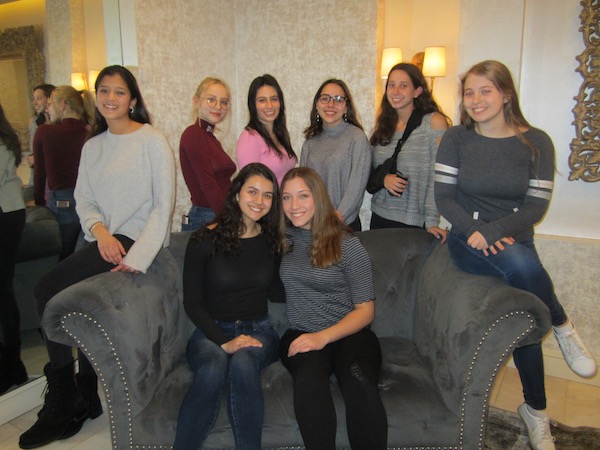 Girls Gymnastics (Clockwise from top) , Anaya Barmecha, Zarina Karimova, Aubrey Weinstein, Mariana Viera, Kylie Shelon, Lily Batt, Sylvia Bayrakdarian, Sara Frankenthaler
Girls Gymnastics: With the largest Senior class in the history of the gymnastics program, the gymnastics program capitalized on their growing team. The team sent multiple gymnasts to divisionals and sectionals. Senior Aubrey Weinstein said her favorite memories from the season were the karaoke sessions on bus rides to and from the gym, displaying the close knit nature of the team. She also noted that although gymnastics is a conventionally individual sport, she was impressed by the camaraderie shown in the sportsmanship between her teammates.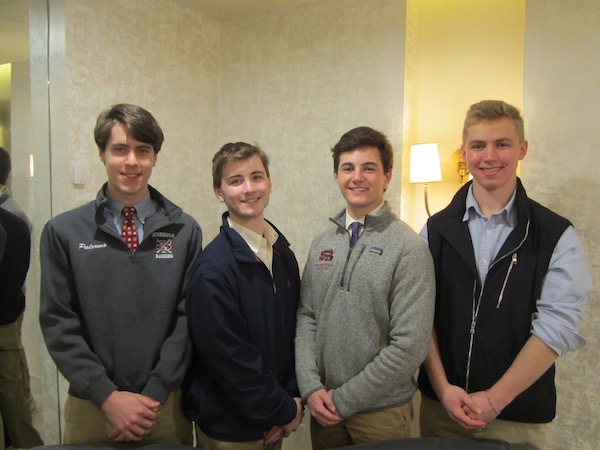 Boys Hockey (left to right), Michael Palermo, Ryan Collins, Ben Schwartz, Jack Brosgol Boys Ice Hockey: Although the boys ice hockey team was made up of a large number of sophomores, the Senior class shined in their leadership on and off the ice. Captains Jack Brosgol and Ben Schwartz, both impact players on the team, lead the raiders to a #3 seed into the section going into the playoffs. While the team had to overcome adversity with many injuries throughout the season, including multiple injuries for Senior standout Ryan Collins, they were able to come together and compete with the best teams in the section.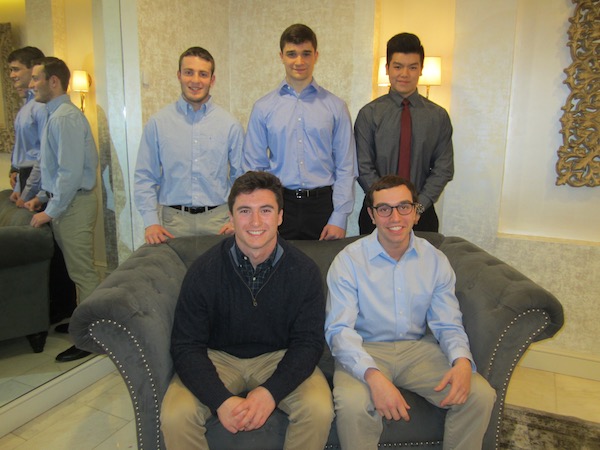 Wrestling (clockwise from top), George Koevary, John Ceske, Alex Kwok, Josh Porter, Michael Marom
Boys Wrestling: In Coach Jeremy Szerlip's first year as head coach for the wrestling team, the raiders had a successful season. Not only did they have two wrestlers win All-Section honors, but the team was able to develop an increased appreciation for the dedication and hardwork that comes with the sport. Senior Josh Porter noted that Coach Szerlip's "amazing approach to the sport and unparalleled wisdom and experience" allowed the team to reach their full potentials. The highlight of Porter's season was the team's trip to Garden City for the second tournament of the year, as the team "had to learn to lean on each other because [they] were facing some of the best teams in Long Island." The senior class' dedication to the various aspects of the sport, including making certain weight classes, will surely translate into a strong wrestling program for years to come.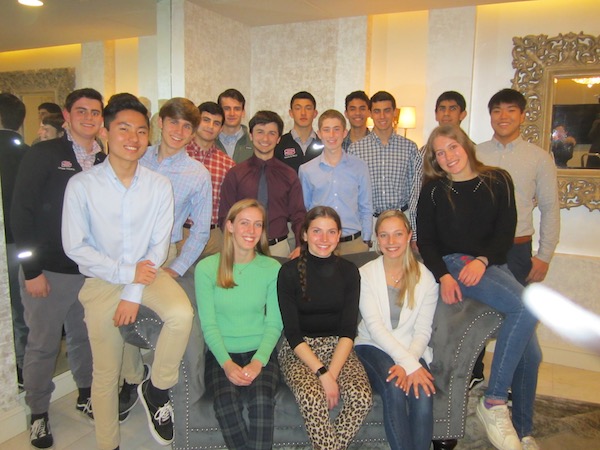 Track (clockwise from top), Alex Mayer, Bruno Tassari, Jonah Oxman, Eric Jacobson, Nico Cavaluzzi, Nick Bernard, Zach Hoexter, Omar Van Eer, Andrew Levy, Harris Jamil, Kodai Morikuni, Alex Wilson, Sierra Donovan, Aliza Mehlman, Brooke Bensche, Kazuki KatohTrack: The winter track team is filled with talented athletes. The senior class includes Amherst bound track star Sierra Donovan, Stanford Lacrosse bound Aliza Mehlman, MIT Track and Field bound Brooke Bensche, whose championship seasons were all cut short with various injuries. On the boys side, the team notched several milestones, including the 4X800 relay of Eric Jacobson, Ward Bandsma, Nick Bernard, and DJ Matusz, who broke a 41 year old Scarsdale record and placed 7th at Nationals, and a 12th place nationals finish in the 400 meter for Nick Bernard.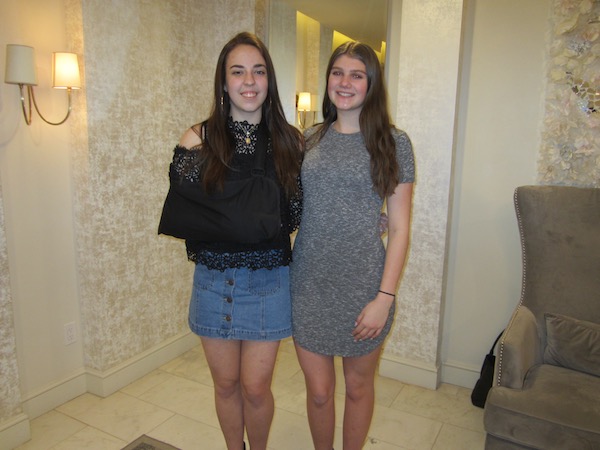 Cheerleaders, Casidy Donahue, Renata Pratt Cheerleading: The cheerleading team will lose two vocal leaders of the team in Casidy Donahue and Renata Pratt. The seniors noted that the highlight of their season was the team's trip to Disney for Nationals, where the team made it to semi finals for the second year in a row.