52 SHS Students Receive Academic Awards and 2 Receive National Merit Scholarships
Tuesday, 14 May 2019 21:21
Last Updated: Thursday, 16 May 2019 14:05
Published: Tuesday, 14 May 2019 21:21
Joanne Wallenstein
Hits: 3767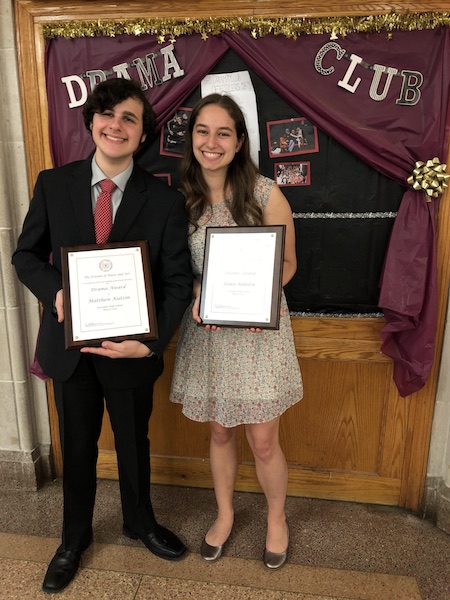 Matthew Kutzin and Jamie Robelen Received the Friends of the Music and Arts Drama AwardAs anyone living here knows, Scarsdale kids are some of the hardest working kids around. Each year a select few SHS juniors and seniors are chosen by the school faculty to receive awards to recognize academic excellence, accomplishments in the arts and service to the community.
On Wednesday night, May 8th, 52 students, gathered with parents and friends in the auditorium where students were presented awards by the heads of each academic department, community members, and even Principal Bonamo himself. The complete list of award winners is as follows:
Junior Scholarship/Service Award: Lily Kronenberg
Junior Academic Excellence Award: Jack Silvers
Wellesley Book Award: Lucy Brenner
SAA Rothschild Award: Teckhua Chiang
Counseling Department Award: David George
Scarsdale Foundation Award: Ross Forman
Dartmouth Award: Jenny Liu
Principal's Award: Amanda Glik
Billy Safian Humanitarian Award: Adina Mistry
Halliday Clark Sr. Memorial Award: Benjamin Klein
Casey Ferrone Memorial Award: Taylor Siegel
Rotary Club Award: Adeye Jean-Baptiste, Anya Raj
Technical Services Award: Ian Lerner
Michael V. McGill Book Award: Alexandra Wilson
Yale University Award: Spencer Sheppe
New York State Comptroller's Achievement Award: Carly Kessler, Henry Kronenberg
The Triple "C" Award: Francesca Greenwald, Aliza Mehlman
David Smith Memorial Award: Luzselena Aguilar
ART AWARDS
Excellence in Visual Art 2D: Lily Foley
Excellence in Visual Art 3D: Manya Kula
Media Award: Vivian Perfetti
Friends Permanent Collection Award: Sara Frankenthaler
Elisa Draper Art History Award: Helen Marino
ENGLISH AWARDS
Brown University Award: Harry Parks
Harvard University Award: Jack Silvers
Princeton University English Excellence Award: Noam Cherki
Audrey McGinn Creative Writing Award: Elizabeth Seider
SPECIAL EDUCATION AWARD
Steve Corbin Academic Success Award: Olivia Higgins
WORLD LANGUAGE AWARDS
Latin Award: Jonathan Fan
Spanish Award: Noah Yusen
Spanish Literature Award: Rena Li
French Award: Emma Townsend
Mandarin Award: Kylie McRobie
Departmental Award: Anika Agarwal
MATHEMATICS AWARDS
Rensselaer Mathematics & Science Award: Alison Chan
Math Faculty Award: Teckhua Chiang
SCIENCE AWARDS
Bausch and Lomb Award: Wolf Cukier
Science Achievement Award: Anika Agarwal
Science Department Award: Kathryn Koo
New York Science Supervisors Association Awards
Biology: Andrew Levy
Chemistry: Renee Dibbini
Physics: Noah Yusen
SOCIAL STUDIES AWARDS
Social Studies Excellence Award: Maya Bharara, Sean Michael
Social Studies Faculty Award: Lily Kronenberg, Andrew Morin
Social Studies Achievement Award: Vivianna Wang
PERFORMING ARTS AWARDS
Band Award: Nico Cavalluzzi
Chorus Award: Elias Hairatidis, Megumi Ozawa
Orchestra Award: Abigail Nishiwaki
Friends of Music and Art Drama Award: Matthew Kutzin, Jamie Robelen
Sidney R. Case Memorial Scholarship: Lindsey Donat
National Merit Scholarship Awards
The National Merit Scholarship Corporation awarded National Merit Scholarship Awards to two Scarsdale Students, Kelly Rutherford and Austin Tang. They are two of about 7,600 recipients of these awards, chosen from 15,000 finalists. The recipients are chosen by college admissions counselors and high school counselors, based on academics, test scores, leadership in school and community, an essay, and a recommendation from the school counselor. Both Rutherford and Tang were recipients of National Merit $2500 Scholarships.