Scarsdale STEP Seeks Host Family for New Student
Tuesday, 14 July 2020 18:10
Last Updated: Tuesday, 14 July 2020 18:10
Published: Tuesday, 14 July 2020 18:10
Joanne Wallenstein
Hits: 1511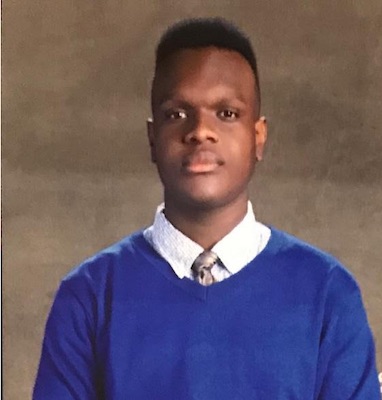 James Kakaire will join the SHS Class of 2022 this fall.The Scarsdale Student Transfer Education Plan (STEP) Board is thrilled to announce that James Kekaire a rising junior from Roanoke Rapids, North Carolina has been selected to join the Scarsdale High School class of 2022 this coming fall.
The STEP board now seeks a Scarsdale District family to host James for the academic year, starting in late August 2020. Interested families should call Tara Irwin at 914-835-5062 or email info@scarsdalestep.org.
For over 50 years, STEP has brought promising students of color from economically disadvantaged households to Scarsdale to attend the High School for their junior and senior years. The program specifically seeks students who have demonstrated leadership qualities and a commitment to applying themselves academically. Despite the potential challenges of bringing a student to Scarsdale in 2020, the STEP Board is more committed than ever to working to solve racial injustice through opportunity.
James is an exceptional student at KIPP Pride High School in Gaston, NC. He is a legal US resident who, despite being just 16, has lived in Uganda, Tanzania, London and North Carolina. James has a passion for music, environmental conservation, psychology and social justice issues. He is a volunteer counselor at 7cups.com, a free online counseling and therapy website. Through this volunteer experience James has learned that "mental health is as vital to living a happy and fulfilling life as physical health."
"James has made it clear that he wishes to be a change-maker in the world", writes his AP Environmental Science Teacher Laura Hebard. Hebard continued, "He puts his all into everything, questions purposefully and seeks to improve not just himself but the world around him as well"
The 30 plus-member STEP Board and 24-member Advisory Board provides a strong network of consistent support to host families, including a generous stipend to cover expenses. The experience can be life changing, not only for the STEP student but also for the host family. Host families gain a wider cultural perspective and often form lifelong relationships with their STEP student.
For more information, go to the Scarsdale STEP website at www.scarsdalestep.org.
Tara Irwin and Elissa Bookner, MD are Co-Chairs of Scarsdale STEP