Robyn Miller Creates Designs for These Times
Wednesday, 29 July 2020 23:18
Last Updated: Thursday, 30 July 2020 12:31
Published: Wednesday, 29 July 2020 23:18
Joanne Wallenstein
Hits: 1940
Robyn display her designs for Tiny PrintsI never cease to be amazed by the talent of my neighbors in Scarsdale. No matter what the field of expertise, Scarsdalians are tops. I was recently introduced to artist and graphic designer Robyn Miller and realized that I recognized her work because I have purchased it many times over.
Among many other projects, Miller is a designer for greeting cards for Tiny Prints and Shutterfly and has designed some of their most popular and successful cards. At Scarsdale10583 we have used her designs for our holiday card for many years, not realizing that the artist lived right here!
During the COVID epidemic Miller turned her talents to designing notes and calendars appropriate to this unique time and also volunteered her work for the American Civil Liberties Union.
Meet Robyn and see her beautiful work below:
When did you first develop an interest in graphic design?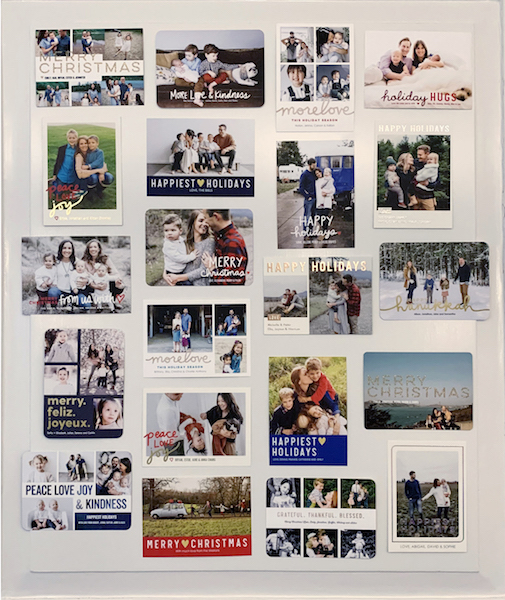 Greeting cards designed by Robyn MillerI was obsessed with colors and drawing at a very young age. I grew up with a stack of coloring books under my bed where I would spend hours upon hours drawing. It was my favorite thing to do. In high school, I had a job where I used paint pens to personalize gifts for birthdays, camp and college. I was also fortunate that my high school offered a graphic design class and found that it really merged all of my interests. I was quickly hooked!
Did you major in art and design in school - tell us about your training.
Yes. I majored in graphic design at the University of Michigan School of Art. During college, I had an internship at the National Gallery of Art in Washington DC where I worked in the education department helping create catalogues for exhibitions and designing direct mail pieces.
Tell us about your career - where did you work and what was your role?
After college, I moved from Michigan to New York and began my career designing Ranger Rick children's science books for schools. In fact, I saw some of them in my son's first grade class in Heathcote! I was always a huge fan of magazines, so after working in publishing for a few years, I made the switch to the magazine world where I worked as a designer in the Condé Nast Group and then in the promotions department of New York Magazine and as an art director at SELF where I did everything form invitations and signage for events, magazine advertorials, photo shoots and corporate presentations.
How did you get involved with Tiny Prints? What have been your most successful designs - and what elements of your work make the card a hit?
While working at SELF Magazine, I began designing birth announcements as gifts for my friends and family. I launched a line of birth announcements and party invitations and exhibited my first Stationery Show at the Javits Center in 2004. It was at the Stationery Show where I met Laura Ching, the CEO of Tiny Prints. I was one of the first designers to work with Tiny Prints and it's now been an amazing fifteen-year partnership that has grown to include Shutterfly, Inc. When I approach holiday designs, I like to think about what I would want in a card. Beyond the basic Happy Holidays and Merry Christmas, I like to think of relevant sentiments that would appeal to families. I think my most successful designs are the ones that are most relatable on topics such as love, hope and family. I like to use a combination of typography and hand-drawn type that accentuates the family photo.
Do you anticipate that the COVID crisis will impact the greeting card business? In what ways?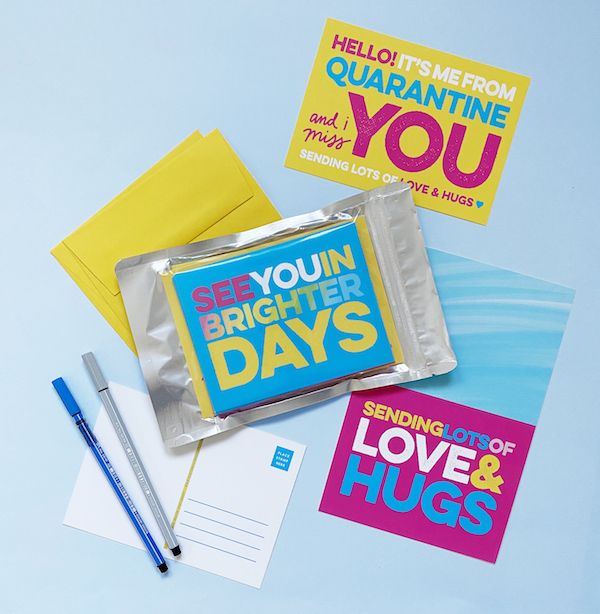 Covid related notecards

I think people want to stay connected, especially in times like these. Back in April when we were all quarantined at home, I designed some Covid-related notecards and postcards. Colorful and hopeful, the notes were designed to brighten the recipient's day. As far as holiday cards, I think people will want to share and connect now more than ever. The sentiments this year are going to be incredibly poignant given what's going on in the world right now.
What other kinds of projects do you do? Tell us about the recent work you did during the quarantine and your effort for the ACLU?
I have felt powerless with this current administration as I see one horrible thing happen after another. I feel very strongly about voting and getting the word out to register to vote. I created a VOTE t-shirt that I am selling with 100% of the profits going to the ACLU. The ACLU aides communities to defend and preserve individual rights including voter suppression, women's rights, same sex marriage and LGBTQ rights to name a few.
Vote shirts with proceeds going to the ACLUTell us about your family and why you like living in Scarsdale.

My husband Todd and I have three boys. A senior and freshman at SHS and a 4th grader at Heathcote. We really love living in Scarsdale. We've met so many nice families and it's a very welcoming community. I'm so grateful for the support, love and encouragement that I've received from this community in general and for my stationery business.
Check Robyn's work out on Instagram @robynmillerdesign or click here to visit her website.